Cool collabs and a lifestyle experience beyond the typical retail setting are just some of the ways the Baccarat brand is making itself relevant in the 21st century
"My earliest memory of Baccarat was from my grandmother," shared Merwann Younes, Baccarat's Retail and Marketing Director – Greater China & Southeast Asia. The Shanghai-based French national recalled, "When we were young, my grandmother would always bring out glasses from the 1955 edition when the family would gather around during seasonal dinners, especially during Christmas. I was about six or seven years old then and I fondly remember her drinking her aperitif from those glasses."
Who knew that, years later, he would play an important role in bringing the 255-year-old brand to an important place in the 21st century? Merwann, who is just shy of 30 years old, has great ideas for bringing Baccarat into the homes and lives of a newer, and significantly younger, clientele.
"Bringing Baccarat from 1764 to today, and to reintroduce it to a younger audience, is one of the key needs of the brand," he revealed. While most people would know Baccarat for its opulent chandeliers and crystal home ware, one direction the French brand intends to go towards is creating desirability around the product once more and to remind people that it is more than just grandma's favourite crystal glasses.
In order to achieve this, Baccarat's Boutiques BBar and Lounge was launched, adding a full lifestyle element to the fabled heritage brand. "With this bar and lounge concept, we create desirability by making potential clients experience the product beyond a typical retail setting. Here, they feel special as they sip on a glass of champagne in an enjoyable environment. As a result, they might say, 'I've experienced the product, so now I want to buy the same item for my home, or for my friends and family as gifts.'"
Baccarat Be@rbrick
For those who can't visit the Boutiques BBar and Lounge just yet, not to worry. A visit to the nearest Baccarat boutique will yield chic and fun discoveries too. When we asked Merwann what he would recommend for young homeowners to add to their home, his suggestions definitely hit the nail on the head. "For starters, I think modern homeowners should have the BE@RBRICK, which is a crystal version of they vinyl toy made popular by the Japanese company, Medicom. I also think the fragrance you use to scent your home is important, so the candle that features the Rouge 540 scent will perfectly perfume the space of any modern homeowner."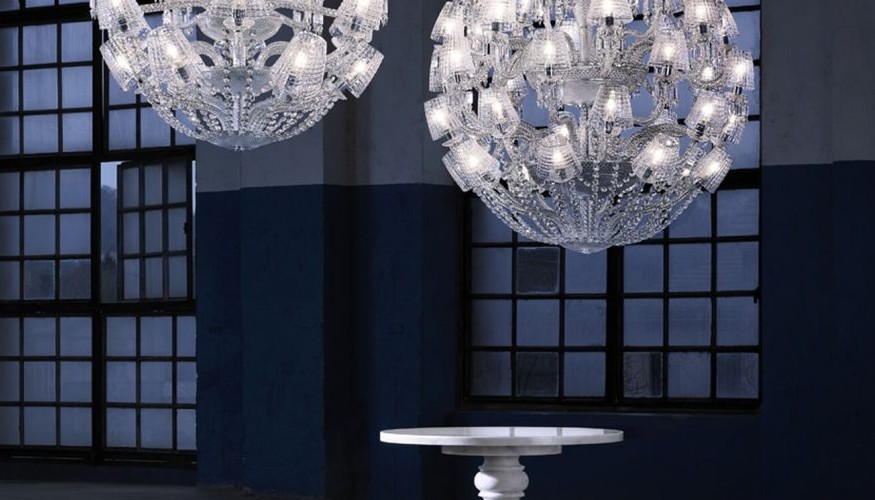 Baccarat Le Roi Soleil Chandelier
Adding on, Merwann recommended the Harcourt Our Fire Candlestick, which features a crystal lampshade in either a red or golden metallic finish. For liquor drinkers, he believes a Louxor set is a must-have where you can beautifully enjoy your whisky, cognac, or even wine. "I'll end my recommendations with the most important item in Baccarat's history – the chandelier. The best one, perfect for younger clients, would be the Le Roi Soleil chandelier, which features a stunning curved shape," said Merwann.
To round it all off, Merwann shared, "I can tell you that 2020 will be an exciting year for Baccarat. We will have more exciting collaboration projects in the pipeline. Judging by the successful ones we've had with the likes of Supreme and Medicom, this is a direction we'd like to explore further. This is followed by extending the Boutiques BBar and Lounge to other countries and cities, in addition to the ones currently in Milan, Miami, and Shanghai."
For more information, click here
Portrait photo by Chino Sardea