Cessna's Citation Longitude is revolutionising the super-midsize industry
We introduce the newest flagship with Textron Aviation
Textron Aviation recently celebrated 50 years of the Cessna Citation 500, the genesis of the biggest jet family in the world that started in 1969. In 2019, Textron Aviation introduced its newest flagship, the Cessna Citation Longitude. The super-midsize business jet was first announced in 2015 at the National Business Aviation Convention & Exhibition, then later took its first flight in October 2016 and was certified just in September 2019.
The FAA Type Certification comes after thorough flight, structural and component qualification testing – the most robust testing completed on a Citation to date. The demo fleet clocked in close to 6,000 hours of flight time, and 11,000 other test points during the certification process. In total, the Longitude also completed a 31,000-nautical mile world tour, showcasing the aircraft's prowess in long-range performance capability and reliability in a variety of environments.
"The newly certified Citation Longitude brings unrivalled technology to the business travel market, for both the passenger and the pilot, offering our customers the most efficient and productive super-midsize jet now in operation," said Ron Draper, president and CEO of Textron Aviation, the leading general aviation authority including the Cessna brand.
Now, revolutionising the super-midsize category, the Citation Longitude has been shaped by customer feedback to provide maximum enjoyability for everyone onboard and to live up to its designation as the flagship of the Citation family of business jets.
Cabin comfort
A measure of absolute comfort on a business jet is the sound levels of the cabin, and the Citation Longitude is the quietest, most comfortable cabin in its class with the least amount of sound energy passing through the cabin.
At 67dBA at cruising altitude, this whisper-quiet cabin will mean passengers will feel at ease and in comfort, ensuring an arrival that is much more rested and relaxed. For those who need to work, this level of quiet is also productive for conversations, whether on the phone, through videoconferencing or with other passengers. The productivity continues with the addition of state-of-the-art technology wireless cabin management system, which includes Bluetooth capability.
It is one of the most comfortable with its standard double club configuration that provides the most legroom in its class, at least 11 percent more legroom than the competition. Designed and built in-house, the fully lay-flat seats are crafted for smooth mobility. It has seating for up to 12 passengers, including an optional crew jump seat. Customers can create their own space for working or relaxing inside the Citation Longitude. The stand-up, 6-foot tall flat-floor cabin can be customised to meet business travel requirements. As an added bonus, it also has a walk-in baggage compartment that is fully accessible at any time during the flight and holds up to 1,000 pounds.
Passengers onboard the Citation Longitude will not miss the comforts of home with the jet's other features. It has a low cabin altitude that of 5,950 feet at 45,000' maximum cruise altitude, which cuts down on fatigue, which aids in helping passengers arriving refreshed at their destination. The Citation Longitude's 15 large windows that have been strategically positioned for optimal viewing will also flood the cabin with natural light.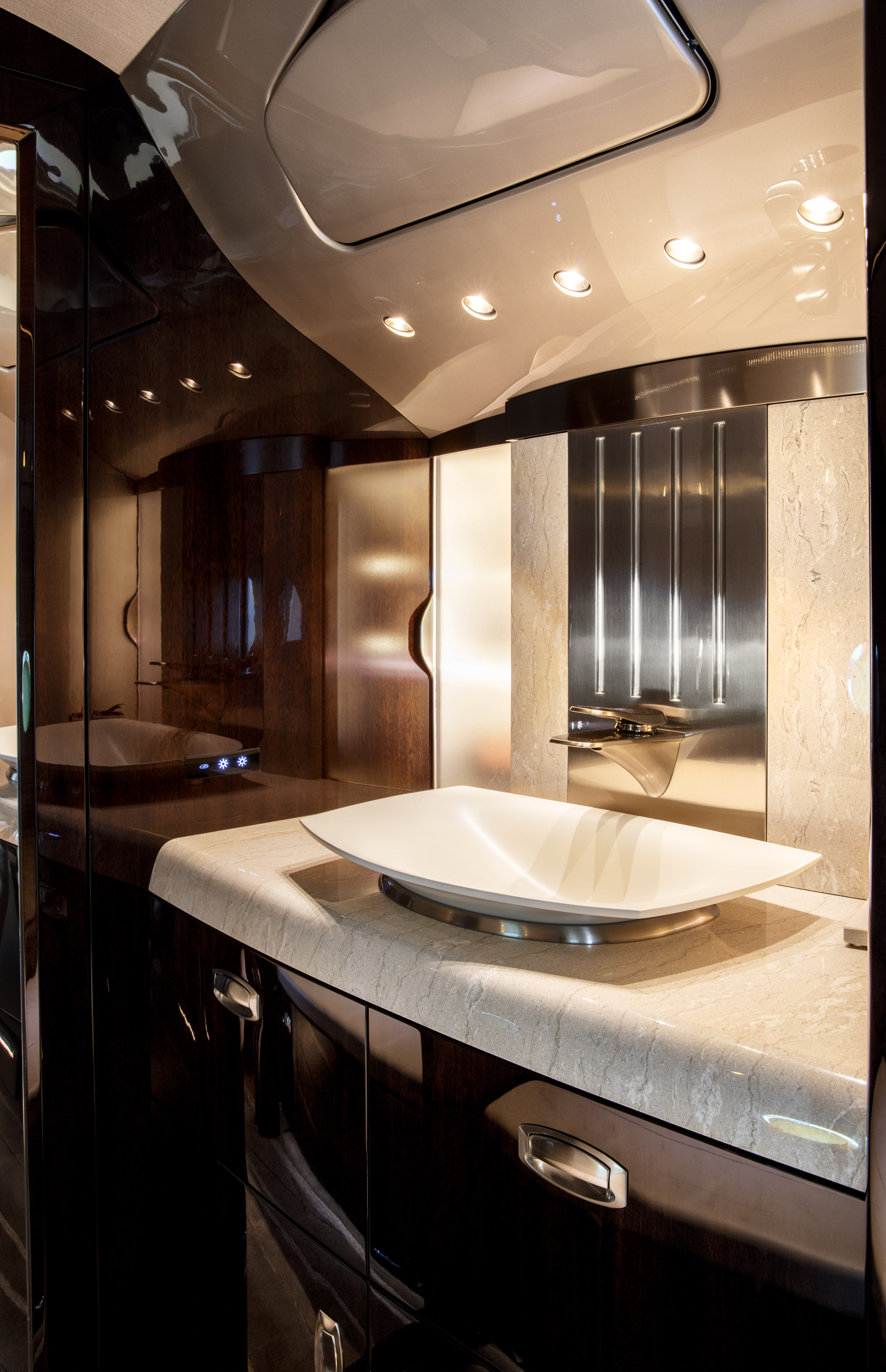 Further comfort can be found in the forward wet galley that has been finished in fine hardwood. There is more than enough ample space for food preparation, and the luxuries of a modern kitchen are readily available, such as hot and cold water, generous cold storage, large supply cabinets and extra space for devices with the addition of an optional high-power outlet.
Revolutionary performance
The Citation Longitude delivers a maximum range of 3,500 nautical miles and a maximum cruise speed of 895 km/h. This allows passengers a transcontinental range across cities like from Singapore to Sydney in 7 hours and 30 minutes, London to Dubai in 6 hours and 24 minutes, and Teterboro to Paris in 6 hours and 45 minutes.
The return on investment on the Citation Longitude is unmatched, with its combination of low fuel flow, advanced aerodynamics, the longest maintenance intervals in its class at 800 hours or 18 months and an hourly operating cost of just US$2,098.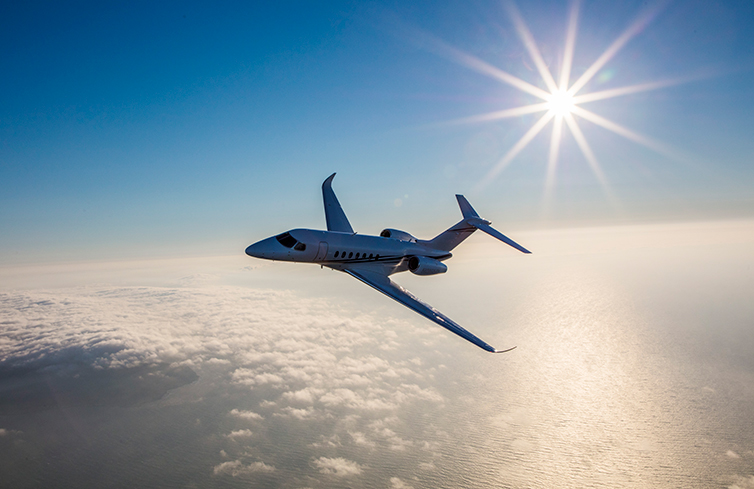 Of course, the Citation Longitude doesn't just benefit customers, it is a dream to fly for pilots as well. The aircraft is setting a new standard for flying, with its easy-access cockpit and an ergonomic design that is fully focused on crew comfort and efficiency. With the next evolution of Garmin G5000 avionics at their fingertips, pilots have complete touchscreen control of navigation and communication systems. The flight deck is fully integrated with auto-throttles and LinxUs software, the industry's most advance onboard diagnostic system.
With such specifications, there is no doubt that the Citation Longitude is leading the super-midsize category in the industry. "With the broadest line-up of business aviation platforms available worldwide, Textron Aviation welcomes the Longitude into the esteemed Citation family of products and begins a new era of best-in-class solutions for our customers, "said Draper.
The Longitude revolution starts now.
---
Unparalleled service at Textron Aviation
Textron Aviation is home not just to Cessna but to the Beechcraft and Hawker Aircraft brands also, which account for more than half of all general aviation aircraft flying. The general aviation authority supports its large customer base with a global service network of 20 company-owned service centres.
In Asia Pacific there are currently more than 2,400 business aviation jets and turboprop aircraft, of which Textron Aviation takes the lead to account for almost 60 percent of the population. Textron Aviation customers are served at the company-owned Singapore Service Centre at Seletar Aerospace Park that is directly linked to the Seletar Airport runway, allowing customers easy access to their aircraft during maintenance visits.
The service centre is equipped with a hangar more than 32,000sqft in size and is also where certified expert service can be expected for work on a variety of Cessna and Beechcraft aircraft. Such services include scheduled maintenance, repair and overhaul work, non-scheduled maintenance and aircraft-on-ground support, upgrades and modifications, STC integration and kit installations, and even cabin and interior refurbishment.
But the service centre isn't just for customers to drop off their jets for maintenance work. The hospitality lounge is a comfortable environment for customers and flight crew to rest and relax at, or even catch up on work while their aircraft is being serviced. With shower facilities on deck, freshening up before or after a flight is made simpler than ever.
What sets Textron Aviation's services apart in Singapore is the recently expanded aircraft parts warehouse, which allows for better service and support to customers within the Asia Pacific region. A parts warehouse means better availability to parts during maintenance, which translates to savings for customers since there is less of a need to ship parts or to even hangar their aircraft for more time than necessary.