Covetable Casks
These rare bottles of whiskey are the holy grail for serious collectors on the hunt for the perfect dram.
By Alex Toh
Many people drink whiskey and appreciate it, but few have access to a rarified league of particularly rare and fine tipples.
Whiskeys in this tier are sought after for a variety of reasons. Some hail from lost distilleries that are no longer in operation, hence availability is only limited to existing bottles. Others are historic casks from famous distilleries that were laid down by master distillers generations ago. And others are works of art, combining the skills of renowned artisans both in the drink and on the flask.
As Martin Green, Whiskey Specialist from Bonhams Auction House in Edinburgh, says, "As with any luxury product such as single malt whisky, reputation, scarcity and exclusivity are very important. Many leading distillers produce special limited editions of their very finest whisky which become collectors' items."
Apart from the appreciation of craft and beauty (or bragging rights for some), adding a special whiskey to one's collection can also be a great investment. Like fine wine, they often appear on the lots of auction houses such as Sotheby's and Bonhams.
But chiefly of all, whiskeys are made to be drunk. Every fine tipple shares one common criteria – each represents the pinnacle of a particular expression. Collectors who appreciate whiskey purchase it so that one day they will themselves get to experience a beautiful dram beyond compare.
However, as with any form of rare collectibles, fakes do exist. Serious collectors know only to purchase from reputable sources, such as auction houses Bonhams and Sotheby's.
The Macallan In Lalique
The Macallan In Lalique is a collection of fine whiskeys that have been aged for at least 50 years before placed in specially crafted crystal decanters created by French crystal maker, Lalique. This combination of artistry in both drink and vessel has proven to be more than the sum of its parts and continually smash auction house records. In 2010, a 64-year old Macallan Lalique Cire Perdue went for US$460,000. It was a record at the time until an imperial- sized (six litres) Macallan M went for US$628,000 in 2014. Recently, one lot of Macallan whiskeys headlined by a full set of The Macallan In Lalique Six Pillars Collection went for almost US$1 million at Sotheby's in April 2017.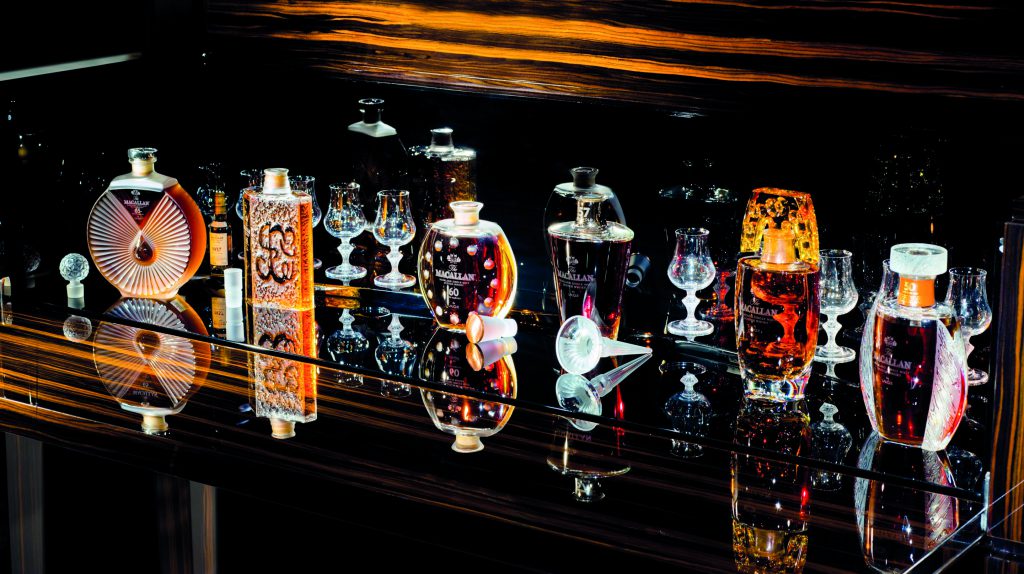 Glenfiddich – 1937 Rare Collection
This rare dram was laid down in a single cask in 1937, the year of King George VI's coronation. When it was finally bottled 64 years later, the cask yielded only 61 bottles having lost much volume to the "angel's share". Apart from limited quantity, it is also unique for having retained its strength even after many years in cask and remains the oldest and rarest bottling undertaken by Glenfiddich.
In October 2016, Bonhams auctioned off a bottle of this highly sought after whiskey for £68,500.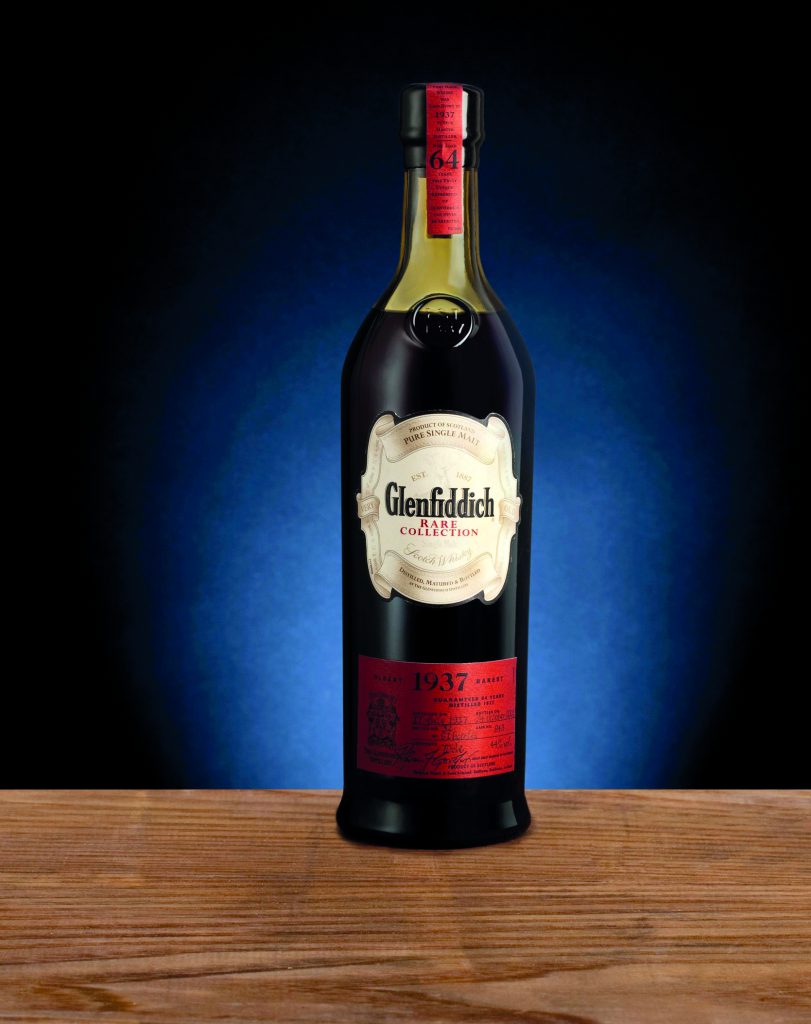 Royale Salute Tribute to Honour
In 2011, Royal Salute released this limited edition of 21 bottles to pay tribute to the Honours of Scotland, the oldest crown jewels in the British Isles. This rare tipple comprises a blend of whiskeys aged for at least 45 years before bottling in a fine porcelain flask. The flask was set with beautiful black and white diamonds in the form of two swords by the House of Garrard, jewellers to the British Royal Family. The initial retail price was set at US$200,000 excluding tax.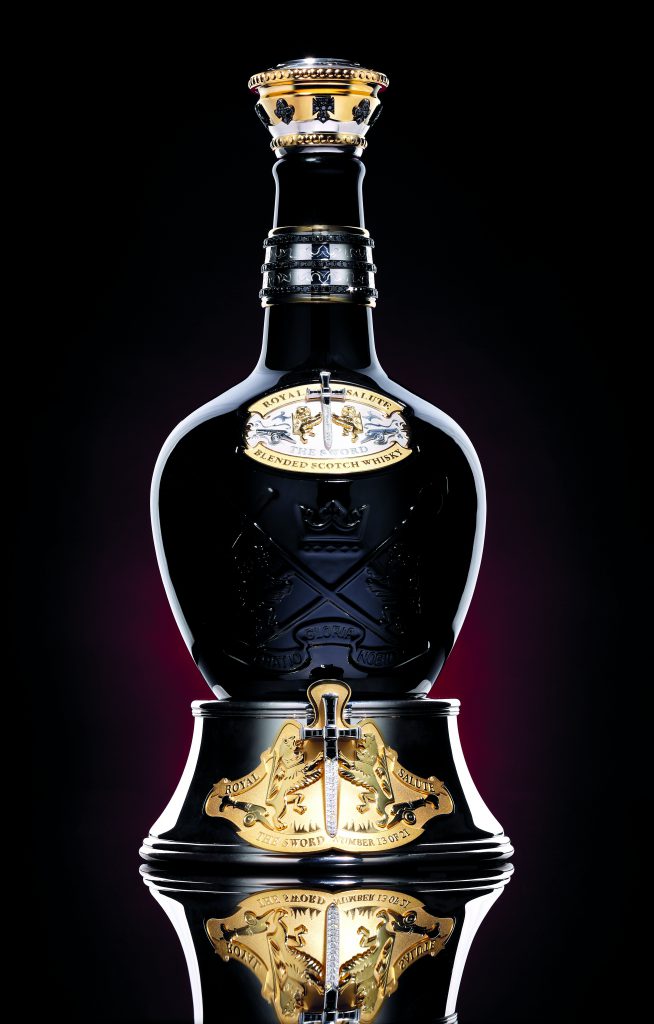 Ichiro's Malt Card Series
Ichiro's Malt is a modern cult classic for lovers of Japanese whiskey. The family of Ichiro Akuto, the owner of Ichiro's Malt, had a long history of producing sake before venturing into whiskey distilling in the 1980s in Hanyu, Japan. Due to the diminishing market for Japanese whiskeys in the early 2000s, the distillery was closed and Ichiro found himself with 400 casks of his family's malt whiskey. He blended and bottled a limited number of these casks into a series of 54 variations each distinguished by a different playing card on the label (52 cards and two jokers). Its rarity was further compounded by Ichiro's initial mode of sale – going bar-to-bar in Tokyo. Discovering a bottle in the wild became a scrumptious challenge for many whiskey connoisseurs.
A full set of Ichiro's Malt Card Series was sold by Bonhams at an auction in 2015 for almost US$490,000.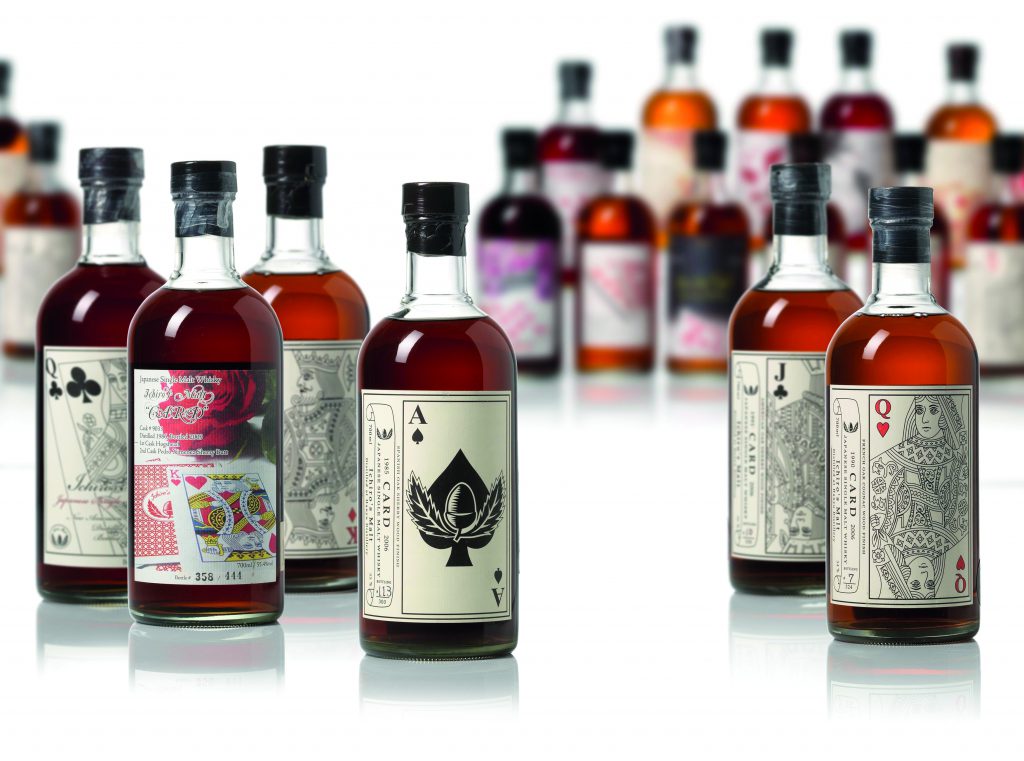 Karuizawa 1960
Established in 1955 in the town of Karuizawa, the malt whiskeys produced were a hidden gem known only within Japan for decades. It became a lost distillery in the early 2000s when it was shut down. The rarest and most sought-after expression of this distillery today is the Karuizawa 1960, The Cockerel
(52 years old) with only 41 bottles in existence. It recently surfaced at a Bonhams Auction in 2015, coming under the hammer for US$180,000.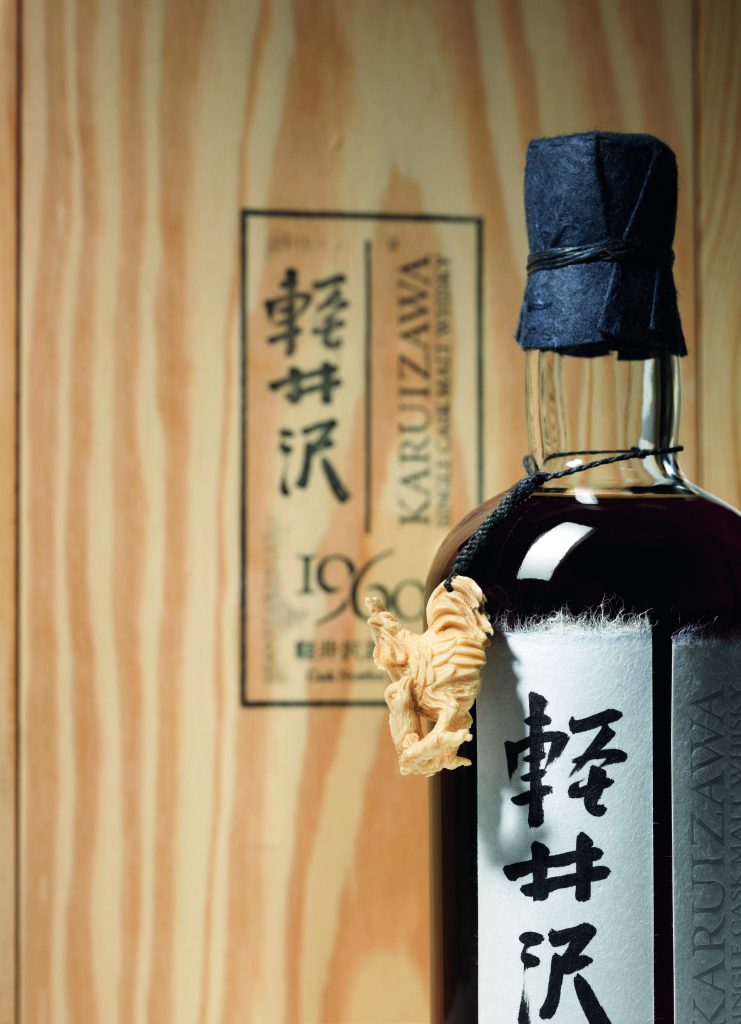 As a significant number of the remaining casks were purchased when the distillery closed, collectors do distinguish between the original bottlings and bottlings subsequently made by independent bottlers.
Balvenie 50 Years
Whiskey collectors love Balvenie for its wide variety of limited but varied expressions. However, Balvenie has only retailed three bottlings of single-cask
whiskeys aged for 50 years. Cask 191 was laid on 26 January 1952 and yielded only 81 bottles. Casks 4567 and 4570 laid on 28 May 1963 yielded about 130 bottles each. The latter pair, although kept in casks of the same wood in the same warehouse, produced whiskeys of significantly different taste profiles.
Port Ellen
Port Ellen is a distillery owned by Diageo in Islay, Scotland, the region most famous for smoky whiskeys. This distillery was shuttered along with its sister distillery Brora in 1983, more than 30 years ago. However, interest in this whiskey remains strong and has become a cult favourite. Part of this interest is attributable to the Diageo Special Releases initiative that brings a limited amount of the remaining Port Ellen whiskey to the market since 2001. Watch this space, as Diageo has announced plans earlier this year to revive this lost gem.