Embark On A Gourmet Tour Of Europe At Gordon Grill At Goodwood Park Hotel
Take your pick from dishes highlighting culinary bests from Greece, France, Hungary, Italy, Spain and more
From 2 August to 29 September 2019, diners at Goodwood Park Hotel's Gordon Grill will be able to go on a gastronomic journey around Europe through time-honoured dishes from Greece, France, Hungary, Italy, Spain, Norway, Great Britain, Portugal, Germany and Austria. The indulgent and extensive selections are available as a three-course set menu for lunch, or a four-course set or eight-course degustation menus for dinner. The eight-course degustation can be complemented with selection of wines to complete the meal.
Start the epicurean journey with a Greek or French appetiser, where heirloom tomatoes take centre stage in the Farmer Salad, and balsamic vinegar cuts through the richness in the Pan-fried Foie Gras. Under the soup course, take your pick between Hungary's famed Goulash Soup of beef, onions, potatoes, sweet paprika and caraway seeds are slow-cooked for hours, or indulge in Italy's Traditional Minestrone, a light yet hearty vegetable soup.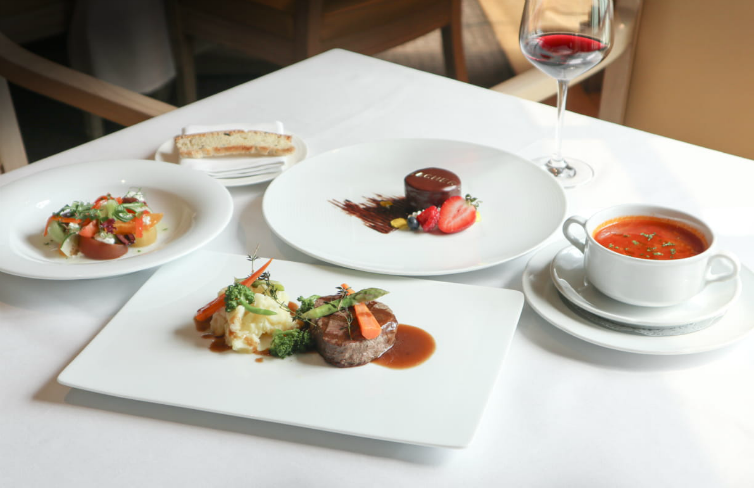 Diners have a choice from four different mains. Enjoy Grilled Iberico Pork Pluma served with zucchini ragout from Spain, Honey-glazed Salmon with a cauliflower-dill cream from Norway, Grilled Angus Tenderloin with a side of Scottish clapshot (mashed turnips and potatoes) from Great Britain, or Grilled Tiger Prawn with eggplant puree from Portugal.
For dessert, satiate chocolate cravings with Germany's Black Forest Cake or with Austria's Sacher-Torte. The former is named after the Black Forest Region's renowned cherry brandy, which adds a mouth-watering tartness to the chocolate. Cherry compote is also used to highlight the perfect pairing of chocolate and cherries. The Sacher-Torte is a creamy dark chocolate cake that originated in the 19th century, and has rum-infused apricot jam spread between layers of chocolate sponge.
Reservation information:
Make a reservation online
Or call 6730 1744
Or email gordon_grill@goodwoodparkhotel.com