There is something very special about people who have that innate skill of being able to turn their creative minds and hands into just about anything. Leonardo da Vinci is perhaps the greatest exemplar – the 15th Century Italian Renaissance genius (along with his contemporaries Michelangelo and Raphael) was able to think and create without bounds: drawing, painting, sculpting, mechanics, carpentry, metallurgy, architectural drafting and chemistry – from the Mona Lisa to studies for the helicopter!
Do polymaths still exist today, men and women who cross the divide between art and science, whose creations cover a multitude of disciplines from the smallest detail to cathedral-like projects? I hope so, and certainly in the middle to late 20th Century in Italy, especially in another renaissance period post World War II, there existed one who while not as famous as the great da Vinci, may have had almost as great an effect on the everyday life of the ordinary man.
Gio Ponti (1891–1979) was an architect, designer and artist responsible for a huge variety of projects, products, artefacts, artworks and buildings. He is perhaps most famous for the 1954–1956 Pirelli Tower in the Piazza Duca d'Aosta in Milan, but also built residential homes as far afield as Venezuela and Iran, government buildings in Pakistan, the wonderful San Francesco al Fopponino church in Milan, the Museum in Denver, and the Co-Cathedral Gran Madre di Dio in Taranto. He did interior designs for ocean liners; sketches for car designs for Touring of Milan; founded the influential Domus Magazine in 1928; was the artistic director of the famous porcelain manufacturer Richard-Ginori creating wonderful ceramics and tiles; was a furniture designer responsible for, among other pieces, the 699 Superleggera chair for Cassina in 1957; the Flêche candelabra for Christofle exhibited at the Venice Biennale in 1928; vases, masks, teapots, door handles, taps, toilet bowls, ashtrays, espresso machines, cutlery; decorative objects; and hotels.
The Royal Continental Hotel di Napoli was designed not by Gio Ponti but in 1955 by Ferdinando Chiaromonte (1902–1985) on the site of the old Grand Hotel Royal des Etrangers. Ponti, however, designed the interior fixtures and fittings and, where it is still possible to stay 'Ponti-style', in 24 out of 397 rooms maintained as a living homage on the 'Museum Floor'. More importantly, the unique seawater rooftop swimming pool, designed by Ponti and featured on the cover of Domus in 1954, still exists where one can cool off from the hot Southern Italian sunshine and take in splendid panoramic views. As Ponti himself said, "I hate rectangular pools. Are lakes and rivers rectangular?"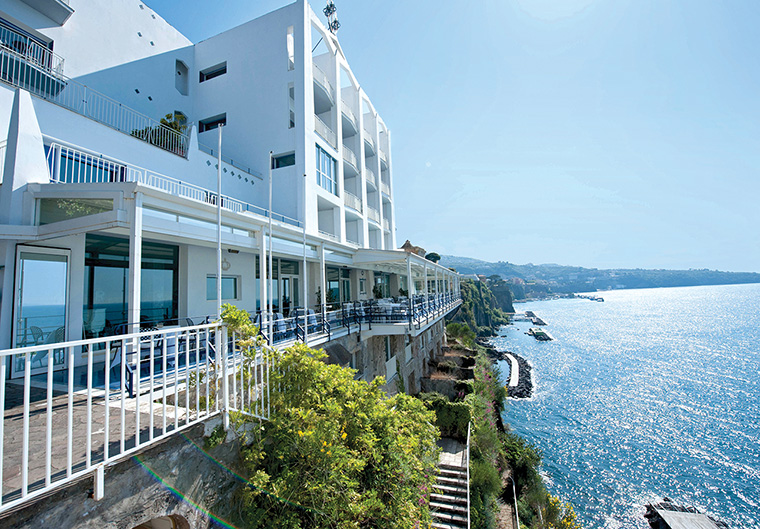 One hotel designed by Ponti was the Grand Hotel Parco dei Principi, which opened in 1964. At the time, it was recognised as one of the finest designed hotels in the country. The Parco dei Principi is situated right next to the wonderful early 17th Century Villa Borghese Gardens through which one can stroll to the Spanish Steps. Today, while the hotel is still one of the very best in the Eternal City, unfortunately all that remains of the original Ponti interior is the continuous flooring of white marble with its inlays, the hotel having been renovated and remodelled. The strikingly beautiful exterior, however, is as Ponti designed it.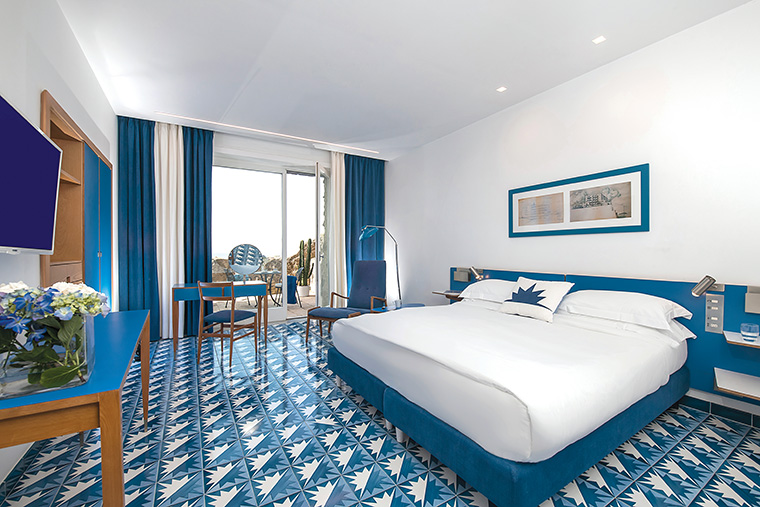 It is at the Parco dei Principi in Sorrento however, that we find Ponti's capolavoro, his 1961 masterpiece. Here, this stunning blue and white, and white and blue (there is a difference between the inside and the outside, believe me) remain to this day and designed, interior and exterior, by this genius who said, "Pure architecture is a crystal. When it is pure, it is clear like a crystal – magic, closed, exclusive, autonomous, unsullied, absolute, conclusive like a crystal. That can be a cube, a rectangular block, a pyramid, an obelisk, and a tower – finite standing shapes. Architecture refuses unfinished shapes… Architecture begins and ends. Architecture stands." To my mind it stands no better than here.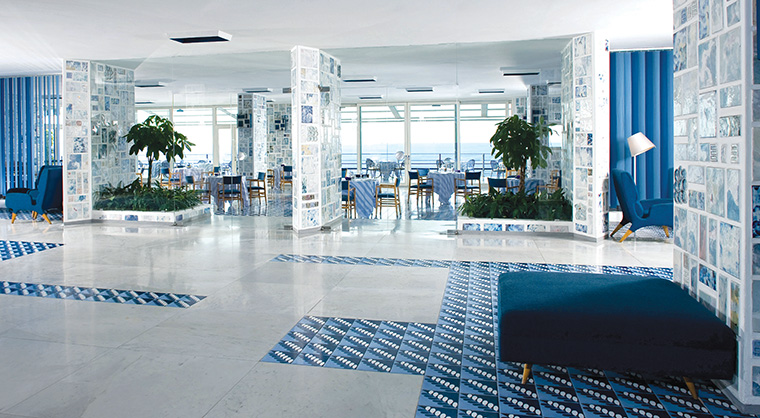 Perched high above the Mediterranean Sea, this hotel is the coolest, in every sense of the word that it is possible to get. The combination of white and blue runs throughout the whole scheme of the hotel – table cloths, plates and dishes, telephones, floor tiles (30 different types forming one hundred different blue and white patterns), the stark white diving board above the blue water of the pool: everything working in harmony, creating a white and blue universe.
If it was possible, I would stay in this Sorrentine universe for the rest of my life. Occasionally though, one must venture elsewhere, but the influence of Ponti remains. I was at the gorgeous and very hip and modern Myconian Ambassador not long ago when I picked up the tactile knives and forks, designed by, yes, Gio Ponti!