How Frank Ponterio overhauled a Cessna Citation CJ2+ in 30 days
A limited time crunch forced the Chicago-based interior designer to take on this impressive challenge
A used Cessna Citation CJ2+ came into possession of a longstanding client and golfing buddy of Frank Ponterio's earlier this year. Having worked with Ponterio on a number of residential projects, this friend knew that Ponterio had the potential to completely overhaul the private jet's dull and boring all-beige interiors into something that would better reflect his personality.
Ponterio was more than happy to be enlisted to furnish the Cessna. The catch, however, was that the plane had to be refurbished within 30 days, in order for his client to make it to the Masters Tournament in Augusta, Georgia. Ponterio was up for the challenges ahead: a tight time crunch and a small space to work with.
The refurbished plane took more than just a couple of small upgrades and actually saw it being entirely stripped down so that Ponterio could start from scratch. Ponterio shares with us his design process and his favourite details of the Cessna with Jetgala:
What got you into interior design and why do you love it so much?
I originally thought I would become an architect but after studying interiors and understanding the industry, I found much more enjoyment from the level of detail involved with interior design and the strong relationships you form with clients. I do still get to work on a good amount of architecture, though, since I have architects on my team who assist with all of the interior detailing, so it is really the best of both worlds.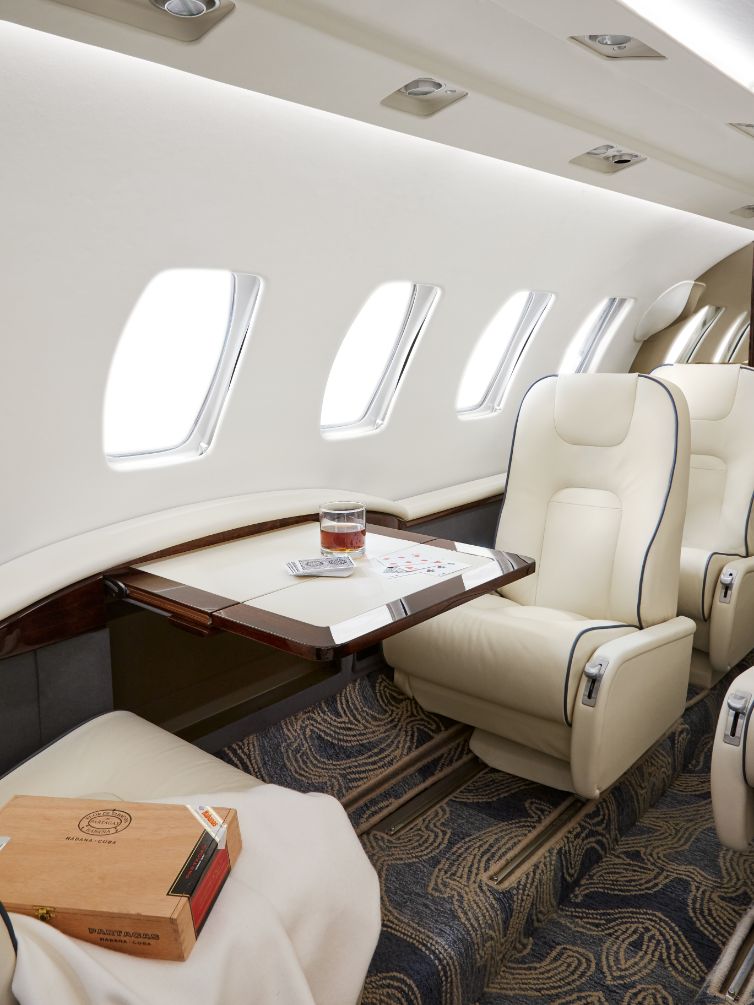 What was most challenging about the detailing of the interior design of the Cessna Citation CJ2+?
It was making sure we could achieve the level of detailing we wanted for the seats. We were able to reuse the foam form from the originals, which helped the budget, but I actually had to take a permanent marker to draw on where I wanted the new cream and blue stitching and piping details to go onto the leather. At least the client liked it so much, he had his car's interiors done to match!
How do you maximise space and design in something small like a private jet?
It is the same way you think about detailed interiors. When we work on residences, we dive deep into the details of pretty much every piece – what's stored in every drawer, how it will be used, by whom and how often. The Cessna was no different – it also needed smart places to store everything needed for a great flight, from cashmere throws to designing the inside of the millwork to hold specific glassware, playing cards and much more.
The most important thing to remember is that when designing small spaces, the details have to be spot on. Not over the top, just spot on. On planes, this is amplified as you have a captive audience that has plenty of time to take in the details.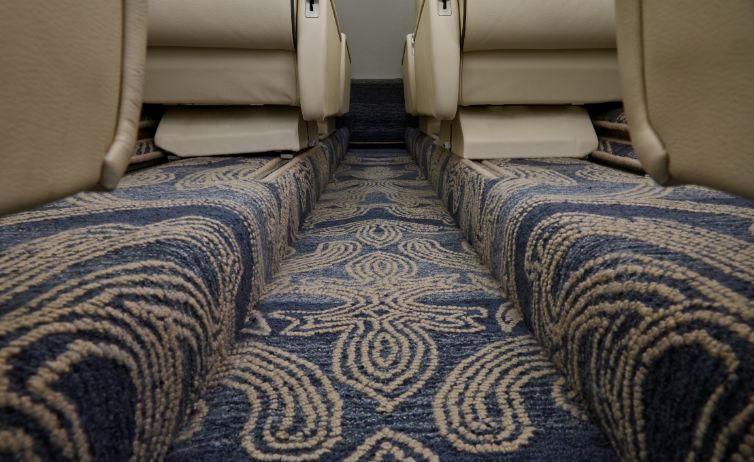 What are your favourite details of the refurbished Cessna?
The Scott Group Studio carpet is my favourite. Most aircraft have simple, utilitarian carpeting, but we wanted something different and unexpected. We worked with eight different shades of blue for the heathered background and it paid off.
What were your inspirations for the interiors of the jet?
Really, the client was the inspiration. He's a friend I know well, so I wanted it to reflect his lifestyle and tastes. He wanted something fresh and smart, and knowing that he loves colour, we pulled the blue into the mix (not knowing it would then become Pantone's Colour of the Year 2020). It is his plane and completely reflective of his sensibilities. It is what we do for all our clients – feeling at home even if they're in the air!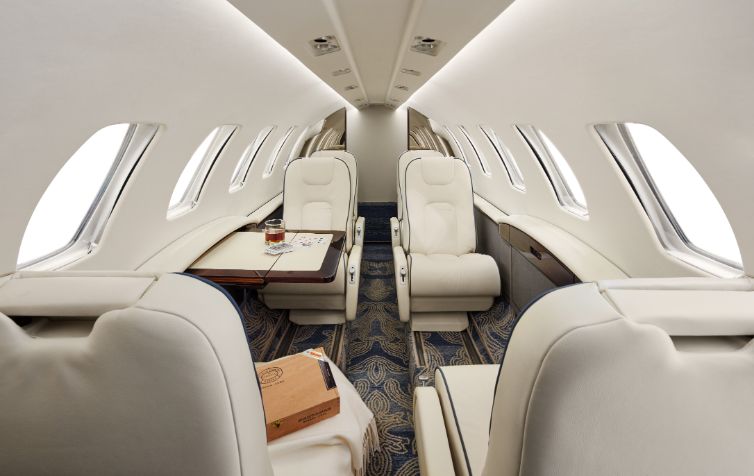 What is the Frank Ponterio signature of interior design?
With clients, it is all about their aesthetic. However, mine has personally been formed over a lifetime and is different, depending on which home I'm in. My primary residence is a 100-year-old country house designed by the legendary David Adler. It's very casual, gathered and collected; a true family home where we entertain, and everyone feels as comfortable as they would in their own home. It has vintage leather club chairs, fantastic handmade rugs and a great, well-used kitchen.
My apartment in the city is totally different – I keep it clean and very current with great art and open rooms to reflect more of an urban lifestyle. I also have a farm where I'm currently designing the house with heavy timbers and iron with some details that push into the contemporary but are still grounded in classical proportions. We are using a lot of glass across the back to allow the views to come in – it's rustic yet elegant, strong but pretty. Essentially, I like a lot of different styles, with the common thread being authentic, solid environments with their own personality and sense of place.
What other spaces are you looking to designing in the future?
We're currently redesigning a great space for a new celebrity buyer. It's very fun, all about in-town living, entertaining and music and we can't wait for it to come to life!
I'm also beginning to work on a beach house on the West Coast of Florida. It has a totally different aesthetic for this small island, and it's our first run doing the entire project, where we will also be responsible for the architecture, interiors and landscaping.
We've never done a yacht but it's on my list as well. We'll be ready when it comes along!