Jakarta Presidential Suites — SUITE DREAMS
JAKARTA'S LUXURY ACCOMMODATIONS THAT PRESIDE OVER THE REST
By Koh Chuin Ying
SOUTHEAST ASIA'S MOST POPULOUS CITY IS A PLACE OF EXTREMES. IT IS POLLUTED, TRAFFIC IS FAMOUSLY APPALLING, SKYSCRAPERS ARE INTERSPERSED WITH LOW-RISE VILLAGES, AND POVERTY RESIDES NEXT TO WEALTH. BUT THIS BEING NOT MUCH DIFFERENT FROM MANY OTHER WORLD CAPITALS, JAKARTA STANDS OUT AS A TEEMING ASIAN METROPOLIS; A MELTING CAULDRON OF CULTURES AND CUISINES THAT ATTRACT A STEADY STREAM OF GLOBAL BUSINESS, COSMOPOLITAN MIGRANTS AND EAGER TOURISTS.
With dining, shopping, sightseeing and nightlife offerings that rival the best in the region, seeking them out is part of the excitement and colourful allure of Jakarta. The old town of Batavia will transport you back to Indonesia's Dutch colonial past, while the verdant charm of neighbourhoods like Kemang and Senopati speak of the city's rise. The hive of music venues, restaurants and hotels in the ever hip Menteng district offers something new to see or do every time you're there. But no visit is complete without a stay in the best and most coveted hotel suites the city has to offer. Here, we check-in to four Presidential Suites that promise to get your endorsement.
MANDARIN ORIENTAL JAKARTA
Reopened in October 2009, the Mandarin Oriental Jakarta is one of the latest refurbished five-star hotels in the city. Comprising of 272 rooms and suites that blend the Group's signature Oriental style and contemporary simplicity, the property also has six dining concepts, meeting and banqueting facilities, a swimming pool and fitness centre.
The regal Mandarin Suite sits on the top floor with a direct view of the Welcome Monument and includes a bedroom; living room with a separate study space; a dining area with a kitchenette and reception foyer, and a spa-like bathroom across 200 m2. Along with its sister Oriental Suite, the space has a Chinoiserie-theme that employs soft, earthy colour palettes embellished with accents in gold and plum. Taking cues from local culture, renowned interior design firm Lim Teo and Wilkes also introduced details like tables with handles inspired by Indonesian tribal jewellery and Indochine prints on fabrics — imparting a subtle yet poetic grandeur to the décor.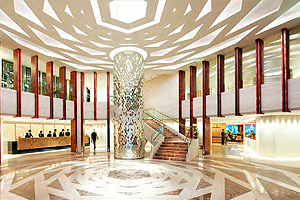 FOUR SEASONS HOTEL JAKARTA
The newest hotel on this list just opened its doors in June. The Four Seasons Hotel Jakarta is an all-suite luxury property located in the city south as the centrepiece for the Capital Place development, replacing the brand's previous location on Jalan Rasuna Said. Targeting business travellers, the 20-storey hotel has five dining options, a spa, an outdoor pool, fitness centre and business facilities. Providing "a carefully designed residential-style suite experience," its Presidential Suite is sprawled across 330 m2 on one-half of the 19th floor. Its floor plan includes an expansive foyer, an enclosed study, a living room, dining room, master bedroom and powder room.
With dramatic floor-to-ceiling window views of the city — which continue in every room and all 125 suites in the hotel — each room features bespoke interiors curated by New York-based designer Alexandra Champalimaud, who also worked on The Waldorf Astoria in New York and The Hotel Bel-Air in Los Angeles. Think Chinoiserie wall panels, a soothing grey and blue colour scheme accented by dark wood furnishings, Indonesian artwork and glass chandeliers. There is also a custom jewel-toned canopy master bed; a deluxe marble bathroom with a deep soaking tub; and a private pantry for culinary staff when hosting a dinner party for up to 12 guests.
Guests can book the Presidential Suite from the end of September 2016.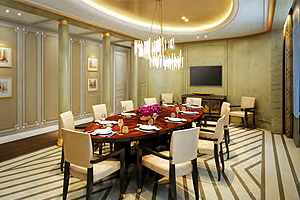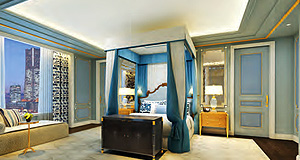 JAKARTA STANDS OUT AS A TEEMING MELTING CAULDRON OF CULTURES AND CUISINES THAT ATTRACTS A STEADY STREAM OF GLOBAL BUSINESS, COSMOPOLITAN MIGRANTS AND EAGER TOURISTS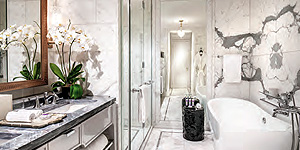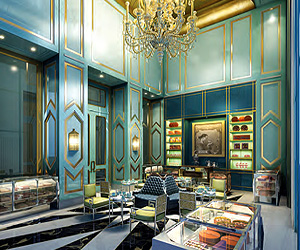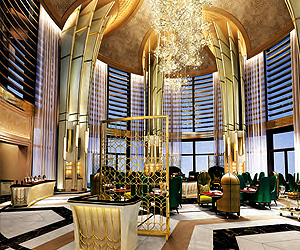 THE DHARMAWANGSA JAKARTA
Be received like an honoured guest at a private residence at The Dharmawangsa Jakarta. Built in the quiet, upscale Kebayoran Baru area, the hotel offers a serene and soothing contrast to the bustling metropolis where one can relax and recharge in elegant intimacy. Placing a huge emphasis on its 1920s Javanese-style architecture, the building sequences are built in a succession of linked spaces, beginning with a front veranda, centre room and back veranda. The interiors feature recurring motifs like the Surya (sun) and lances; Majapahit-inspired furniture; archipelago antiques, and terracotta pots and panels.
All 99 rooms are tastefully decorated around five thematic schemes: Java court, Pasisiran, Bali, Sumatran and East Indonesian. The Presidential Suite was designed with the first style in mind — spanning 443 m2 across the top floor — and is arguably the most authentic in its design and furnishings of the four on this list. For instance, the living room ceiling looks like the underside of a Pendopo roof. The entrance vestibule has original 19th century glass paintings on display and Dutch influences are seen in a 17th century study cabinet and octagonal bathrooms. In addition, the suite has two bedrooms, a dining room for eight, a full kitchen, two private terraces and a plunge pool. The property also has four restaurants, three lounges, a wine cellar, fitness and wellness facilities and 24-hour butler service.
Above all, the centre emphasises a back-to-nature approach for physical and emotional well-being. Besides eating well, exercising and receiving treatments, guests are encouraged to immerse themselves in the retreat's natural healing environment of green mountains, bamboo and guyabano trees, and peacocks roaming the lawns. The Farm experience is made whole with guests' choice of accommodation, from the rustic Sulu Terraces to the luxurious Lakan villa.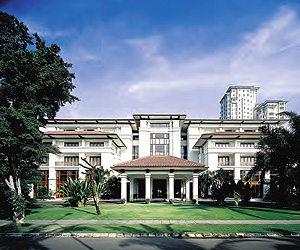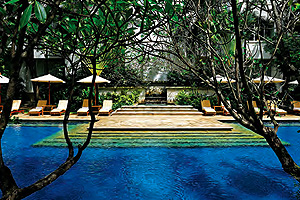 WITH A HUGE EMPHASIS ON 1920S JAVANESE-STYLE ARCHITECTURE, THE BUILDING SEQUENCES ARE BUILT IN A SUCCESS ION OF LINKED SPACES, BEGINNING WITH A FRONT VERANDA, CENTRE ROOM AND BACK VERANDA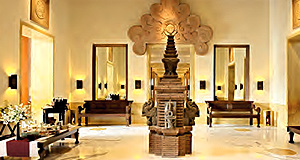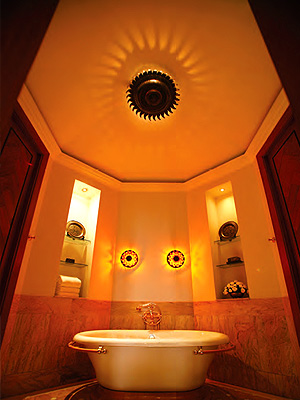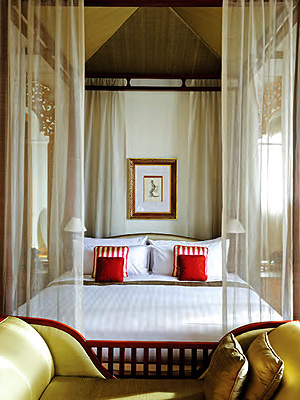 HOTEL INDONESIA KEMPINSKI JAKARTA
Another hotel that underwent renovations and reopened in 2009 is the Hotel Indonesia Kempinski Jakarta, just a short distance from the Mandarin Oriental. Declared a national heritage building by the government, the landmark consists of two wings: Ramayana Wing and Ganesha Wing, with 129 rooms and 160 rooms respectively. As one of the more refined meeting venues for Jakarta's society, the historic hotel exudes old-world charm and recaptures some of its former lustre with vintage photographs and well-preserved sculptures. The Presidential Suite in the Ganesha Wing is one of the largest in Jakarta with 412 m2 of space. Counting heads of states from around the world as notable past occupants, the accommodation offers a deluxe room for bodyguards; a master bedroom with a whirlpool and steam room in the bathroom; an enclosed lounge for one's entourage; a spa treatment room; a dining room for up to eight people; an entertainment room; a lounge with a piano; a kitchen and bar, and a gym. Featuring bulletproof windows, the purple and grey suite is lavishly and gracefully decorated like a luxury home, with burl wood panelling, marble finishing, chandeliers and gilded accents.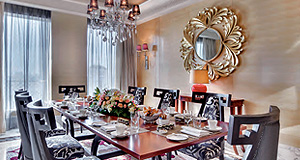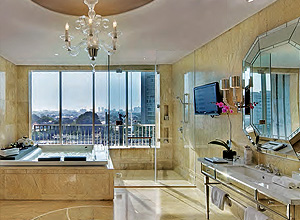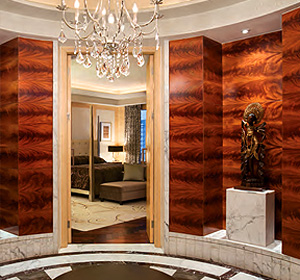 DIRECTORY
Mandarin Oriental Jakarta
Jalan M.H. Thamrin, PO BOX 3392
Jakarta 10310, Indonesia
T: +62 (21) 2993 8888
E: mojkt-reservations@mohg.com
Four Seasons Hotel Jakarta
Capital Place Jakarta
Jalan Jenderal Gatot Subroto Kav. 18
Jakarta 12710, Indonesia
T: +62 (21) 2277 1888
E: jkr.reservations@fourseasons.com
The Dharmawangsa Jakarta
Jalan Brawijaya Raya No. 26
Kebayoran Baru
Jakarta 12160, Indonesia
T: +62 (21) 7258 181
E: reservation@the-dharmawangsa.com
Hotel Indonesia Kempinski Jakarta
Jalan M.H. Thamrin No. 1
Jakarta 10310, Indonesia
T: +62 (21) 2358 3800
E: info.jakarta@kempinski.com