Mark of Excellence
Ownership of a BMW has its privileges. Much more so if you own the BMW 8 Series, BMW 7 Series, or the BMW X7, which qualifies you to be a member of the exclusive BMW Excellence Club.
For many, owning a BMW is a sign of success – but it's much more than that.
Owning a vehicle from the Bavarian brand also reflects the appreciation of fine automotive craftsmanship, an appreciation of the state-of-the-art technology that goes into building one, and the attention to luxurious details that accompany each model.
This conscientious approach to choosing a car is given an added dose of exclusivity if the BMW in question is the all-new BMW 8 Series, BMW 7 Series or BMW X7.
Owners of these three BMW models expect more from their cars than getting them from one place to another in style or at speed. They ask as much from the brand as they've given into working towards owning one.
That is why the BMW Excellence Club was created to benefit ownership with privileges that go beyond driving an incredible automobile.
The love to drive is often the thing all BMW owners have in common. The thrill of acceleration, and road-hugging control keeps you enjoying the open highways within the finely designed interiors of the car. Members of the Club will enjoy BMW Track Days that allow driving enthusiasts to hit the tarmac in high-tech machines that blend luxury and performance in glorious unison.
As aftersales service is one of BMW's top priorities, the BMW Excellence Club Service Concierge is always on hand to make sure that your ownership experience is hassle-free. The team at Performance Motors Limited offers pick-up services for servicing appointments, as well as the complimentary usage of a courtesy vehicle during this scheduled downtime.
If you like to go places, meet people, and be surrounded by the finer things in life, the BMW Excellence Club helps connect like-minded people through specially organised networking events.
Another particular highlight of the BMW Excellence Club membership is the much sought-after access to BMW Golf Club International tournaments. When international air travel for leisure
activities can finally resume, not only will you get to play at some of the finest courses in the world, but the overall experience is one highlighted by all the premium frills associated with the game.
For those that enjoy fine food and drink, the BMW Excellence Club also curates exclusive dining experiences that will expand your gastronomic horizons with fellow Club members.
Above and beyond remains the mantra of club. You will also enjoy an exclusive, one-year DBS Insignia membership* that will open up a world of possibilities. Your credit limit of up to $1 million allows a universe of your personal fancies and pursuits. And if you're too busy to make the arrangements as such, a 24-hour dedicated concierge is ever at hand to make sure that all your needs are taken of regardless of where in the world you happen to be. What's more, enjoy a 100k welcome miles upon your enrolment into DBS Insignia. (Term and conditions apply. For more information, visit www.dbs.com.sg/insignia.)
With the BMW Excellence Club, owning a BMW 8 Series, BMW 7 Series or BMW X7 is better than any gift you've given yourself. It's also earning the privilege to be part of an elite group of car lovers who also enjoy the best of what life has to offer – together with sheer driving pleasure. The visceral joy of driving a BMW is brought to new heights with these models serving as the epitome of performance with luxury.
For example, the all-new BMW 8 Series is the latest performance luxury model in the BMW portfolio. In particular, the all-new BMW 8 Series Gran Coupe redefines the genre with its ground-breaking combination of sports performance and the accoutrements found only in the most luxurious of limousines. This is, in all reality, an unbridled sports car dressed up in sophisticated elegance.
The silhouette of the four-door coupe shouts its intentions to those who like the power of a sports car coupled with touches that pamper the driver. What really impresses is the muscular stance of the front-end with its broad, low-slung design buttressed by large air-intakes below. This seamlessly gives way to a stretched mi-body, powerful shoulders and C-pillar. The result is a shape that holds its own among BMW's most iconic lines, and one that culminates in its proposition of being the brand's chief sports luxury model.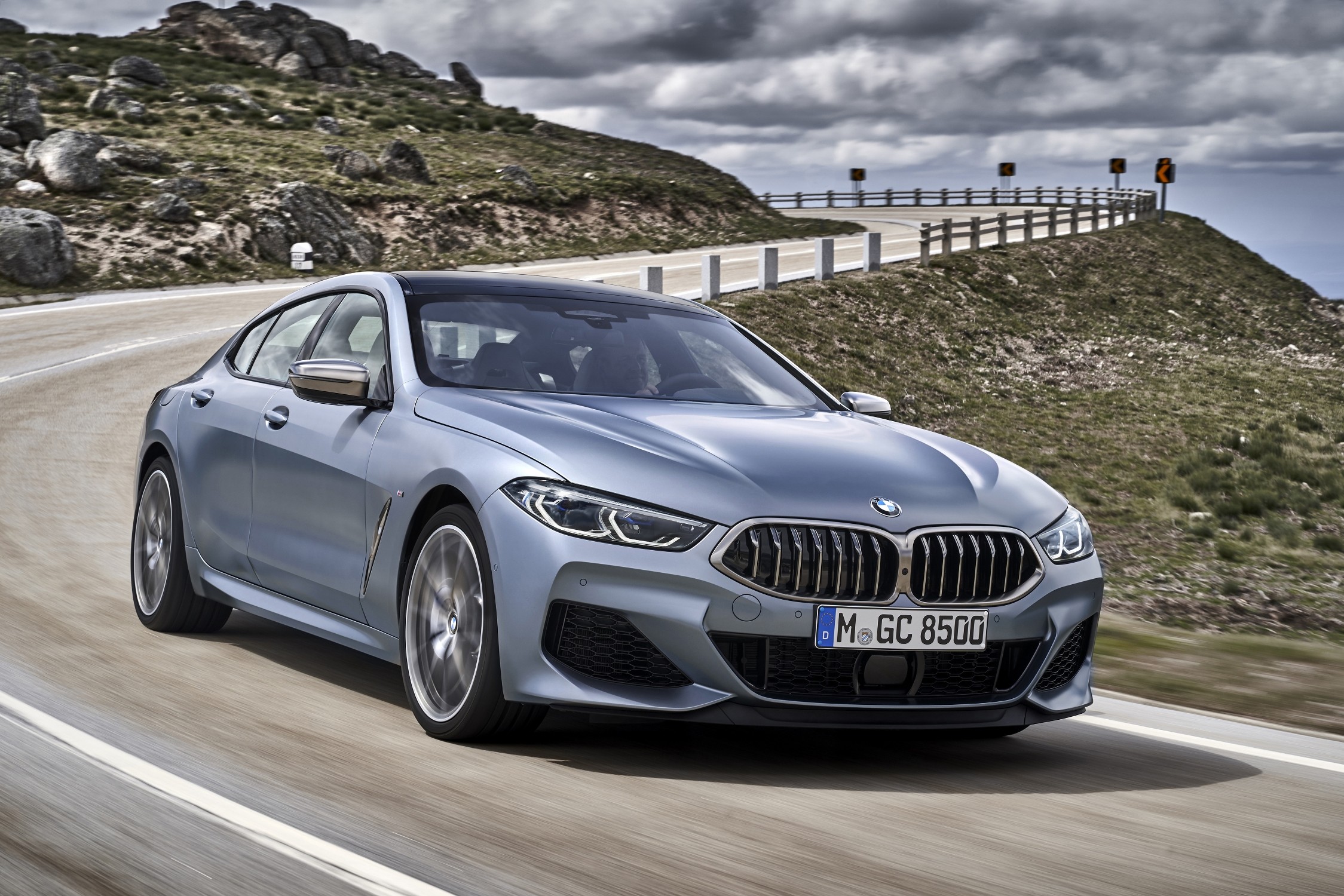 What truly sets the BMW 8 Series Gran Coupe apart from other limousines can be found under the bonnet. The new six-cylinder, 3.0 litre engine of the BMW 840i Gran Coupe allows drivers to enjoy 340hp of power while optimising fuel efficiency and emissions. Pulling power has been upped to 500Nm, which is more than one will ever need for urban driving. And if this weren't enough, the BMW M850i xDrive Gran Coupe ups the ante to a 4.4 litre V8 powerhouse, a beefy 530hp, and the ability of getting from 0 to 100km/h in just 3.9 heart-pulsating seconds.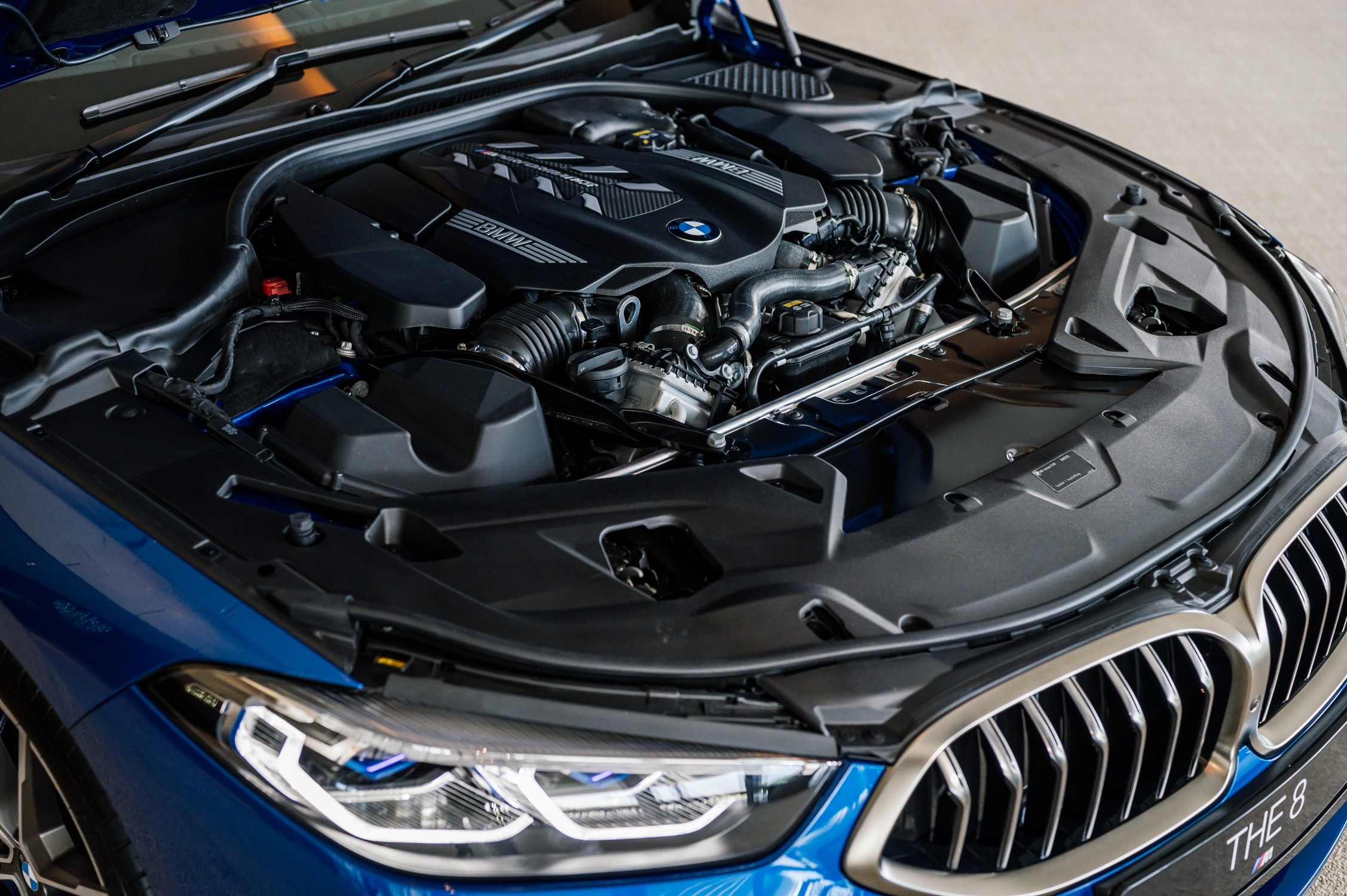 Chief among the many facets of the BMW 8 Series Gran Coupe are the many driving assistance features available:
– Head-Up display with a digital Optimum Shift Indicator lets you see your speed and recommended gear-shift without taking your eyes off the road.
– Active Cruise Control with Stop & Go facilitates highway driving.
– Parking Assistant and Reversing Assistant makes sure that negotiating tight lots is a breeze; the four cameras that come standard with each BMW 8 Series offers 360-degree views for added safety.
– The ability to integrate multi-camera images with the input from radar sensors give rise to assisted braking and steering, allowing BMW 8 Series Gran Coupe owners to experience a taste of future automated driving today.
The BMW 7 Series has always been the definitive limousine since it was first introduced in 1977. As the brand's flagship model, it has shown that luxury and technology can come together in one integrated package to provide owners with the best in form, function, and comfort.Built in Plant Dingolfing in Germany, BMW's largest production facility, the BMW 7 Series models in Singapore are from the long-wheel base range – BMW 730Li, BMW 740Li, BMW 740Li Visionary, and BMW 745Le xDrive.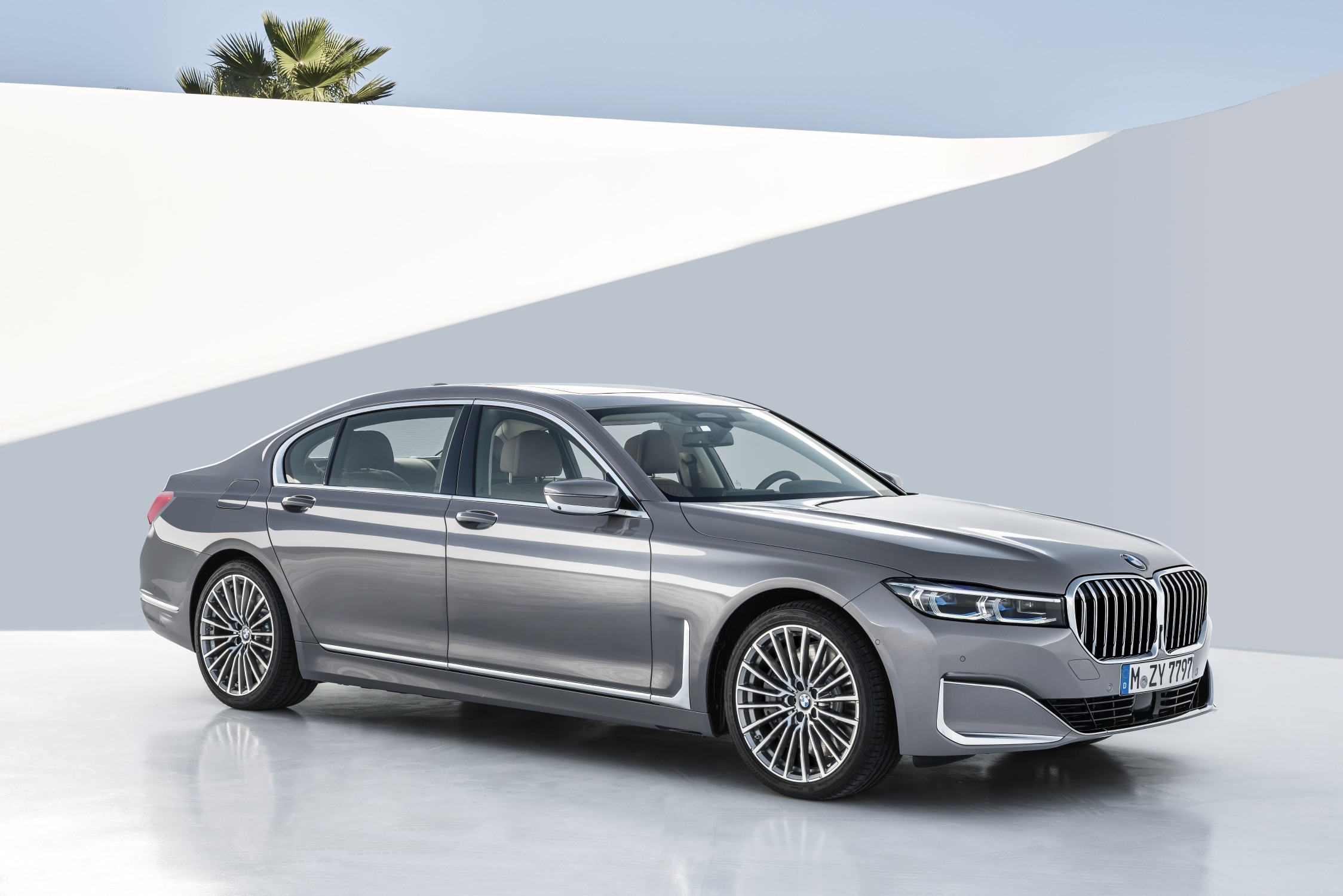 The sophisticated interiors of the new BMW 7 Series set the benchmark in the executive limousines segment. Nappa leather comes as standard and upgrades the already plush seating. Some of the enhancements cannot even be seen by the eye – these include optimised shielding of the wheel arches, sound insulation elements in the B-pillars, and the use of 5.1mm-thick laminated glass in the side and rear windows plus the windscreen. These elements combine to provide for soundproofing that is second to none.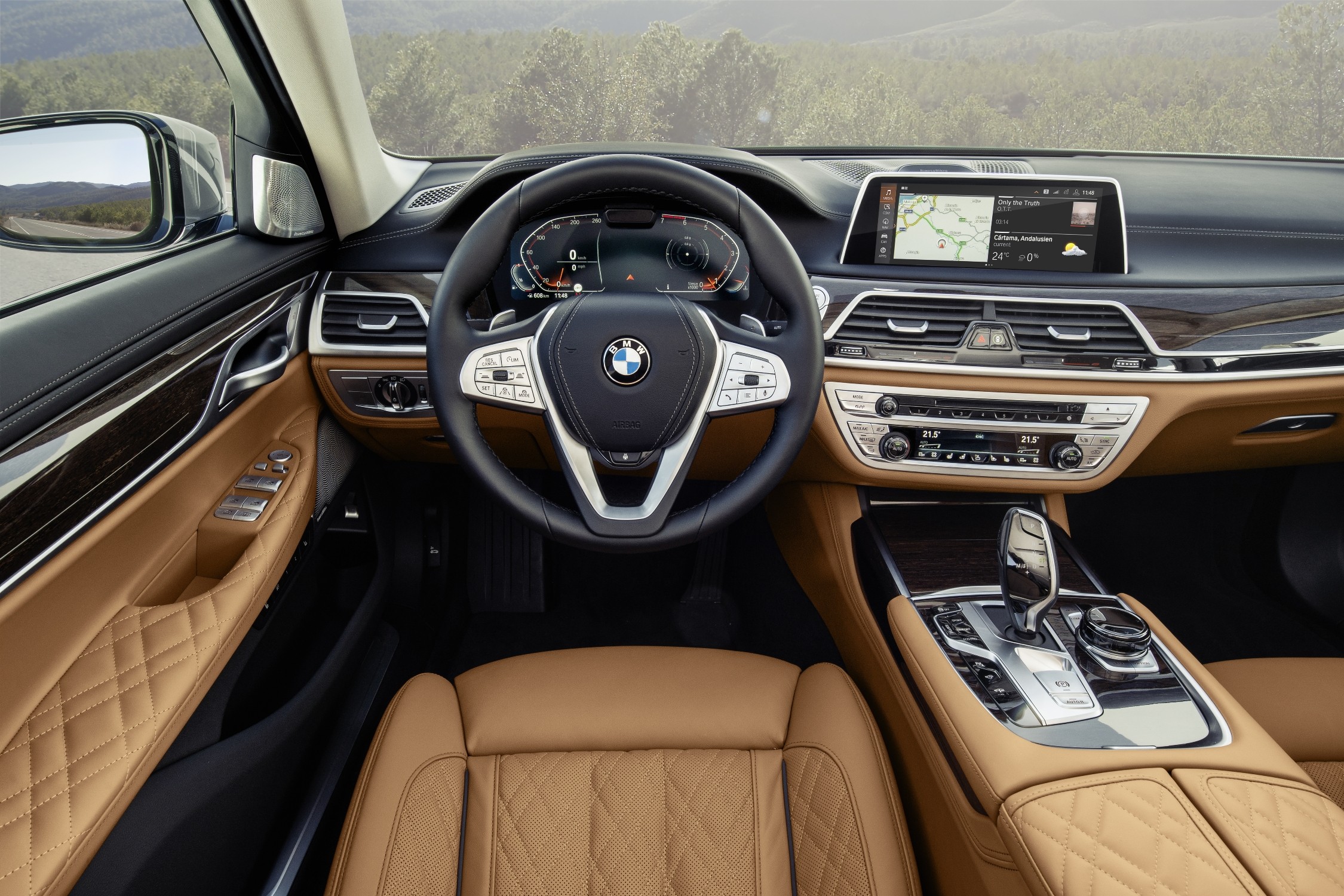 Recognising that some BMW 7 Series owners may prefer to be chauffeured or have passengers who may like to control their entertainment and environment, improvements have been made to enhance this experience. The Rear Seat Entertainment Experience (available in the BMW 740Li Visionary) allows access to entertainment functions as well as navigation independent of the driver enabled by two large, 10-inch full HD screens, complete with a Blu-ray player.
In our world today, individualised control is the omnipotent watchword and here the system continues to excel. Through the BMW Touch Command unit, rear passengers can adjust a plethora of features via a removable, seven-inch tablet.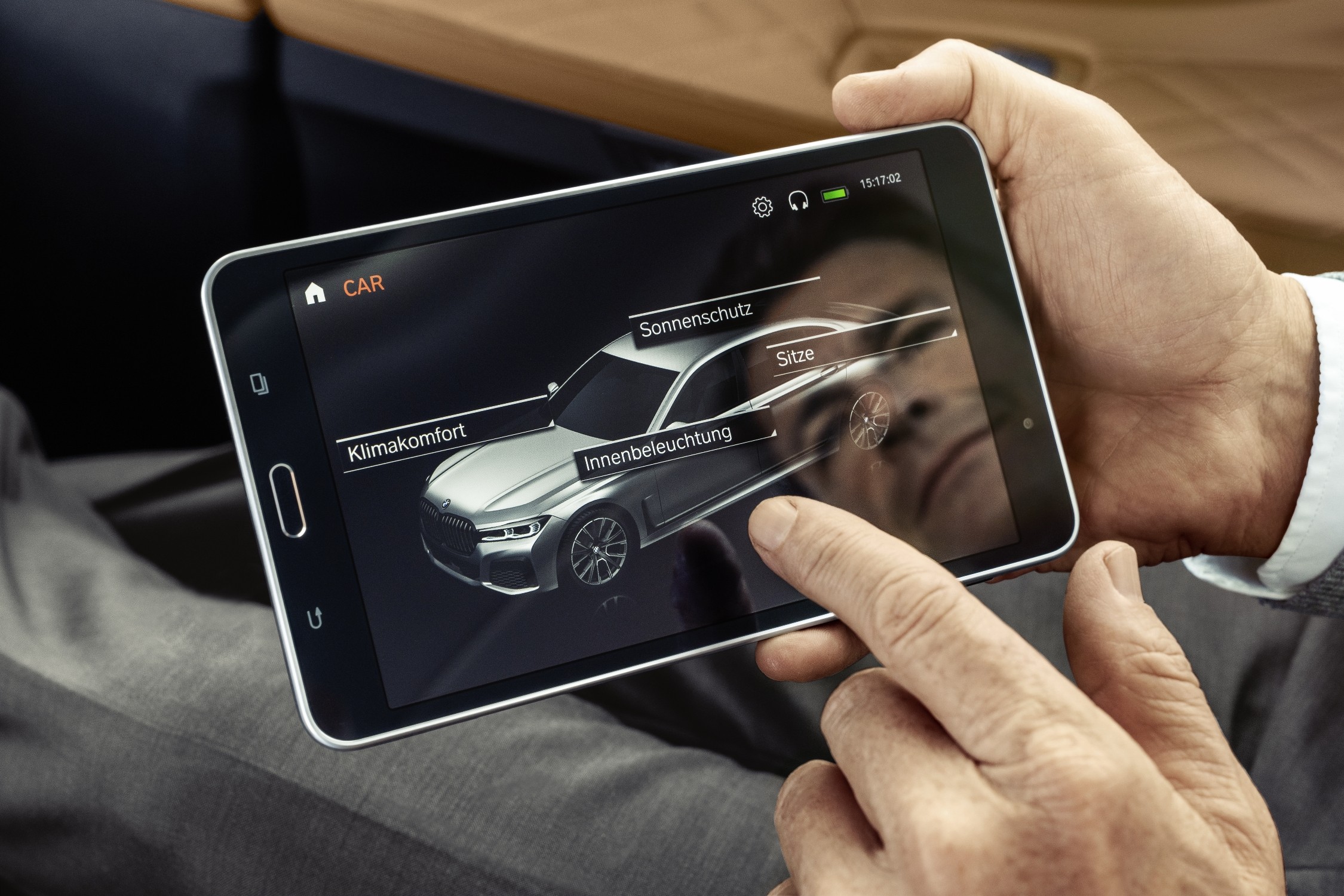 Want to change the lighting to suit your mood? Is the air-conditioning too cold? Or you simply want to change what's playing on the radio? All this and more can be tweaked to your taste with just a few simple taps on the tablet.
Spiffy conveniences and high-tech pizzazz aside, how you feel behind the wheel is just as important as when you're a rear-seat passenger enveloped in luxurious comfort.
The latest BMW TwinPower Turbo technology is shared throughout the new BMW 7 Series range, and comprises twin-scroll turbochargers, High Precision Injection, VALVETRONIC fully variable valve timing and Double-VANOS variable camshaft control. All this results in a vehicle that has the effortless power customary to all BMW cars, smooth transition through the gears, and optimised efficiency.
Naturally, BMW understands that in addition to power, having perfect control of the car and the lovely sensation of a smooth ride are equally critical. The new BMW 7 Series boasts a double wishbone front axle and a five-link rear axle ensures wheel positions are in their optimum locations so that all bumps along the road are evened out. This unique symbiotic relationship between front and rear suspension systems helps to create a fine balance between dynamic performance and comfort.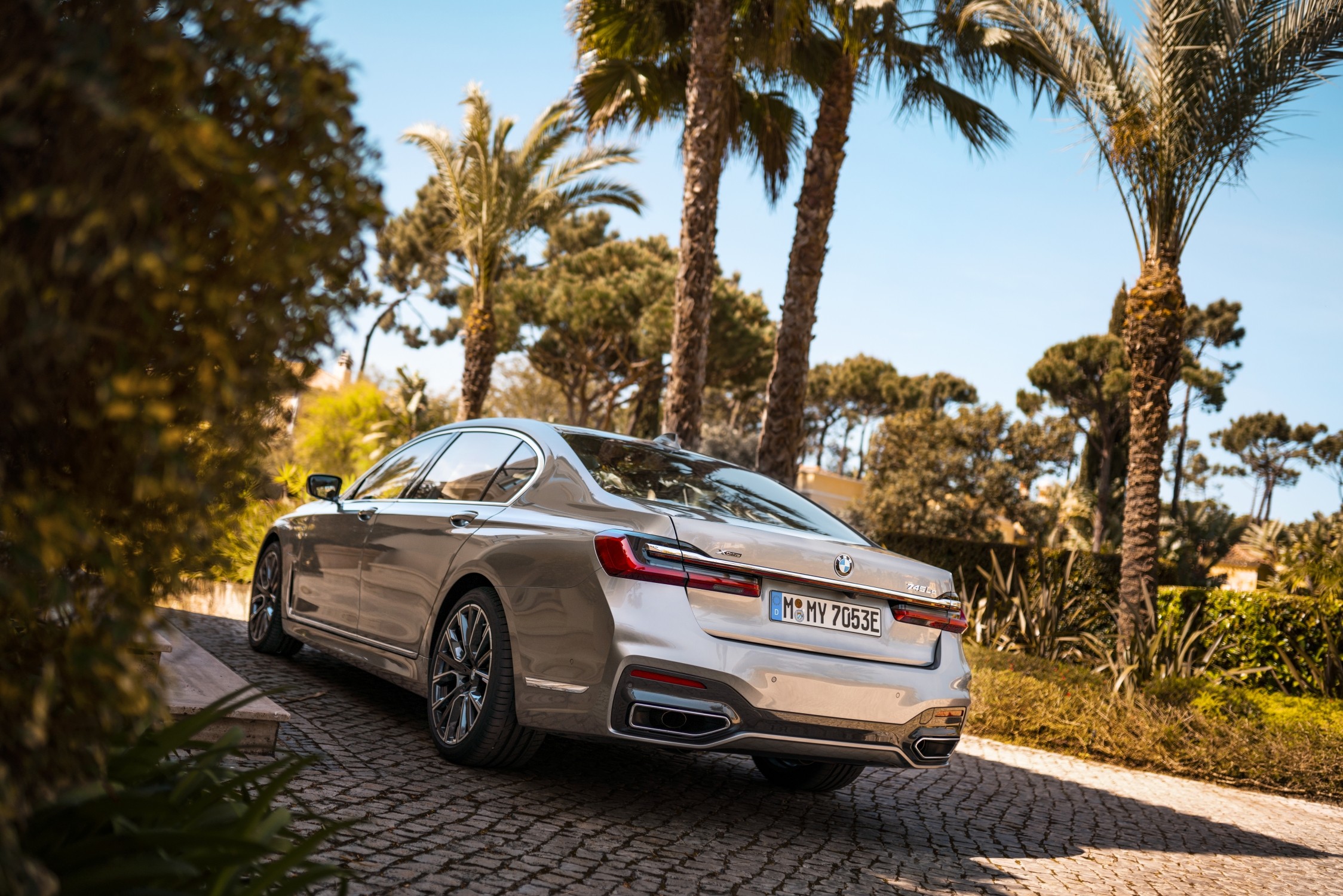 A wide range of innovative technologies are available in the new BMW 7 Series, as is the BMW Intelligent Personal Assistant – your personal in-car attendant, if you will. You can access many features of the car simply by talking to it. With a verbal "Hey BMW" command, the system kicks into gear and is ready to carry out a wide range of services. "Take me home" opens the navigation with a suggested route; "I'm tired" lets it adjust the lighting and temperature to keep you alert and comfortable; and you can even find out if you have enough petrol asking "How far can I go before refuelling?".
The BMW Intelligent Personal Assistant is available to all new BMW 7 Series owners free of charge for three years. The BMW Live Cockpit Professional with its all-digital displays and high-resolution instrument cluster, and the BMW Operating System 7.0 with its new iteration of driver-preference pre-sets, the new BMW 7 Series is arguably one of the most technologically advanced cars today.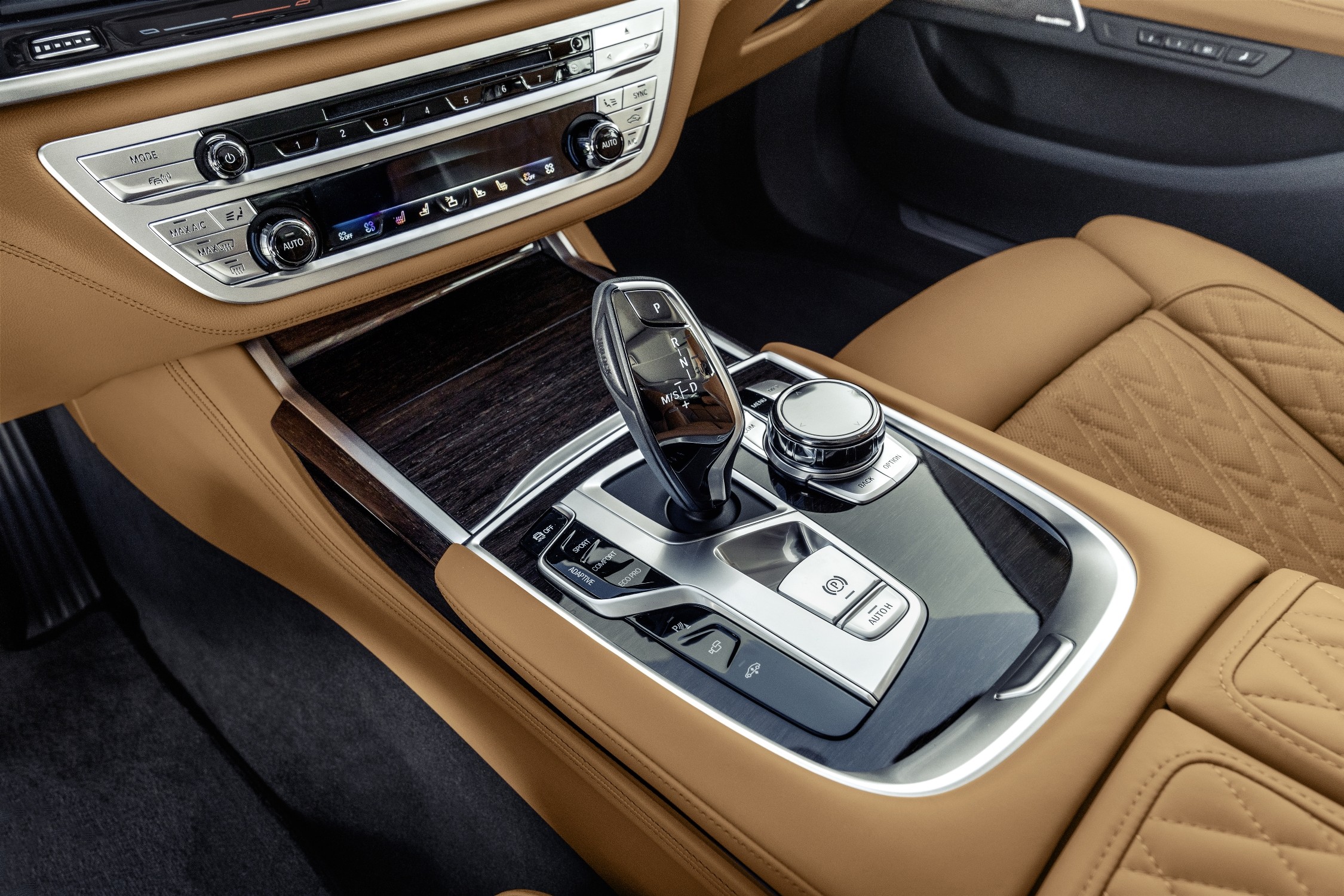 To meet the needs of the world's increasing hunger for high-riding sports utility vehicles, BMW's Sports Activity Vehicle (SAV) range has increasingly introduced new models within the BMW X family to meet the requirements of drivers who enjoy the space and ruggedness of these vehicles.
The first-ever BMW X7 – the newest and largest of BMW's SAVs – now sits at the top of this range.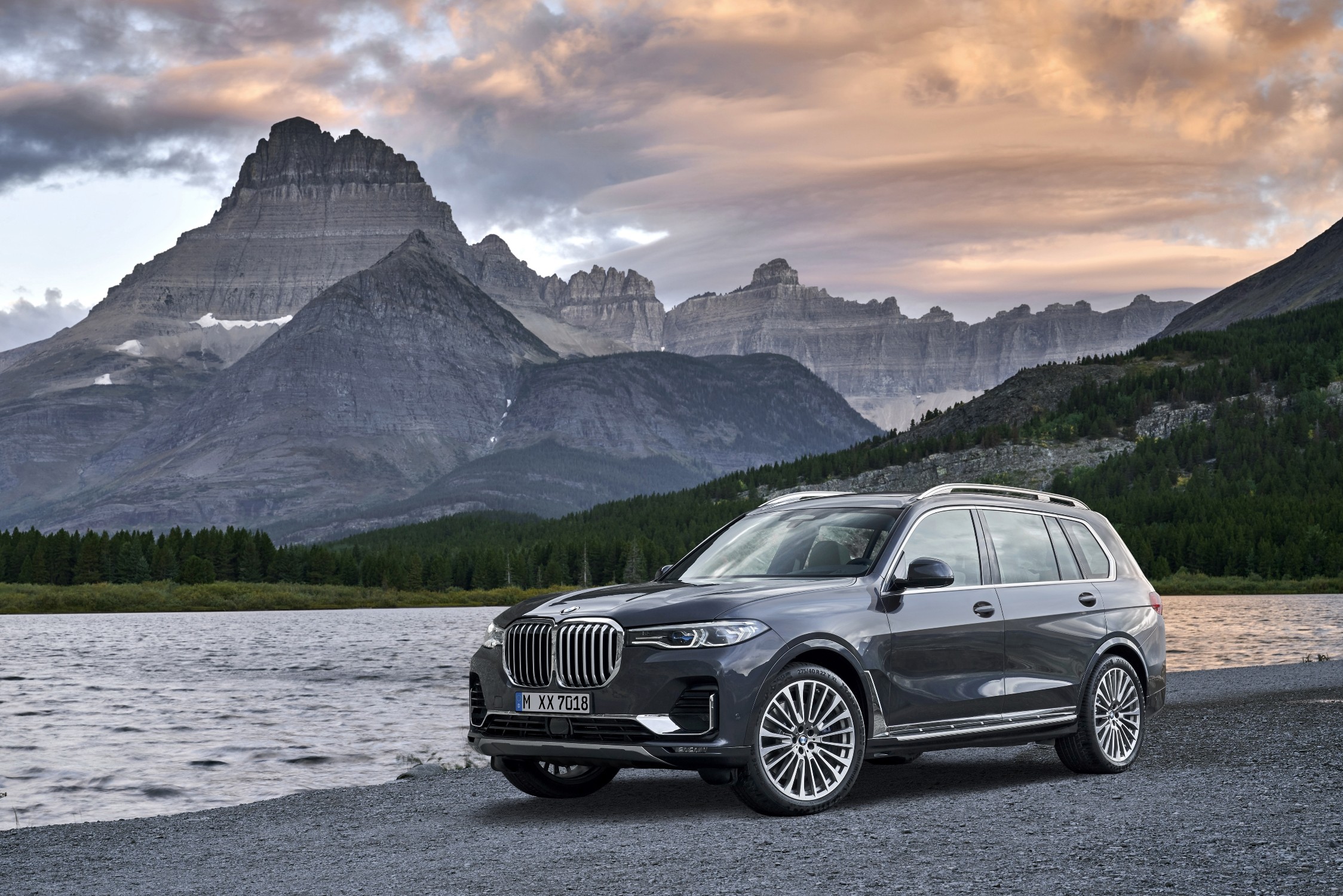 Chief among the many features of the first-ever BMW X7 is its ability to take seven passengers. This is offered as standard in the Design Pure Excellence and M Sport models that are currently available in Singapore. A special Launch Edition of the BMW X7 is designed for six passengers.
Everyone in the BMW X7 is afforded a level of comfort – and control – seldom seen in other three-row vehicles. The two cockpit seats in the second row not only provides "Business Class" comfort, but also adds to the spaciousness of the car. Apart from the overall sense of roominess in the elegantly appointed interior, a large, electronically operated glass roof opens up the inside to the outside. The glass roof headliners can be operated by different sections of the passenger area, giving everyone a chance to fine-tune their ambience preferences.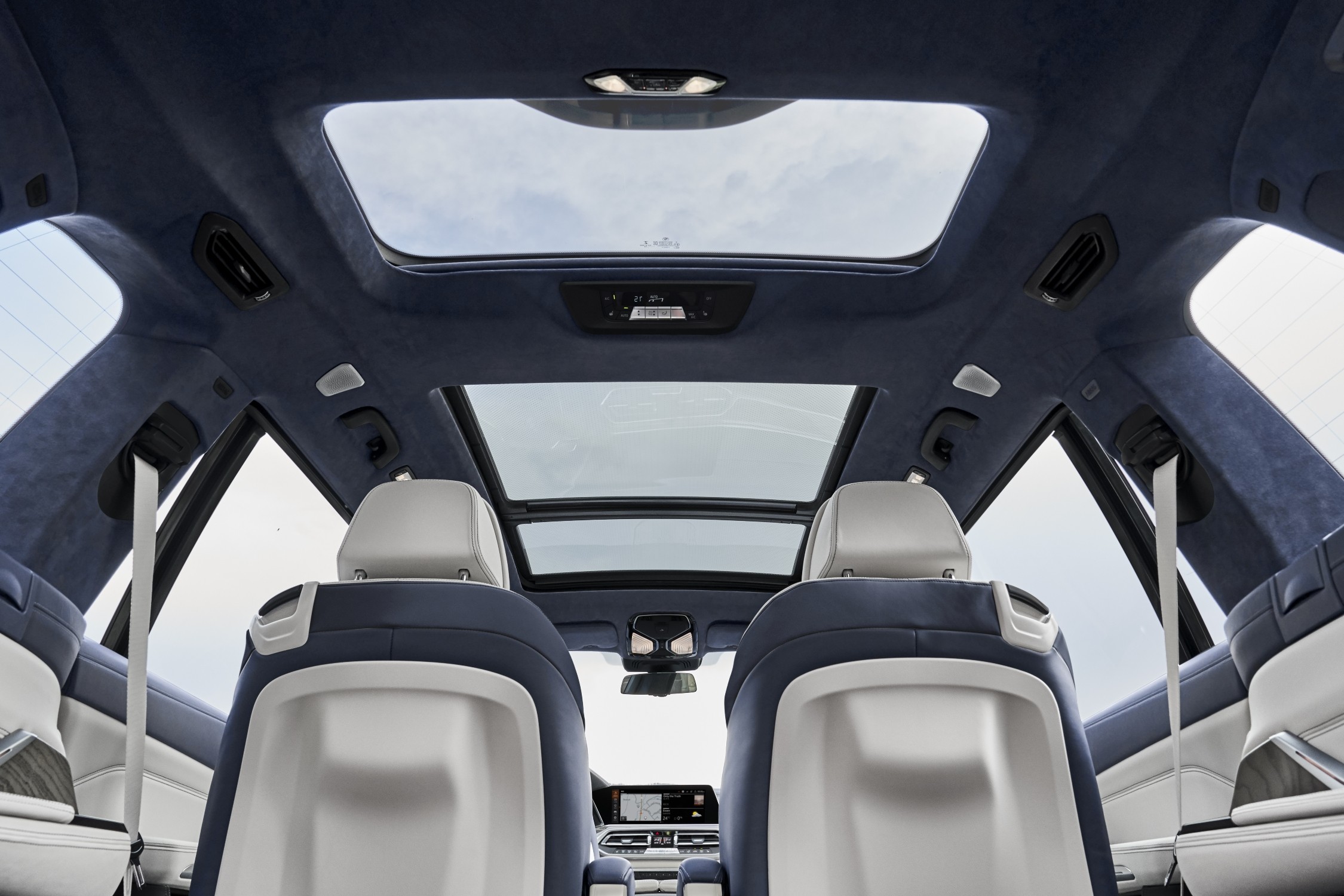 Passengers can also control the five-zone climate control system through control panels in the second and third row, and can even select their favourite scents with the Ambient Air package that offers air ionisation throughout the interior. Throw in a centre console that keeps drinks warm or cool, together with wireless charging for your personal devices, and anyone would be looking forward to that long road trip.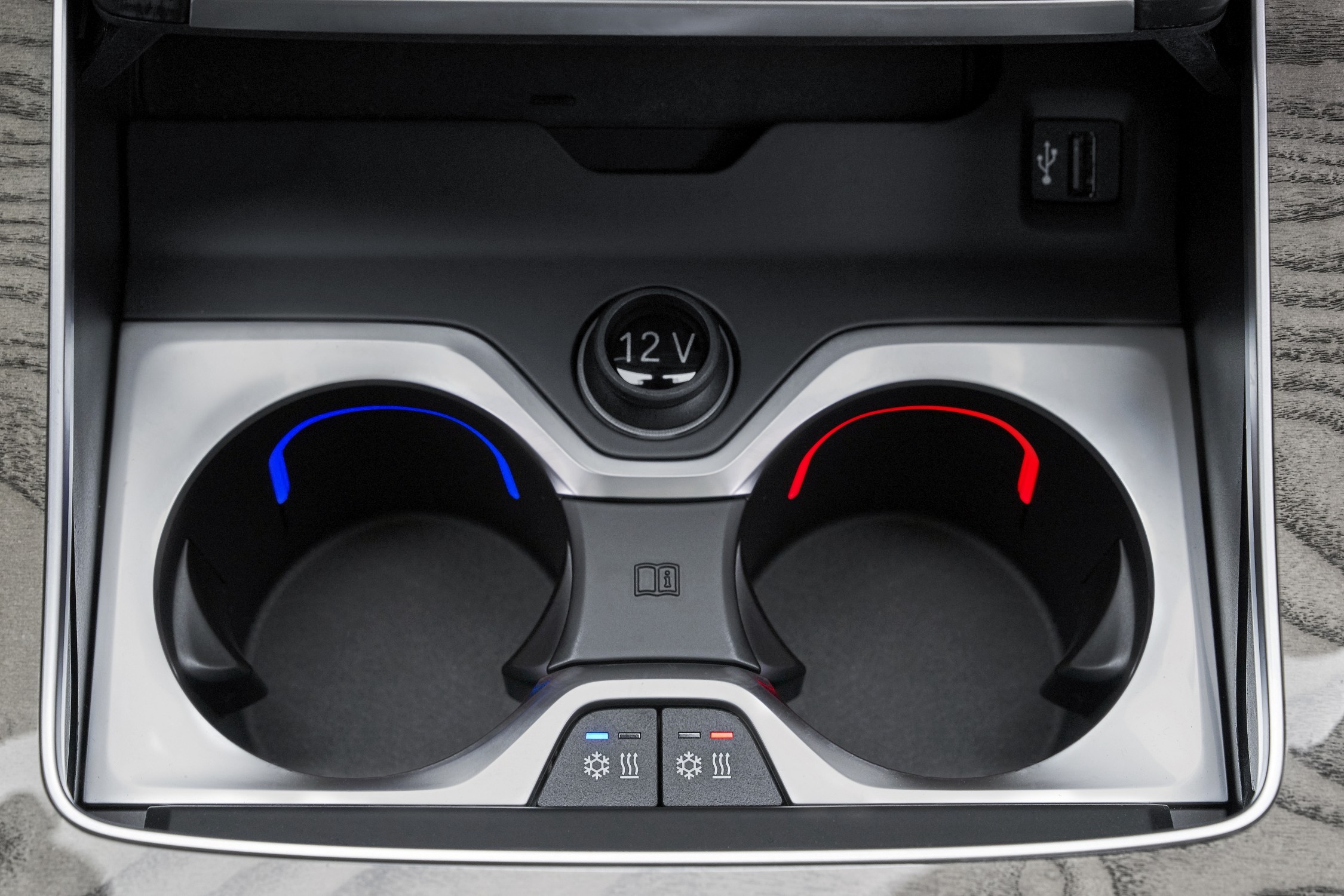 If loading capacity is what you're after in a vehicle, the BMW X7 ticks all the boxes. With all three rows up, 326 litres of usable space is more than enough to store bags for all seven passengers on a driving holiday. But when the backrests of the seats in the second and third rows come down, the storage area opens up to a maximum of 2,120 litres, allowing you to throw in bicycles, and even small furniture among other lumbering objects you may need to transport time to time. To make loading easier, BMW has introduced as standard an adaptive two-axle air suspension that enables the car to be lowered with the touch of a button.
Urban adventurers will enjoy the xDrive capabilities of the BMW X7. Mated with a newly developed chassis technology, this all-wheel drive system promises a blend of all-terrain stability and drive comfort that is unparalleled.In the BMW X7 xDrive40i specifically, power from the six-cylinder, inline petrol powerhouse with BMW TwinPower Turbo Technology is sent to all four wheels, pumping out 340bhp and 450Nm of torque to haul the car and everyone inside through all conditions with minimum effort.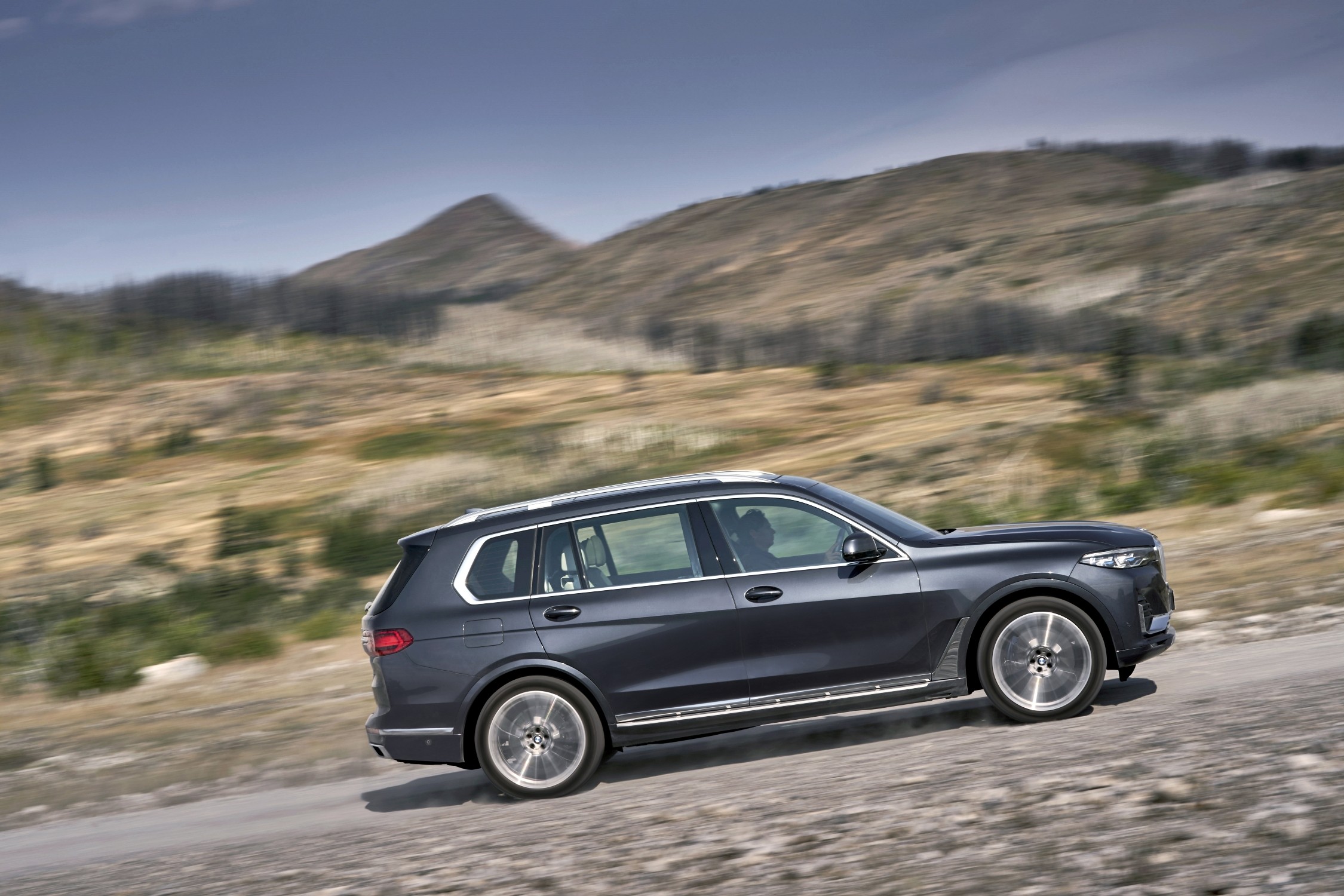 Like the BMW 8 Series and BMW 7 Series, the BMW X7 delivers the latest and greatest features that the brand has to offer. The BMW X7 rounds out the brand's commitment to safety and technology-enhanced convenience within the framework of unmitigated luxury and performance.