Primed for Take-off
The all-new Cessna Citation CJ4 Gen2 elevates ramp presence and in-flight comfort.
By Omar Gepiga, Photos courtesy of Textron Aviation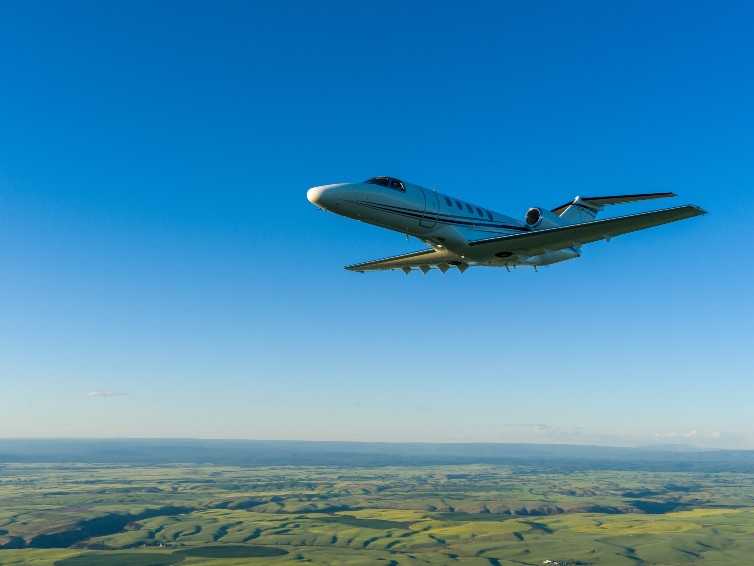 Singapore broadsheet Business Times on March 11, 2021 reported that International Air Transport Association (IATA) chief Alexandre de Juniac believes personal travel will resume from the second half of this year as borders reopen. Countries have rolled out their vaccination programs. Bloomberg reports that  as of March 14, 2021 more than 354 million COVID-19 vaccine doses have been administered across 121 countries with the latest rate of around 9.14 million doses administered a day.
Now that the near future of travel seems to show promise, safety will still be a primary consideration for ready travellers itching to fulfill their wanderlust.  In a report, MultiBriefs says that 2021 is the year that private flying takes off.  While airlines see passenger counts drop by more than fifty percent, private flights run at 90 per cent of normal or what they were during pre-pandemic times.  Private jet passengers try to avoid crowds to reduce their exposure to the COVID-19 virus. MultiBriefs also notes that "private aviation flights have less than 20 touchpoints, meaning less interaction with people you don't know."  Coupled with the obvious benefits like time savings and the ability to reach more airports directly, private flying will definitely be a formidable option for those needing (and wanting) to travel.
Aside from safety, the exclusivity of private flying is alluring because of the prestige it connotes and the luxury it upholds – elegant interiors, roomy seating, flexible departure times, total privacy.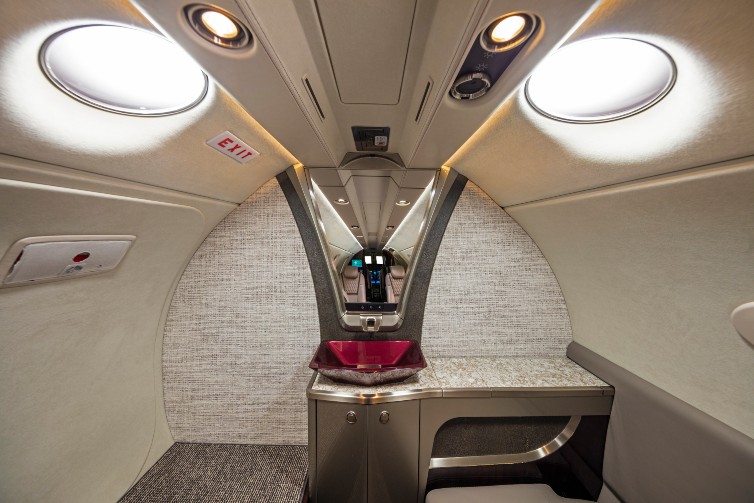 Leading the light jet segment is Textron Aviation's Cessna Citations having delivered over 5,000 aircraft around the world.  Light jets like the Cessna Citation CJ3+ and the Cessna Citation CJ4 remain popular choices among those needing the flexibility while balancing cost-efficiency of aircraft ownership.  These light jets are backed with more than 90 years of general aviation experience with systems that are designed and developed through decades of technical advancements. The original Citation CJ4 has been a popular aircraft in the Asia Pacific region. Textron Aviation expects to see new private plane owners and upgraders taking interest in the new Cessna Citation CJ4 Gen2 due to its exquisitely redesigned cabin, operating efficiencies, generous payload, and range. 
Expertly designed and superbly crafted, the Cessna Citation CJ4 Gen2 jet combines a comfortable, state-of-the-art cabin with generous range, speed and payload. It's the ultimate single-pilot jet, reimagined for a new generation of business leaders and leisure travellers. 
Industry-Defining Features
The Cessna Citation CJ4 Gen2 is the largest Citation in the light jet segment offering a range of  industry-defining features that raise ramp presence and heighten in-flight comfort.  These include new stairs and handrail, premium seating options and enhanced ambiance lighting throughout the cabin.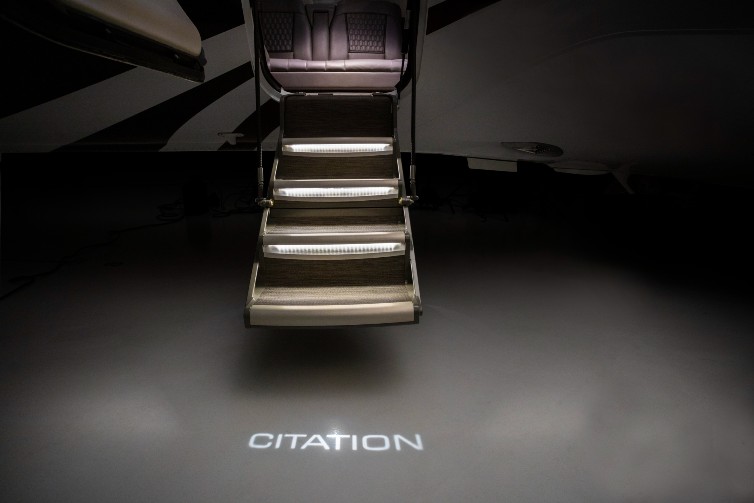 Exquisitely Redesigned Cabin 
Upon entering into the CJ4 Gen2, passengers will see redesigned stairs with a lower point of entry, handrail support and a customizable logo light. The refreshment and galley areas consist of improved storage options and an optional high-power outlet accompanied by a pull-out surface for a coffee maker.  Additionally, extendable stone countertops are also available.  In the jet's main cabin area, side-facing seat selections include a folding single seat, a fixed two-place couch and a folding two-place couch which provide additional storage capacity to secure belongings during flight. Along with the new cabin seating choices, enhanced lighting has been built in the pockets, on the sidewalls and floor, and in the cupholders. 
The new Citation CJ4 Gen 2 is fully customizable for style and comfort.  Owners will see features never before seen aboard an aircraft.  From custom carpets, handcrafted wood cabinetry, seats using top grain leather upholstery, and especially engineered to follow the body's contours, the jet's standards for details is unsurpassed.
The Citation CJ4 Gen2 is the first Citation aircraft equipped with CoolView lavatory skylights providing more natural lighting all throughout the lavatory and aft cabin area. Owners or private plane operators may choose the jet's Premier Collection design option, which also offers a completely new lavatory vanity and sink.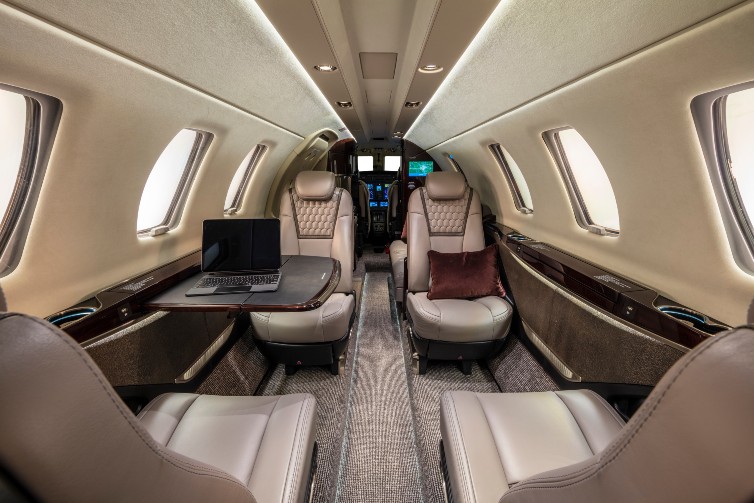 The aircraft offers an upgraded wireless cabin management system consisting of an onboard media server with the ability to stream preloaded audio and video files, access XM Satellite Radio and view moving maps. As part of the improved system, passengers can also wirelessly control cabin lighting, window shades and temperature from their own mobile devices while productivity is powered by the USB charging ports at each cabin seat.
Generous Payload and Range
What sets the Citation CJ4 Gen2 apart from other light jets and makes it the ideal aircraft for owner/operators or corporate missions is that this single-pilot certified jet combines superior speed, range, and operating economics when compared with larger aircraft.  
The Citation CJ4 Gen2 allows customers to go further with the light jet segment's leading range-to-payload ratio and a best-in-class IFR range of 1,926 nautical miles (3,567 kilometers) with a maximum cruise speed of 451 knots. The CJ4 Gen2 has a notable 1,040-pound baggage capacity and volume of 2.18 cubic meters for the valuables of its passengers.
Seating up to 10 passengers, the new Citation CJ4 Gen 2 takes flight using the Williams Intl. FJ44-4A engine.  The Citation CJ4 Gen2 jet also delivers the proven performance of its predecessor. The Collins Aerospace Pro Line 21 avionics suite allows one pilot to effectively operate the aircraft. It combines category-leading technology with ergonomic enhancements and extreme user-friendliness. 
Business or Personal Flights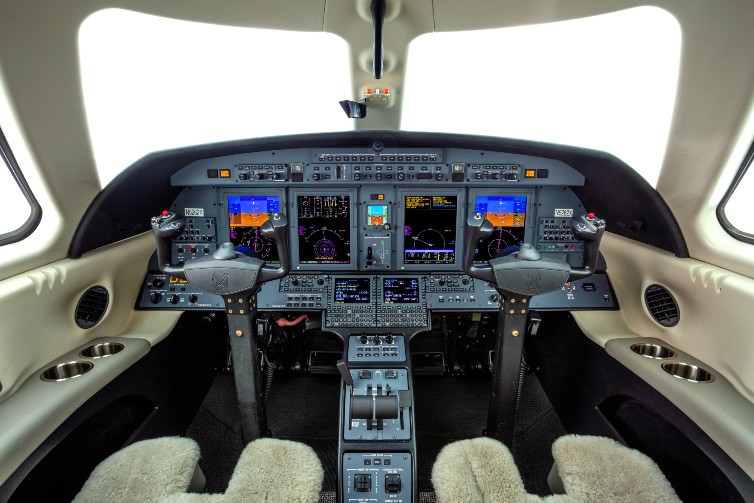 The Citation CJ4 Gen2 jet includes enhanced weather tracking via the Collins Aerospace RTA-4112 Multiscan Weather Radar system.  Pilots can use this solid-state radar system to detect weather systems and navigate around them to minimize turbulence.  Short, mid and long-range weather detection is included with multiple radar scans at preselected tilt angles.  At any altitude or range, the system displays an optimized weather picture for the pilot.
Features such as single point refueling, an externally serviceable lavatory, and outstanding range deliver what crew and discerning passengers have come to expect from a Citation jet.
At the top of the single-pilot class, the new Cessna Citation CJ4 Gen2 meets the needs of corporate flight departments and owner-operators alike. With a trusted pedigree and a fully reimagined cabin, this jet can help pursue business or personal goals as one enjoys the journey.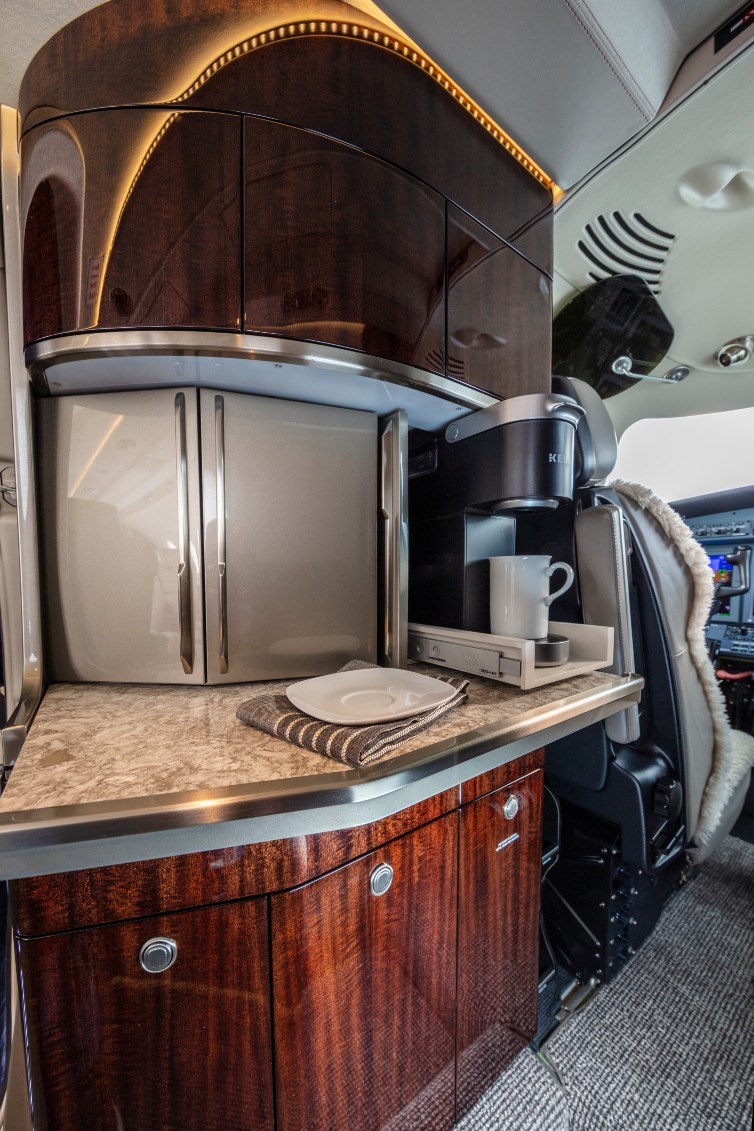 With a wingspan of 15.49 meters, a maximum speed of 835kph, and a range of 2,165 nautical miles, the new Citation CJ4 Gen2 can fly from Singapore to the Maldives, Taipei, Darwin in Australia, and Chongqing in China with ease, style, and comfort.
The main landing gear of the CJ4 Gen2 jet is located inboard, reducing the track and making all aspects of ground handling smoother. The same long-stroke, trailing-link landing gear common to all Citation jets allows for the softest landings and smooth taxiing.
As the world waits for new travel norms when a majority has been vaccinated, we would need to think about what travel means for us individually.  For a select privileged set, the new Cessna Citation CJ4 Gen2 will offer first-class performance with interiors to match.  In a world of uncertainty, this light jet presents security and comfort – redefining travel from the inside.
Scan QR Code to view a behind-the-scenes video of technical experts as they created the new Cessna Citation CJ4 Gen2 and learn how the aircraft was built with the same reliability and speed, and a more modern, intuitive experience.