Spa & Wellness Resorts — Finding Nirvana
GET HAPPY AND HEALTHY AT THESE DELUXE ASIAN DETOX DESTINATIONS
By Koh Chuin Ying
ONE RECURRING NEW YEAR'S RESOLUTION FOR ALL OF US IS TO GET MORE FIT, LOSE MORE WEIGHT AND GENERALLY LIVE A HEALTHIER LIFE. DETERMINED TO MAKE GOOD ON YOUR PROMISE TO YOURSELF, YOU MAY WANT TO TAKE A LOOK BEYOND EXERCISE CLASSES AND JUICE CLEANSES, WITH A FEW DAYS AT A LUXURY WELLNESS AND SPA RESORT.
Wellness tourism is one of the world's fastest growing travel trends, proving that the lofty goal of de-stressing on a holiday spurns debauchery. With exotic locations, ancient healing traditions, luxurious accommodation, organic food, and highly personalised service, Asia is one of the key destinations to check-in for a health overhaul.
Be it on a pristine beach in a tranquil bay in Thailand, or on a secluded Indian mountain location, these places promise to help you find balance with holistic programmes, feed your soul, and maybe even nudge you in the right direction of long-term health.

KAMALAYA
Kamalaya translates to Lotus ('Kamal') Realm ('alaya') in Sanskrit — symbolising the "unfolding of the human spirit" — and is the name of a rainforest wonderland in Koh Samui. The property blends into its unspoilt surroundings of white sand beaches, lily ponds and bathing pools on a tropical hillside.
As one of the leading health retreats in Thailand, Kamalaya offers comprehensive fitness and wellness programmes to accommodate each guest's personal goals. These include medically-based detox, stress relief, weight management and sleep imbalance programmes. There are also over 70 therapies and treatments integrated from East and West. Besides massages and body treatments, the menu provides Ayurvedic therapies, Traditional Chinese Medicine, naturopathy, homeopathy and more. Daily yoga, Pilates, qi gong and meditation classes are also available.
The resort's focus isn't on individual services only, but on how the different treatments, therapies, activities, surroundings, cuisine and people come together to create a synergistic experience. For accommodation, there are 75 rooms, suites and villas. Asian textiles and pleasing colour schemes combine with modern amenities to create a luxuriant blend of ethereal bohemia and clean-lined aesthetics. The cuisine options use locally sourced organic produce as much as possible, and include vegan and vegetarian choices. Guests can also enjoy the Shakti Fitness Centre, a herbal steam cavern and several pools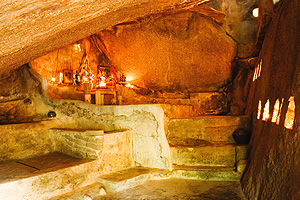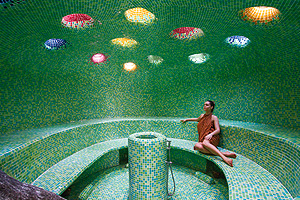 FIVELEMENTS
Ten kilometres from Bali's mountain retreat, Ubud sits Fivelements, an award-winning eco-conscious wellness retreat on the banks of the Ayung River. Centred around a holy spring that marks the intersection of eight major energy lines, the property is one of Asia's more peaceful and healing sanctuaries.
While exploring the estate via bamboo- and frangipanilined pathways, one notes the numbers three, six and nine. Three stands for the number of meeting rooms at the centre of the compound: Mandala Agung, Mandalas Alit and Madya where workshops and meditation classes take place. There are also six Sacred Spaces within the grounds used for fire purification and water blessing ceremonies, celebrations and peace dialogues. Lastly, with only nine suites featuring soaring grass-roofed ceilings, open verandas and botanical essence amenities, the rooms promise guests a semiexclusive and restful stay. There's even an open-air bathtub hewn from a stone boulder bathed in seven-chakra chromotherapy lighting in each villa.
At the core of Fivelements is its healing experiences. Guests can choose from three Signature Wellness Retreats that combine spa rituals, custom dietary meals and Sacred Arts exercises like yoga, somatic therapy, prayer, dance and aquatic bodywork. You can also opt for one- to five-day personalised excursions that include a rainforest trek with an ecologist and a pilgrimage to a cave temple with a Balinese priest. Other facilities include the Laboratorium where staff harness Balinese plants to create usada (herbal remedy) products; the banana leaf-shaped Sakti Dining Room where epicurean plant-based, raw vegan living foods cuisine is served daily; and the Bidadari Beauty Sanctuary and Healing Village spa area.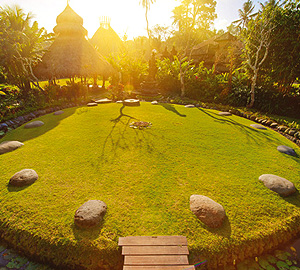 CENTRED AROUND A HOLY SPRING THAT MARKS THE INTERSECTION OF EIGHT MAJOR ENERGY LINES, FIVELEMENTS IS ONE OF ASIA'S MORE PEACEFUL AND HEALING SANCTUARIES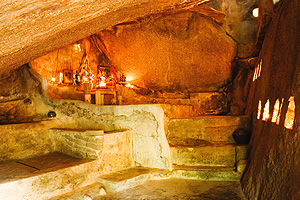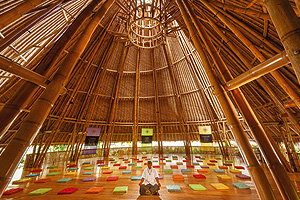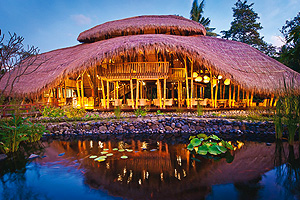 THE FARM AT SAN BENITO
Hidden in the foothills of Batangas, Philippines' Mount Malarayat is The Farm at San Benito, just two-hours drive from the south of Manila. Once a coconut and coffee plantation, the spa is one of the best medical and wellness resorts in the country with their Alive! Restaurant, Integrated Medical Clinics and Healing Sanctuary Spa.
Alive! offers 85 per cent raw and 15 per cent cooked vegan cuisine from an adjacent organic garden. Believing that we should be cleansed by nature untouched, special dehydrators are used to give raw foods a variety of textures resembling cooked foods without destroying nutritional properties and enzymes. The other two wellness pillars work hand-in-hand to provide immersive healing rituals using natural herbs and remedies. At the clinic, guests can opt for services like a liver and gall bladder flush, nutritional microscopy, ozone therapy and intravenous vitamin infusions. The Sanctuary Spa offers an extensive menu of Filipino, Asian and European treatments, including a Suob bath, a chlorophyll body wrap, and even an infant massage.
Above all, the centre emphasises a back-to-nature approach for physical and emotional well-being. Besides eating well, exercising and receiving treatments, guests are encouraged to immerse themselves in the retreat's natural healing environment of green mountains, bamboo and guyabano trees, and peacocks roaming the lawns. The Farm experience is made whole with guests' choice of accommodation, from the rustic Sulu Terraces to the luxurious Lakan villa.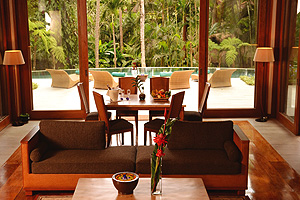 WELLNESS TOURISM IS ONE OF THE WORLD'S FASTEST GROWING TRAVEL TRENDS, PROVING THAT THE LOFTY GOAL OF DESTRESSING ON A HOLIDAY SPURNS DEBAUCHERY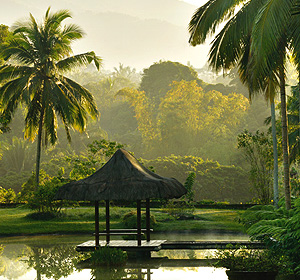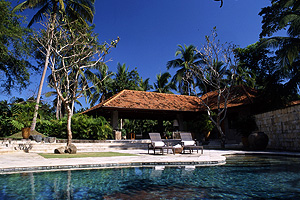 ANANDA IN THE HIMALAYAS
On a hill overlooking the ancient spiritual city of Rishikesh, set in the grounds of a Maharaja's palace high above the Ganges, is Ananda in the Himalayas. This part of India was the birthplace of yoga and has a long tradition of holistic living, so being here is a feast for the soul and a delight for the senses. Established in 2000, it was India's first destination spa and focusses on Ayurveda, yoga and Vedanta practices, combined with international spa experiences.
'Ananda' means 'bliss' in Sanskrit. The resort's Ayurveda programmes include the Tridosha Theory (which stipulates the foods that are good for you), consultations, face and body treatments, and Rasayana (Indian alchemy). For its yoga classes, Ananda practices Satyananda yoga, a technique that incorporates postures and breathing with meditation. Its international therapies, from Tibetan massage to hydrotherapy and Reiki healing, also promise emotionally uplifting and physically effective experiences. Lastly, guests can choose from over 80 body and beauty treatments at Ananda's 24,000-sq-ft spa.
All 70 rooms at Ananda have views of the beautiful Viceregal Palace and the Rishikesh valley. We love the villas, in particular, for their butler services, private saunas and private pools. Above all, Ananda's setting in acres of graceful sal forests and manicured grounds allows you to commune with nature whilst revelling in the lap of luxury, leaving you refreshed and rejuvenated.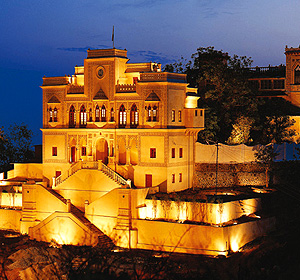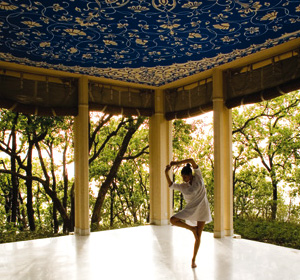 THIS PART OF INDIA WAS THE BIRTHPLACE OF YOGA AND HAS A LONG TRADITION OF HOLISTIC LIVING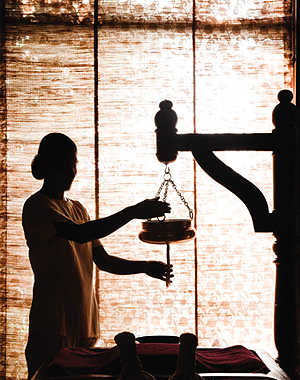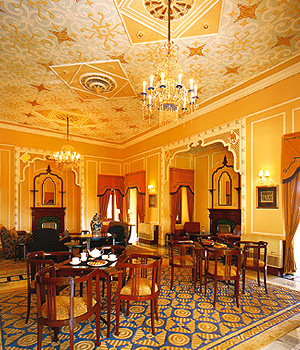 HOW TO VISIT
Kamalaya
102/9 Moo 3, Laem Set Road, Na-Muang
Koh Samui, Suratthani 84140 Thailand
T: +66 (0) 77 429 800
E: info@kamalaya.com
Fivelements
Puri Ahimsa Banjar Baturning
Mambal, Bali, Indonesia 80352
T: +62 361 469 260 / 206
E: contact@fivelements.org
The Farm at San Benito
119 Barangay Tipakan
4217 Lipa City, Batangas, Philippines
T: +632 884 8074
E: info@thefarm.com.ph
Ananda in the Himalayas
The Palace Estate, Narendra Nagar Tehri
Garhwal, Uttarakhand 249175, India
T: +91 124 4516650
E: reservations@anandaspa.com