Sukhoi SportJet — Peak Performer
THE WORLD'S FIRST AIRCRAFT SPECIFICALLY DESIGNED FOR ATHLETES
by Jim Simon
NBA DALLAS MAVERICKS OWNER MARK CUBAN ISN'T THE COY TYPE. But when it comes to the Boeing 757 he customised for his basketball team, he remains uncharacteristically silent. Citing intense competition to attract and retain the best players in the league, he offers only a few details and protects the rest as a 'trade secret'.
By late 2017, though, more athletes and sports teams will be able to travel in a sports-optimised private jet. Enter SportJet, designed by Russian aircraft manufacturer Sukhoi Civil Aircraft, with ample input from sports physicians. "In elite sports, where fractions of seconds and inches are of decisive importance, every detail matters in affecting the shape of the athlete," says Evgeny Andrachnikov, the company's senior vice president of commerce.
To perform at peak level, today's world-class athletes adhere to highly regimented routines, incorporating everything from a special diet to pre- and post-event physical therapy and mental conditioning. Typical air travel, though, can drain an athlete's energy before an important game. It causes various degrees of dehydration and hypoxia (lack of oxygen), as the air at cruising altitude is dry and less dense than on land. This, in turn, can negatively affect everyone's performance, let alone that of professional athletes.
SUKHOI INTENDS TO TURN AIR TRAVEL INTO A HEALTHY, PRODUCTIVE TIME FOR ATHLETES, COACHES AND STAFF
With its SportJet, Sukhoi intends to turn air travel into a healthy, productive time for athletes, coaches, and staff, and help them gain a competitive advantage over sports teams travelling in less specialised private jets or on commercial airlines. Doing this, says Andrachnikov, requires "new technology and approaches, including those that increase the flight quality and, hence, the physique and morale of athletes".
Unlike the Dallas Mavericks' jet, details of the SportJet are no secret after a full-sized mock-up was presented to the sporting community at the recent Summer Olympics in Rio de Janeiro. Based on the Sukhoi Superjet 100, the SportJet can carry up to 60 passengers and offers four distinct zones to replicate key facilities found in world-class training grounds and stadiums.
The first zone, the Rest Area, is a space for athletes to simply relax. Not unlike a locker in a stadium, each team member can have a personalised seat emblazoned with his jersey number. While each seat will be capable of extending nearly 180 degrees for sleeping, its true competitive advantage lies in its built-in sensors, which can continuously monitor critical body conditions such as dehydration, hypoxia, heart rate, and stress using a diagnostic device that Sukhoi calls an Airband. The results will be transmitted wirelessly to multiple devices, including an on-board server and the athlete's smartphone or tablet.
THE SPORTJET WILL OFFER FOUR DISTINCT ZONES THAT REPLICATE KEY FACILITIES FOUND IN WORLD-CLASS TRAINING GROUNDS AND STADIUMS
The second zone is the Recovery zone. Just like in a locker room, this area will come with a trainer's table or biomedical couch where athletes can carry out pre- or post-event stretching sessions, as well as cryotherapy, myostimulation, lymphatic draining and traditional massage. For those on the mend, physical therapy or transportation in a lie-flat position will be possible.
The Coaching zone is a high-tech area where a sports team can review and evaluate their performances. As famously depicted in the hit baseball film Moneyball, teams intently study videos to seek out every possible competitive advantage. With a multimedia system capable of playing 4K-quality video captured in tournaments and training sessions, the Coaching zone will allow teams to analyse their game and their competitors' techniques during a flight, allowing the coaching staff to maximise productivity.
The final zone, the Seating zone, offers room for an entourage, which, in the case of teams, can easily include dozens of support staff. These four zones can, of course, be customised for different sports, such as rugby, football, and basketball. But no matter the sport, one thing is certain — with a highly customised aircraft like the SportJet, air travel will no longer be seen as an energy drainer for athletes, but as an enjoyable, productive and strategic part of a tournament.
ATHLETES CAN CARRY OUT PRE- OR POST-EVENT STRETCHING SESSIONS, AS WELL AS CRYOTHERAPY AND TRADITIONAL MASSAGE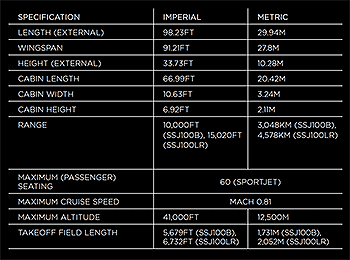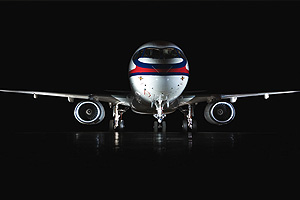 The Superjet 100
The SportJet is based on the Sukhoi Superjet 100, which first entered service in 2011 and is widely used by government agencies and airlines. Its VIP version is marketed as the Sukhoi Business Jet, which is highly customisable. Since 2011, more than 100 Superjets have been produced.
The Superjet 100 competes with medium- and long-haul aircraft but offers a wider and taller cabin, with a passenger compartment height of 212 cm (83.46 inches) — roomy enough for many athletes to stand up straight. With a range of up to 4,578 km, the Superjet can fly non-stop to many cities at a maximum cruise speed of Mach 0.81.