The Bombardier Challenger 350 that is challenging the status quo
The best-selling business jet in its segment is a powerful combination of elegant styling, advanced technology and competitive economics that continues to attract discerning buyers
Since taking to the skies in 2014, the segment-defining Bombardier Challenger 350 business jet has become the most desirable aircraft in the super-mid- size segment. It has outsold all other jets in the segment and continues to maintain its reputation of delivering optimal performance through design without compromise.
In July of 2019, Bombardier delivered its 300th model, confirming the elite status of this increasingly iconic business jet. In Asia, the Challenger 350 business jet exceeds customer expectations with its flexible performance capabilities, incomparable comfort, state-of-the-art technology and unsurpassed reliability.
The award winning Challenger 350 jet boasts the largest cabin in its class maximising streamlined style, flat-floor design, and large, light-embracing windows to convey a wide-cabin feel.The configuration seats up to nine passengers with a variety of options including a forward club suite complementing an aft lounge suite with club seats and adjacent divan. Ergonomics meet aesthetics with carefully selected finishes, elegant wide seats, intuitive cabin controls, clever fold out tables and unrestricted access to the baggage compartment at all altitudes. Flights are further enriched by the Bombardier signature smooth ride to deliver the ultimate private jet experience.
Bombardier continues to innovate its Challenger 350 aircraft customers and recently announced a swathe of enhancements to further strengthen the aircraft's status as the most desirable of all super mid-sized jets. Enhanced sound proofing in the cabin, upgraded flight deck systems and bolstered performance capabilities confirm its leading position in the category.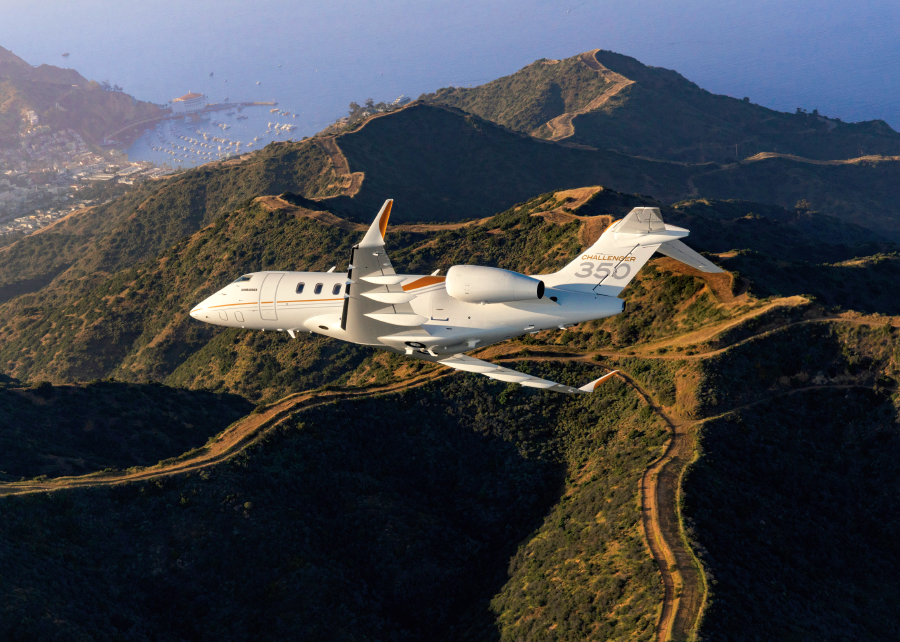 The Challenger 350 aircraft is already recognised for its state-of-the-art acoustic insulation, and the enhanced sound proofing technology further confirms the aircraft cabin as the quietest in its class.An entry- door acoustic curtain and galley pocket door suppress external noise adding to the richness of the sounds emanating from integrated side-wall speakers. Ergonomically- positioned touch screens control the volume, as powerful 4G connectivity broadcasts live streaming, videoconferencing, voice, internet and music apps into the cabin.The Lufthansa Technik nice® HD cabin-management system (CMS) and in-flight entertainment system (IFE) controls ensure the entertainment is second to none.This intricate attention to detail creates a supreme cabin experience that maximises productivity and optimises leisure time for business and family travellers.
The performance enhancements have also augmented the aircraft's versatile operational parameters.A seats-full and full-tank 3,200nm range has been achievable since launch, yet horizons have been extended by the latest upgrades. Superior braking and enhanced rudder performance have added up to 1,500nm to short runway take-offs. This outstanding range is complemented by steep approach certifications and the ability to rapidly soar to 43,000 feet (13,106 metres) permitting routes between countless coveted destinations in Asia.The region's most popular city pair, Seletar, Singapore to Jakarta, Indonesia, is well within the aircraft's range even with a full cabin and loaded luggage hold.
A high-tech compact head-up display (HUD) and impressive enhanced vision system (EVS) for the crew boosts the advanced avionics functionalities to complement the aircraft's impressive versatility. Pilot workload is reduced, and overall situational awareness is increased to enhance safety and security. Not only is the Challenger 350 business jet setting trends in terms of desirability, it is also setting records. On 17 October 2019, it flew a complex route, setting new performance benchmarks as it took in 10 of the top business aviation destinations across America. Starting in Las Vegas, the aircraft flew consecutive legs to Denver, Chicago, Teterboro,Washington,White Plains (New York),West Palm Beach, Houston, Dallas, and finally Los Angeles in just 20.5 hours. Unsurprisingly, with such extraordinary performance characteristics, the Challenger 350 aircraft is hugely popular with fleet operators and charter passengers.This reflects the tremendous demand for a business jet epitomised by intelligent design, uncompromising range, superior performance and the lowest operating economics in the market.
The distinguished Challenger 350 aircraft continues to keep its promises of delivering style, comfort and exceptional performance, while meeting operating budgets and matching mission needs. It is an unbeatable value proposition, truly exceptional by design.