Zaha Hadid — Sculptures Of Seduction
ARCHITECTURAL LINES ELEVATE ART-JEWELLERY PIECES
by David Yip
In the fine tradition of polymathic architect-designers such as Gio Ponti, Michael Graves and Philippe Starck, Zaha Hadid brought her provocative style and distinctive architectonic sensibilities to a new jewellery collection for the Lebanese jewellery brand, The House of Aziz and Walid Mouzannar. In 2004, the Iraq-born, London-based Hadid became the first female architect to be awarded the Pritzker Architecture Prize, which honours "talent, vision and commitment" in the field. It is often referred to as the Nobel Prize of architecture. This and her high-profile landmark projects in major cities around the world such as the Heydar Aliyev Centre in Baku and Dongdaemun Design Plaza in Seoul sealed her renown as a 'starchitect'.
Hadid's working relationship with jewellery began in 2014 when she designed an 18k white gold Silene Cuff embedded with 1,048 diamonds for the Beirut-based jeweller. Dori Mouzannar, a sixth-generation member of the family, called the collaboration with Hadid, "a meeting of design minds. We have a mutual appreciation of scale, design and beauty".
Early this year, Hadid extended her Silene jewellery line with nine new additions. Consisting of rings and cuffs in different colours of 18k gold, the pieces "explore the beauty of natural forms and the unique properties of its materials", said Hadid.
The fluid lattice-like forms Hadid had envisioned bring to mind diaphanous soap bubbles or the otherworldly bodies of sea anemones and starfishes. The Silene Ring I is a partial sheath, six centimetres in length and ergonomically designed with a hinged joint in the middle to accommodate a bending finger-knuckle. Available in pink, yellow and white gold, the rings have irregular edges and carapaces bearing a delicate tracery of diamonds — white diamonds across pink and white gold surfaces, black across the yellow gold ring.
The Silene Ring II is an open skein of gold and sits on the finger like a gleaming spider web. "Each immaculately detailed piece conveys formal complexity and precision with the highest standards of craftsmanship", said Hadid. The ring also comes in the same variations of metal as the Silene Ring I — with the addition of oxidised white gold. Similar in form is the Silene Ring III, crafted in pink gold with its gaps filled with white diamonds.
Biomorphic forms combined with ergonomic functionality is an aesthetic Hadid had explored with great success in earlier creations for the Swiss jewellery brand Caspita and in her 2014 Silene Cuff. But in contrast to the statuesque density of the original, Silene Cuffs II and III are airy filigrees whose dancing tendrils recall the forms of Art Nouveau or springtime blooms. The larger of the two is a fiery gauntlet of pink gold, while the smaller version is in yellow gold. The result is a very contemporary collection that involves "a strong spirit, rich and feminine, yet delicate", says Alia Mouzannar.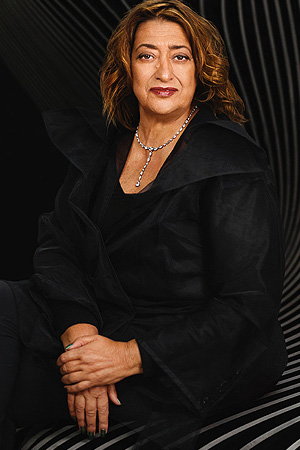 IN REMEMBRANCE
Just before this article went to print, news broke on March 31 that Dame Zaha Hadid had died of a heart attack in a Miami hospital while being treated for bronchitis. Hadid was 65. Widely regarded as one of the greatest female architects in the world today, she received numerous awards and accolades. Hadid's "interest was in the interface between architecture, landscape, and geology" which garnered her a reputation for groundbreaking theoretical works.
Of their friendship and collaboration, Alia Mouzannar says, "Thank you Zaha Hadid, for believing in my dreams. Stones and noble metal have the advantage of eternity, alive with memory. Beyond time, beyond humans. This is what will remain. I miss you." Her cousin, Dori says, "Dame Zaha Hadid, I feel privileged to have known you and worked with you. Our "Queen of the Curve", a true inspiration, you always pushed the boundaries to create unimaginable beauty. No words can express the loss we feel. You will forever live through your beautiful work, and will forever be in our hearts"
(Image courtesy of Mary McCartney)