AN ART ENTREPRENEUR UPS HIS GAME WITH A NEW SYSTEM
By Li Haohan, Photos courtesy of Wasuka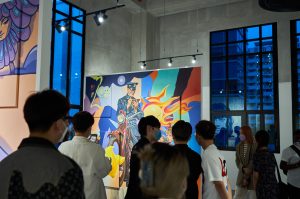 Kenneth Tan launched Wasuka Art during the pandemic to represent compatriot artist Andre Tan in China. Formed with the Hokkien word for I, which is 'wa', and the Malay word for want, which is 'suka', the new venture spells for him a liberating new direction.
Back when the lockdowns had slowed down business and selling art online was taking time to take hold, digital galleries were more of a "transactional tool than a reason for someone to spend a few thousand dollars on a piece of art", Tan recalls. Meanwhile, big cities worldwide were opening and closing intermittently and Tan watched with rapt attention where the opportunities to showcase art were.
"I was surprised that my first venture took place in China. With all the commotion surrounding China's association with COVID, it was doing pretty well in 2020 when our art arrived in Beijing." China, he found out, was "far from (being) a cowboy town. It was a regimental and bureaucratic environment – a very orderly place to conduct business". The players were adept at communication technology and social media, and used them to their advantage.
"Even when some Chinese cities were locked down, promotion and sales of Andre's artwork continued on the internet. The general public was already accustomed to doing almost anything online. Works were easily sold on WeChat and other social media platforms."
On the heels of his successful exhibition at Nonage Gallery, which introduced Spanish mural artist, Murfin, to Singapore, Tan sat down with Jetgala to retrace his latest adventure and declare that now is a good time to launch another art enterprise.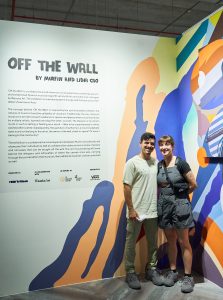 Who is your target audience for Wasuka?
The Wasuka audience is not any different from the one I sought when I started my gallery, Utterly Art, over 20 years ago. Back then, I already made a conscious decision not to join the bandwagon chasing the usual art collectors. It was already a very small, ageing pool of buyers.
I wanted to encourage a younger generation that was already accustomed to purchasing designer goods, cars, and frequent travel to appreciate and purchase art. Their appreciation would eventually lead to a desire to learn more about art in all of its forms, to identify what they like, and to track the evolution of their favourite artists' practices.
I always want new buyers for my artists. More importantly, I wanted my artists to have a big diverse pool of buyers. I still do, because that would protect them from being at the whim of a small group of meddling, yet influential collectors.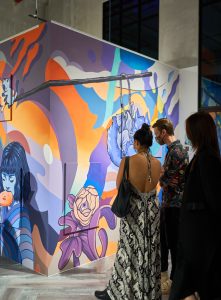 And where are the artists in this equation?
My audience includes artists. They are, in fact, my clients as well as my producers. Artists frequently ask me if I only represent big names. Big names already know what they want and how they want it. In any case, their names are already well-known.
My company prefers to build names. That gives me more satisfaction. It is most important to me that artists and I get along. It's the same as finding a date on Tinder. We can all swipe right, but we won't know if we're right for each other until we meet and spend some time together.
Aside from the artwork, what draws me to an artist is their commitment, passion, and hunger to build their careers and practice, which takes time and a lot of handholding, reassurance, and anxiety. When it comes to anxiety attacks, one of the most important factors to consider when managing artists is mental wellness.
Aside from being a business consultant and a career counsellor, I am their friend, offering them not only a listening ear, but also whatever they require to maintain a healthy mental state. This could also imply forcing them to take a break from work. I've had a few crisis management incidents in just two years.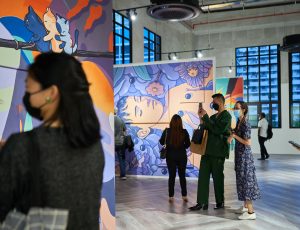 Is this a good time to launch an art gallery?
It must be a good time to open galleries. There are a lot of new art galleries in Singapore and Hong Kong. There are so many artists with so many different styles that a gallery can easily create a niche portfolio. And the market is global. It is simple enough to start a gallery. The challenge lies in the sustainability of your business, which is determined by your business model, strategy, and operations.
You're closely associated with Utterly Art – how does it affect Wasuka?
I founded Utterly Art, though my focus is now on Wasuka Art. The gallery is now run by a very capable and well-respected business partner. It is in very capable hands. Wasuka Art, on the other hand, is not a gallery. It is an artist management company that handles the business side of things for artists.
Wasuka complements Utterly Art's business. Wasuka also helps artists find suitable galleries. The work is similar to that of a matchmaker. As a result, I have the XY Contemporary Art Gallery in Beijing, as well as Nonage and Utterly Art in Singapore.
Every gallery has a distinct identity that influences its portfolio. Even before Wasuka Art, I frequently advised artists to do their homework on the galleries they approach. I tell them to discover who they are constantly promoting and who they are attracting as buyers. Then, see if you fit that profile. When in doubt, DM me on Instagram @wasuka.art.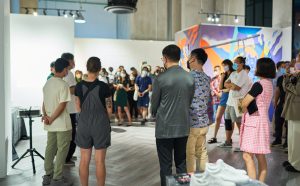 You launched Wasuka with an exhibition at Nonage Gallery – is this going to be your long-term venue for Wasuka moving forward?
Nonage Gallery is a new art gallery. Wasuka pitched the 'Off the Wall' exhibition to Rocco Wu, owner of Nonage Gallery. He liked it so much that he made it the gallery's inaugural show. I enjoyed working with Nonage, and I anticipate that the gallery and Wasuka's artists will collaborate more in the future.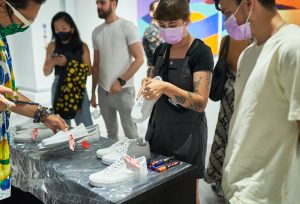 Off the Wall has an interesting component – a mural – rather than the usual art pieces hanging on the wall. How do you explain it? 
'Off the Wall' was actually a series of murals painted on walls with canvases juxtaposed on them. The idea was multifaceted. To begin, it was an idea to transition one of Wasuka's artists, Murfin, a mural artist, into a gallery space. Second, it sparked a debate about the purpose of mural art and its place in street art and commercial art, though mural art can be labeled either way. It is on the street, and historically, murals were usually commissioned by the owner of a building.
Murfin initially came to Singapore for a single mural project at Marina Bay Sands that was only supposed to last a few days. But Murfin is a very driven young man who kept asking for more 'work', so I approached Nonage and did a pitch for him. The gallery agreed to collaborate. We only had three weeks to conceptualise and create the artwork; thankfully, Murfin's girlfriend, Lidia Cao, accompanied him to Singapore. I invited her to collaborate with Murfin in 'Off the Wall' after seeing her portfolio.
The works turned out much better and more dynamic than we had hoped. I now have another artist, Lidia Cao, on board with Wasuka. Funny how well it all turned out. I love my job!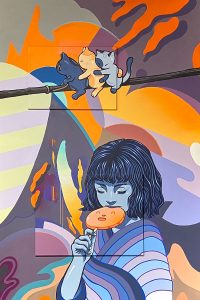 What else can we expect from Wasuka moving forward? 
For Affordable Art Fair Singapore happening in November, I have lined up a group of exciting, but undiscovered talent from across the globe – Singapore, Thailand, China, the Philippines, France and Spain.
In addition, I'm organising a number of networking events for artists to connect with experts from non-art fields, such as intellectual property lawyers, techies, engineers, architects, manufacturers, and businesspeople. In order to make an artist's career more fascinating and dynamic, I hope to facilitate collaborative opportunities across industries.
In October, in partnership with Dao by Dorsett AMTD Singapore, Wasuka is organising a botanical art programme at their new establishment in Shenton Way. As an avid gardener myself, I like the fact that this programme consists of an art exhibition which represents different artistic interpretations of botanical species. It will feature a synergistic presentation of established artists like Gabby Malpas, William Sim and Kin, alongside hobbyists-artists who take their craft very seriously.
At Wasuka Art, I am not bound by the statutes of a gallery business. I am not restricted by space and the convention of an exhibition. It is more fun for Wasuka's artists and me to roam far and wide. I do what 'wa suka'.