WHEN AN EXPERT IN ONE FIELD DIPS HIS FEET INTO ANOTHER DISCIPLINE, AN UNDENIABLE ALCHEMY TAKES PLACE. Horacio Pagani, for instance, sought inspiration from Leonardo da Vinci in creating the Pagani Huayra Roadster. The recently released vehicle, on the other hand, is mirrored in Infinito, a new cabin design for Airbus Corporate Jets' ACJ319neo aircraft.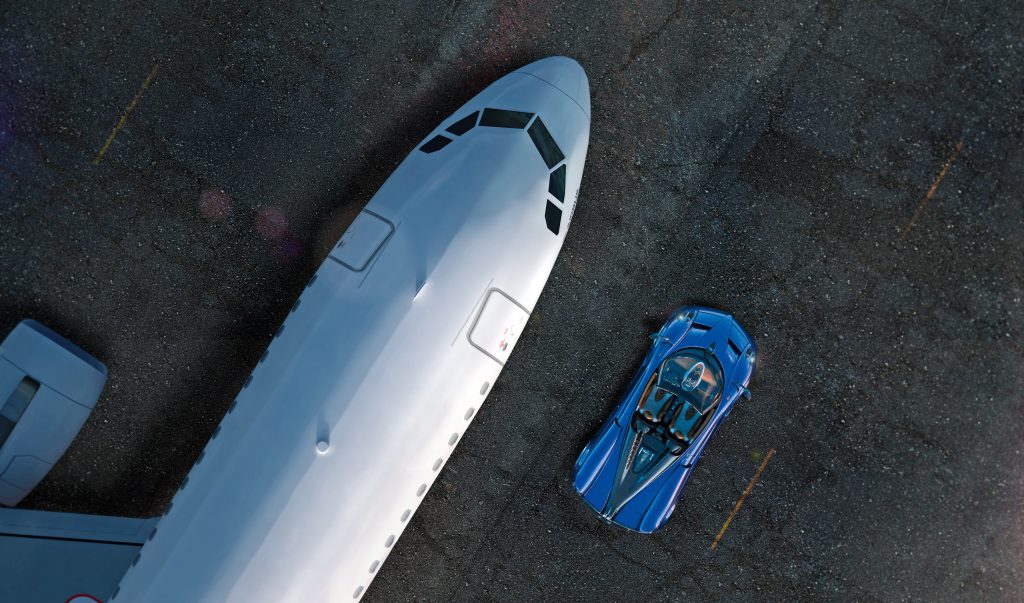 Born of a collaboration between Airbus Corporate Jets and Pagani Automobili, the Infinito reflects the sleekness of supercars and the airiness of wide business jet cabins. Its centrepiece is an expansive sky ceiling, which reveals a view of the sky and the clouds above the aircraft. It is also programmed to display atmospheric images and scenery on the passengers' whim. The ceiling frames a curved, nature-inspired pathway that stretches down the cabin length. Shell-shaped valances and wall dividers mark different zones; the wall between the lounge and conference areas switches from opaque to transparent at the touch of a button. The cabin also features an entertainment area, a bar, and private en-suite.
Like a Pagani supercar interior, the Infinito emphasises the combination of carbon fibre and leather. Soft-leather carpets and wood floorings provide a contrast to fixtures, furniture and wall frames crafted from lightweight carbon-titanium and carbon-fibre. Lighting fixtures use sculpted metal, a feature often found in Pagani vehicles. Mr. Pagani adds that the Infinito is the first ever aircraft interior to use CarboTitanium, a composite material patented by Pagani-owned Modena Design. CarboTitanium also makes up the chassis of the Huayra.
Automotive and aircraft design have long inspired each other's creative approach, given both industries' need for streamlined shapes and lightweight but strong materials. The Infinito continues the trend of collaboration between automakers and aircraft manufacturers or interior designers. Past examples include Eurocopter's EC145 Mercedes-Benz Style helicopter, Mercedes and Lufthansa Technik's VIP aircraft cabin, and BMW Group DesignworksUSA's interior designs for Embraer Legacy and Phenom aircraft.

THE CENTREPIECE IS AN EXPANSIVE SKY CEILING, WHICH REVEALS A VIEW OF THE SKY
"In bringing together the best of the supercar and business jet worlds, we enable an elegant and seamless link for customers of both, while bringing a fresh approach to cabin design and satisfying very demanding standards," says Airbus Corporate Jets managing director Benoit Defforge. Creating the Infinito required Airbus's experience in aircraft design and compatibility, led by head of creative design and concepts Sylvain Mariat, and Pagani's vision of the look and feel of the cabin, led by designer and head of interiors Alberto Piccolo.
While the ACJ319neo's wide and tall cabin makes it a suitable canvas for the Infinito interiors, the design can be extended to ACJ320 and ACJ321 aircraft. "The ACJ319 airframe is standard, and can be fitted with a whole range of customised cabins, of which Infinito is just one example," says David Velupillai, marketing director at Airbus.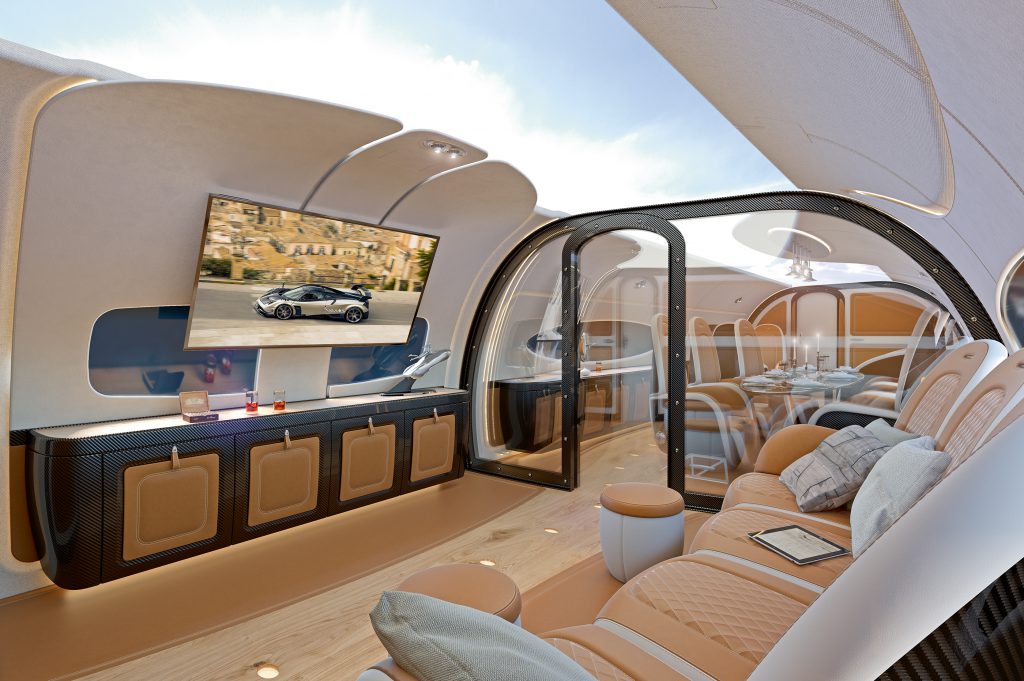 THE INFINITO IS THE FIRST EVER AIRCRAFT INTERIOR TO USE CARBOTITANIUM
COOL & COMFORTABLE
The ACJ319neo can carry eight passengers in a VIP setting at 6,750 nm (12,500 km). It offers a lower cabin altitude — equivalent to an average of less than 6,400 ft (1,950 m) — that helps improve cabin comfort during long flights. It also comes with 2.4-metre-tall wingtip Sharklets, which increase fuel efficiency by reducing drag, as well as improve take-off and landing performance. Fuel consumption is further reduced by the use of CFM International's LEAP-1A and Pratt & Whitney's PW1100G engines, which provide lower fuel burn and thus, increased range.