Globetrotter
The Bombardier Global 7500 has all the features one needs to help connect with the world. Frequent travellers, take note!
By Jim Simon
Globetrotters need an intercontinental jet that can directly connect them with as many distant points as possible in as little time as needed. Their jet needs to serve multiple functions simultaneously. It serves as part office, part hotel room, part living room – it's virtually home away from home.
There are of course, many jets that could fulfill these requirements, but none do it in as much style as the Bombardier Global 7500, initial deliveries of which will commence soon. "The Global 7500 has no competition," says Tim Fagan, Manager, Industrial Design for Bombardier. "It is in a class of its own and this performance overachievement will only strengthen the aircraft's marketing positioning." While specific aircraft deliveries are confidential, he goes on to say that the market for this aircraft is truly international. "The unmatched combination of range, performance, cabin size and comfort makes this an aircraft that connects more city pairs than any other."
The aircraft has an industry-leading range of 7,700 nautical miles allowing it to easily cross oceans or fly nonstop between Southeast Asia and the United Kingdom.
"It's the only business aircraft that can connect New York and Hong Kong, for instance, or Singapore and San Francisco under the right conditions, of course," says Fagan. With a top speed of Mach 0.925 and a maximum cruise altitude of 51,000 feet (FL510), it cruises high above the weather and often overtakes the largest commercial aircraft flying thousands of feet below.
 Comfort in the sky
To serve the multiple needs of passengers, this jet's standard layout includes four distinct living spaces designed for work and relaxation for up to 19 passengers plus crew.
After climbing aboard, the first living space passengers encounter is the Club Suite, which has some of the largest windows in the sky, allowing for an abundance of natural light to help offset the effects of jetlag that are common with intercontinental travel.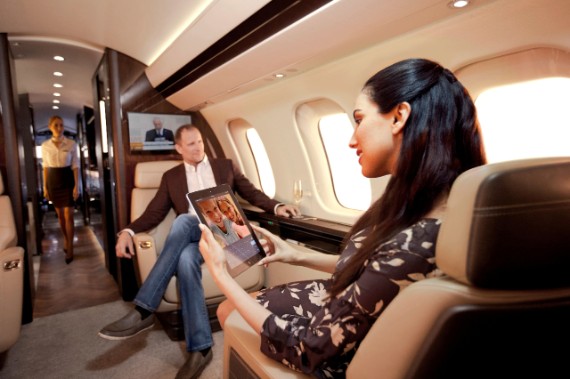 The Club Suite also features state-of-the-art Nuage seats, Bombardier's brand-new business jet seat design, that is intended to "bring the comfort of luxury home seating into the cabin." What sets apart Nuage seats from traditional club seats is their capability to be customised in three ways. One is via a patented tilt link system that provides a deep recline position for relaxation. The second is their floating base that allows for easy, trackless swiveling as desired by passengers. Last, but not least, is their tilting headrest that works in any position. Understanding that different people have different standards for comfort, Bombardier's expert artisans and craftspeople can customise each Nuage seat through selections of leathers, stitching, and even cushion firmness.
After the Club Suite is the Conference Suite, which includes a conference table capable of hosting up to six passengers at once. Some people find that meetings are more productive in the sky where passengers are immune from distractions common to terrestrial offices.
There are times, however, when it is desirable, and even imperative, that the office in the sky be fully connected to colleagues and customers on the ground. To meet these needs, Bombardier has integrated the latest generation, high- speed, satellite-based Internet technology. Passengers can conduct video conferences and send and receive data as if they were operating from their global headquarters.
When passengers are ready for a meal, the conference table easily doubles as a dining room for six. If gourmet meals are on the menu, the kitchen will allow an onboard chef to impress passengers with his culinary skills. Unlike many galleys that have only rudimentary kitchen equipment, the Global 7500 features dual convection/ microwave ovens, sink and faucet, coffee/ espresso machine, and chilled storage. "We have the industry's finest, largest and most well-equipped kitchen," says Fagan.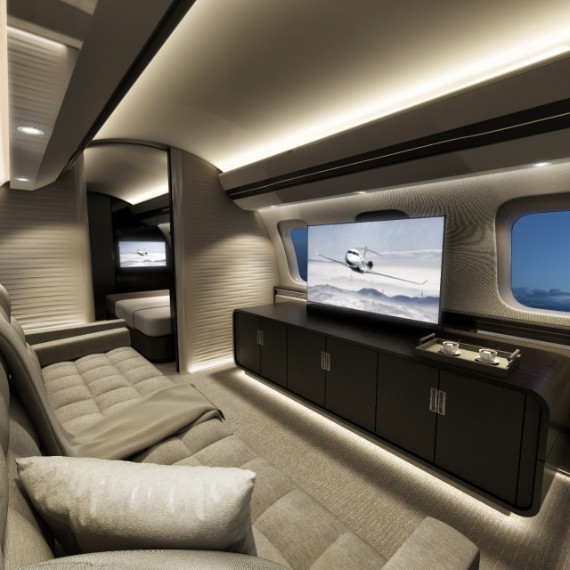 The Entertainment Suite features a three-place berthable divan that faces a large entertainment cabinet mounted with an impressive 40-inch, 4K-resolution television. Passengers can choose to immerse themselves in onboard entertainment or stream channels via the Internet or satellite television.
Throughout the Global 7500 cabin, passengers can use their personal devices such as tablets and phones, just as if they were at home. Moreover, Bombardier offers the "nice Touch" app that allows passengers to customise the Global 7500 onboard environment with just a few swipes of their finger. Options include window shades, onboard lighting, temperature, audio volume, entertainment selection and more.
When it is time to rest, the Master Suite in the rear living space offers a respite from the outside world. The private cabin features a three-place berthable divan that enables two to sleep. If one's pattern is to watch television from bed, the Global 7500 will feel like home with another 4K television mounted on the wall across from the bed.
One of the most appreciated features of any business jet is an onboard shower and so Bombardier has designed one for the Master Suite, which is convenient for travellers who need to hit the ground running when they arrive at their destination.
Aside from the tangible onboard amenities, passengers benefit from the Global 7500's use of 100 percent fresh air and low altitude cabin environment. Both features reduce the effects of jetlag allowing passengers to feel more energised after a long flight.
"Health and wellness are a critical concern for us," says Fagan. "Passenger wellness factors into every facet of the Global 7500 from the interior comfort to the exceptionally smooth ride. We have also equipped the aircraft with the industry's most advanced cabin lighting system, which can be set according to the passenger's circadian rhythm and destination. We have everything from daylight simulation to enhance wakefulness to warm evening lighting to promote relaxation."
Bombardier also designed a separate, spacious and fully equipped crew rest area, with two extra-large windows, ensuring that the crew is rested and alert.
 State-of-the-art tech
Up front, the crew keeps passengers safe with the state-of-the-art Bombardier Vision flight deck with advanced fly-by-wire technology, engineered with intent to maximise safety through a balanced design that combines control input freedom with the security of the industry's most complete flight envelope protection.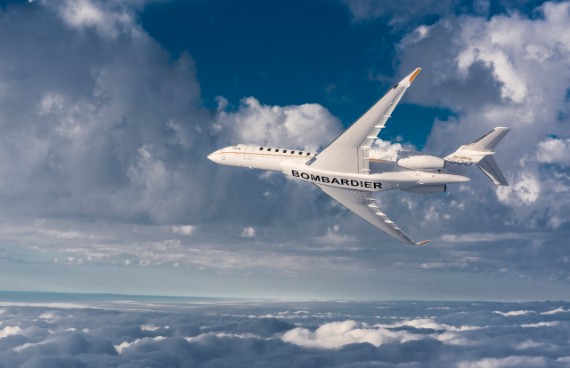 Pilots receive critical flight information through four cockpit displays as well as a head-up display, which allows pilots to keep their eyes outside of the cockpit during critical phases of flight such as takeoff and landing. Looking through the heads-up display, pilots see their outside world transposed with synthetic vision and infrared vision.
This enables pilots to safely conduct approaches down to the lowest allowable minimums. When emerging from clouds just seconds prior to touch down, pilots do not need to shift their gaze from inside the cockpit to the outside. Moreover, if there should be an obstruction on the runway that even air traffic controllers cannot see, such as an animal on the runway, the pilots can easily command a go-around, protecting the safety of all aboard, as well as the animal.
Business jet operators can be assured of service across the globe thanks to Bombardier's extensive service network. Moreover, companies like NetJets have chosen the Global 7500 – part of one of Bombardier's largest orders in the company's history. This will help the Global 7500 retain its resale value far into the future as purchasers of previously owned jets favor the most popular models given that they typically have greater availability of type-rated pilots, spare parts, and the like.
"The certification of our clean-sheet Global 7500 business jet is a defining moment for Bombardier, for our employees and for the industry, as we approach entry- into-service," says David Coleal, President, Bombardier Business Aircraft. "Thanks to the rigour and innovation of our design and test program, the Global 7500 aircraft has succeeded in elevating every standard by which a business jet is measured – comfort, luxury, performance and a smooth ride. At entry-into-service, this aircraft will meet the latest and all of the most stringent certification requirements and is set to redefine international business jet travel. We couldn't be more proud of this achievement."