SOMETIMES, PURCHASING AIRCRAFT CAN MEAN CHOOSING FROM UNDESIRABLE TRADE-OFFS. Extra speed, for instance, can lead to higher cabin noise levels. Flying on a large jet might mean increasing fuel consumption and giving up airports with short runways. A smaller aircraft would bring you to fewer destinations.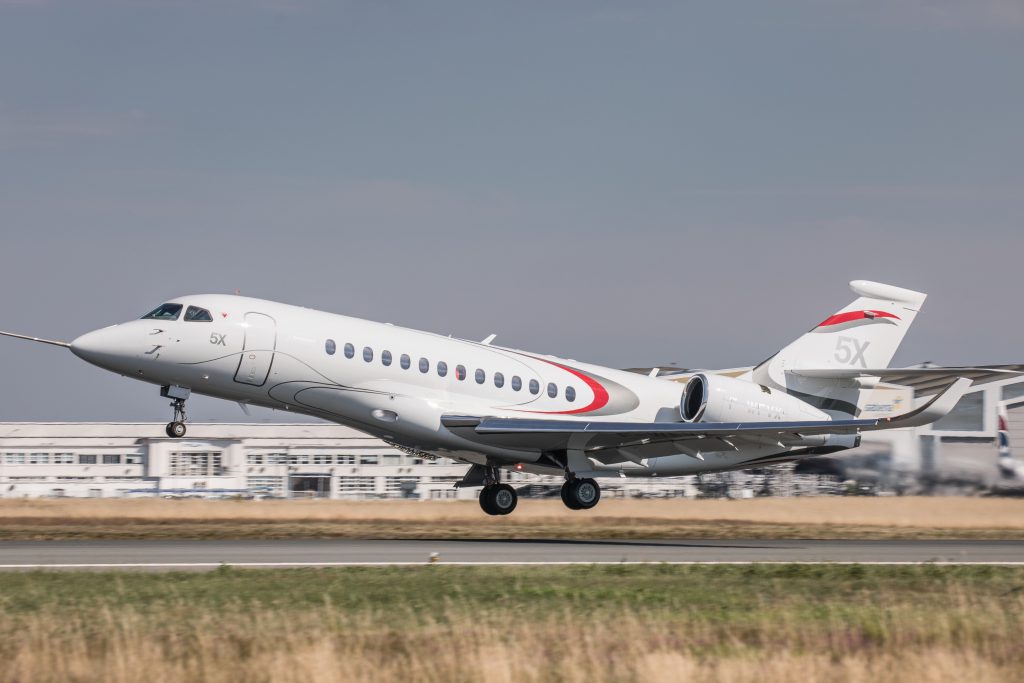 It's no surprise, then, that when Dassault Aviation unveiled the Falcon 5X at NBAA 2013, the aircraft was met with approval and anticipation. Dassault aimed to set benchmarks in business jet design, promising long range coupled with short-field capability, a quiet cabin even with a top speed of .90 Mach, and lower fuel consumption compared to other aircraft in the 5X's class. To top it off, Dassault claimed that the 5X cabin would be "the tallest in business aviation" and wider than that of previous Falcons.
The Falcon 5X finally made its first flight in June this year. The ultra-wide-body twinjet flew with a preliminary version of the Safran Silvercrest engines, which have been delayed in development by four years. Safran says the powerplants will be ready for certification by spring next year, after which the Falcon 5X can begin a full-fledged flight test campaign. Meanwhile, the preliminary flight tests will help streamline the development process and limit the consequences of the delays, says Eric Trappier, Dassault Aviation chairman & CEO.
ONE CAN TRAVEL LONG AND SHORT DISTANCES, AND NAVIGATE DIFFICULT AIRPORTS
The Falcon 5X is built for those who need to fly non-stop from Shanghai to Sydney, New York to Sau Paulo, Los Angeles to London, or similar city pairs. Knowing that such long flights can be tiring, Dassault decided to create a larger cabin — six feet, six inches high, and 102 inches wide — to increase room for standing up and walking around. At a cruise altitude of 41,000 feet, the cabin altitude remains at 3,900 feet, allowing increased oxygen circulation. A skylight, along with 28 large windows, welcomes in natural light or provides views of the evening sky. Sound levels are eight decibels below that of normal conversation.
One can travel short distances on the Falcon 5X, too, and navigate difficult airports such as Aspen and London City. This is made possible by the 5X's wing design, with leading edge slats and trailing edge flaps that enable an approach speed of 105 knots — near the approach speed of some short-field turboprops, and 20 knots slower than many long-range jets. The Falcon 5X can thus use shorter airfields, opening up more destinations.
Given the variety of terrains the Falcon 5X can navigate, it makes sense that Dassault has given it advanced security features, including a Digital Flight Control System that helps pilots avoid inadvertently exceeding structural speed limits and stalls. It is also the first Falcon to come with a real-time maintenance monitoring system, which connects to around 10,000 on-board computers and monitors. This system constantly transmits the aircraft's maintenance status to Dassault Customer Service on the ground.
With the recent flight test, anticipation for the Falcon 5X has been renewed. Dassault aims to begin deliveries in 2020. That's enough time for one to make a purchase decision — although with the 5X's features and performance, it won't be a hard one to make.
TECHNICAL SPECIFICATIONS
SPECIFICATION
IMPERIAL
METRIC
LENGTH (EXTERNAL)
82.6 FT
25.18 M
WINGSPAN
85.11 FT
25.94 M
HEIGHT (EXTERNAL)
24.6 FT
7.50 M
CABIN LENGTH (EXCLUDING BAGGAGE AND COCKPIT)
38.7 FT
11.80 M
MAXIMUM CABIN WIDTH
102.00 IN
2.60M
MAXIMUM HEADROOM
78.00 IN
1.98 M
MAXIMUM TAKEOFF WEIGHT
69,600 LB
31,570 KG
RANGE
5,200 NM
9,630 KM
NO. OF PASSENGERS (MACH .80, 85% WIND RELIABILITY, NBAA IFR RESERVES)
8
MAXIMUM OPERATING MACH
M .90
MAXIMUM SPEED
370 KIAS
MAXIMUM OPERATING ALTITUDE
51,000 FT
15,545 M
BFL AT (MTOW: SL – ISA)
5,250 FT
1,600 M
FAR 91 LANDING DISTANCE AT TYPICAL LANDING WEIGHT
NOT YET AVAILABLE
APPROACH SPEED VREF AT TYPICAL LANDING WEIGHT
105 KIAS