Jet Aviation — The Big Picture
EXPANDING ON A HALF-CENTURY'S WORTH OF AVIATION EXPERTISE
AMIDST THE ONGOING SURGE OF ASIAN BUSINESS AVIATION, SWITZERLAND-BASED JET AVIATION HAS EMERGED AS ONE OF THE REGION'S TOP PLAYERS. The business aviation services company has been setting up and expanding MRO facilities in the region, and opened an interior shop in Singapore. We talk to John Riggir, Vice President and General Manager of Jet Aviation Singapore, about the group's Asian activities and goals.
Q: Please tell us about the three things you like the most about your job.
Seeing progress in motion is what motivates me. Also, you get a free education everyday here, just by turning up with an open mind. Lastly, we get to turn dreams into reality.
"YOU GET A FREE EDUCATION EVERYDAY HERE, JUST BY TURNING UP WITH AN OPEN MIND"
Q: Jet Aviation is celebrating its 50th anniversary this year. What do you consider to have been its three most significant achievements in the past half-century?
One achievement is having developed the Hirschmann family vision of servicing private aircraft into one of the world's most recognised business aviation services companies.
We entered the VIP completions business and are continually mastering the latest technologies to lead the industry in design and production. We also integrated a new corporate perspective and long-term global plan following the acquisition of Jet Aviation by General Dynamics in 2008.
Q: Congratulations on the opening of your Macau-based MRO facility. What are your top near-term goals for this facility?
Thank you. The first goal is to become operational by early 2017. We also intend to gain FAA and Macau, China and Hong Kong approvals. With this facility, we aim to grow our capacity and capabilities to support our Hong Kong facility and ultimately address more maintenance opportunities from within the North Asia market.
Q: What types of aircraft can your new Macau-based MRO facility service?
The facility will have Gulfstream ASC and Dassault Falcon Jet ASC status, and will support Bombardier Global Express models by Q3 2017.
Q: You are expanding your hangar at Singapore's Seletar Aerospace Park. What is the main reason for this?
We are building a third hangar that will add 3,850 square metres of hangar space, while also increasing the size of our interior shop. We are expanding to meet market demand and are creating space to deliver our range of services on larger aircraft, as well as to accommodate detailed refurbishment projects.
Q: In which parts of Southeast Asia, apart from Singapore, do you see a growing demand for refurbishment, modification and upgrade services?
We are addressing the entire Asia-Pacific market with our RMU capabilities and carry registration approvals for 13 countries to address the Southeast Asian market, as well as FAA, EASA, China, India, CASA Australia and all Bermuda and Cayman approvals. There are numerous aircraft in this market in need of RMU work as the average age of aircraft stretches out. Aircraft are being operated longer due to the higher rate of changing ownership in the region, and this drives demand for what we see as a growing requirement going forward.
Q: What do you believe is Singapore's role in the Southeast Asian aviation industry?
Seletar Aerospace Park is already recognised as the most established hub for business aviation services in the Asia- Pacific region. Going forward, new services and capabilities will continue to be encouraged. The Singapore government is keen to keep this location at the forefront in terms of infrastructure, skills and capacity. Our goal is to accommodate market growth and achieve standards that meet the world's best practices.
Q: What were the three major challenges Jet Aviation faced in Asian aviation in the past five years? How did you respond to these?
We lacked the necessary hangar capacity to deploy our services, so we built a new hangar in Singapore, adding 5,000 sqm in 2014. We also secured tenure of the new hangar in Macau that year, which will provide an additional 4,000 sqm in Q1 2017.
And, of course, we are building the new 3,850-sqm hangar at Seletar that will be completed in Q3 2017. To develop and retain a skilled workforce, we focused on engaging a core group of experienced maintenance and interior specialists. In addition, we supported government and private initiatives in the development of industry apprenticeship schemes and technical training institutes.
We had to develop synergies to better link and standardise our entire worldwide FBO network. Across regions, we harmonised our systems using FBO1 to connect and manage our operations. We also recently received registration to the IS-BAH™ Standard across our entire FBO network in EMEA and Asia.
"WE APPRECIATE INNOVATION THAT SPURS AWARENESS AND EFFICIENCY IN THE INDUSTRY"
Q: More stringent private jet booking rules at Hong Kong International Airport have industry players worried that aircraft activity may reduce as a result. What is Jet Aviation's stand on this and how do you ensure that business jet activity levels are maintained?
Airport landing slot restrictions and congestion in Hong Kong is all part of a new reality that will certainly impact and potentially even cap activity. It might be a while before capacity can be increased, as this would necessarily involve an expansion of the airport and the commissioning of a new runway with more land. Meanwhile, we operate business as usual and will continue to work within the rules.
Q: More and more private jet booking platforms have been launched in recent years, and are even described as industry 'disruptors'. What impact have these platforms had on the businesses of private jet charter operators?
We appreciate innovation that spurs awareness and efficiency in the industry. Provided these platforms are operating legally and are effective, we should expect to see more charter jet exposure in the market as the use of these platforms increases.
Q: What three most urgent improvements/changes do you wish to see in terms of civil aviation regulations or infrastructure in Southeast Asia?
Airports accepting the importance of private jets, beyond being just a statistic. They need to recognise the economic value-add that the industry brings, including other tangible investment benefits the owners bring to cities and regions.
Second, a harmonised Asia and Pacific Air Space, with regulations under one agreed standard. Lastly, tax exemption for aviation services delivered at all international airports across the region. Tax-free trade zones.
Q: What are Jet Aviation's plans in Southeast Asia for the next five years?
We will continue executing our business case, which underpins our investments to date, to expand our operations and serve new markets where there is demand, ultimately aligning with and benefiting our group strategy and growth plans.
"AIRPORTS NEED TO RECOGNISE THE ECONOMIC VALUE ADD THAT THE INDUSTRY BRINGS"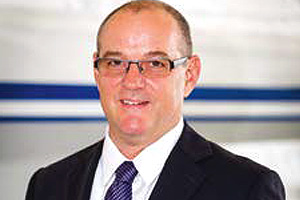 UP CLOSE
What is one thing that surprises people about you?
That I started working in Singapore in 1994 and am still here.
How did you earn your first dollar?
Doing a newspaper round for my parents' news shop when I was 10.
What did that teach you about money?
That it's hard to earn and harder to keep.
What was your first love?
A model steam tugboat my parents gave me when I was 9. It was my first fascination with machinery and fired my imagination.
Name someone you admire as a hero.
Franklin Story Musgrave, tractor mechanic, astronaut and brain surgeon extraordinaire who completed the most challenging and remote AOG mission ever by fixing the Hubble Space Telescope.
What is your pet peeve about flying?
Co-passengers who are oblivious to safety briefings and don't wear durable shoes for take-off and landing. You might just need them to help evacuate a plane one day!
What do you love most about flying?
I marvel at the amazing technological and design achievements that just keep coming.
What do you do for relaxation?
Long walks, family time and playing a game of squash with friends who let me win every now and then. I also scheme and dream about my future restoration projects.
What have you learned to value most in life?
Make the most of the opportunities you pursue, trust your instincts and appreciate the important people that support and guide you. Family, friends, leaders and colleagues — in that order.
Words to live by?
When you wake up, don't stop dreaming — and start again every day.