The act of bathing is almost a ritual in Japanese culture, with its own set of customs, practices and etiquette. Baths cleanse and heal — in particular natural hot springs, locally called onsen, which have long been acknowledged for their litany of restorative effects. The Japanese word tōji refers to convalescence through hot springs, where people spend extended periods of time in onsen towns to take advantage of the water's therapeutic properties. Winter months are especially suited for soaking in these natural springs. One simply must experience the sensation of bathing in very hot water in the midst of cold air and a snowy landscape; the piquant touch of frost on warm skin is a form of poetry only nature can conjure.
While the water fetches the people, it is the ryōkan that keeps them there. A fine onsen ryōkan brings together adjacent streams of Japanese traditions, striving towards harmony of man and the environment. In a respectable ryōkan, the architecture, interior, and cuisine reflect a deep respect for nature and its movement through the seasons, as well as for the locality.
A fine onsen ryōkan brings together adjacent streams of Japanese traditions
Gorakadan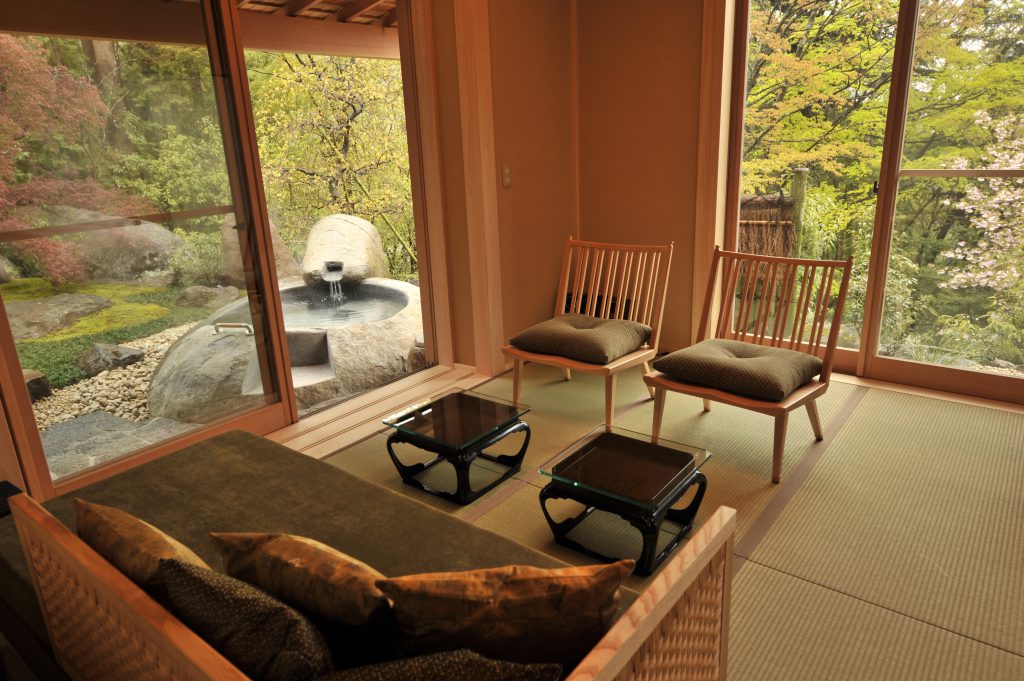 Prior to its transformation into a ryōkan, the estate was owned by members of the imperial family who sought out the hilly town of Hakone to escape Tokyo's suffocating summers. Its best suite, Kakou — named after the delicate scent of flowers — is a detached villa house with three tatami rooms (12.5 mats + 8.5 mats + 6 mats; one mat measures approximately 0.88m by 1.76 m), a balcony and an outdoor garden. The bedroom opens to an outdoor stone bath with weakly alkaline waters from Hakone's natural spring.
The light wood rooms are lined with tatami mats and separated by wooden sliding doors latticed with translucent paper and glass to soften the sunrays. Fresh daily floral arrangements and modern comforts are designed to harmoniously blend with the estate's traditional roots, along with meticulously crafted dishes that reflect the passage of seasons.
Yagyu-no-Sho
Its founder, a life-long practitioner of Kendo, was taken by the beauty of the Shuzenji hills in the northern pocket of the Izu Peninsula, and so made it the site of his inn in 1970. It is now with its second-generation owner.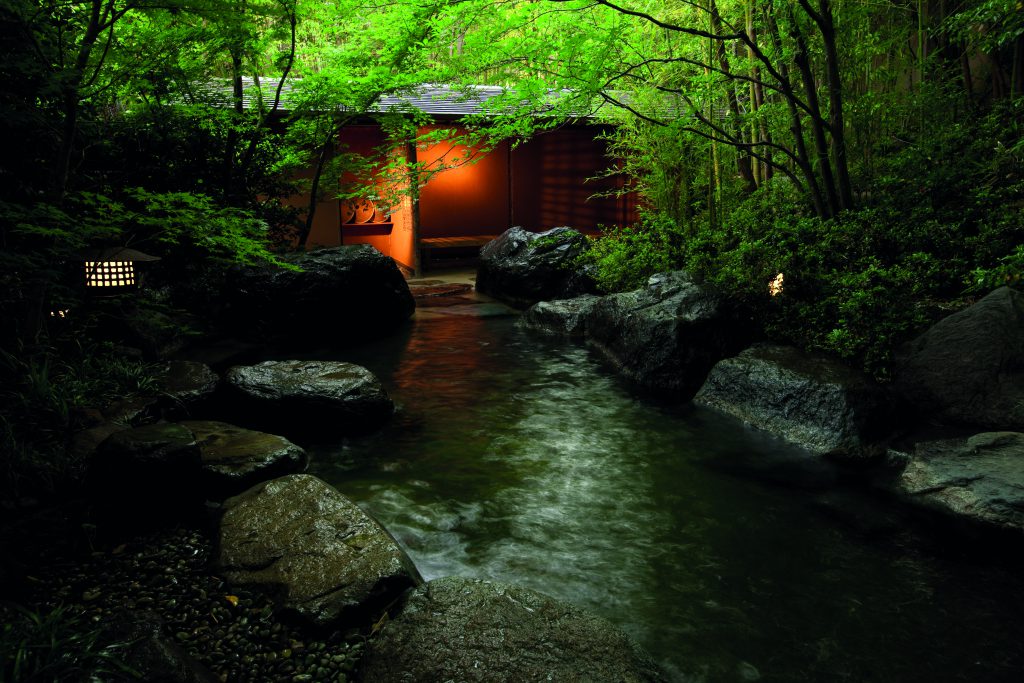 Its most spacious accommodation is Matsu-no-O, a semi-detached villa with a name alluding to the pine tree. The suite comes with three rooms (12 mats + 7.5 mats + 8 mats), each with a view of the surrounding bamboo copse — green in spring, blue in winter. The open-air bath is sheltered by a traditional hipped roof, and offers a view of the Japanese maple in the garden. The spring water is 'soft' and said to improve one's skin. For those who want a change of scenery, the ryōkan also houses two large outdoor baths that are open to all guests.
Kayotei
Kayotei is located in Kaga, a small town on the western side of the Japanese main island encircled by mountain ranges. Its nearest major station, Kanazawa, can be reached via high-speed rail from both Tokyo and Osaka, from which the ryōkan's hired car will fetch you.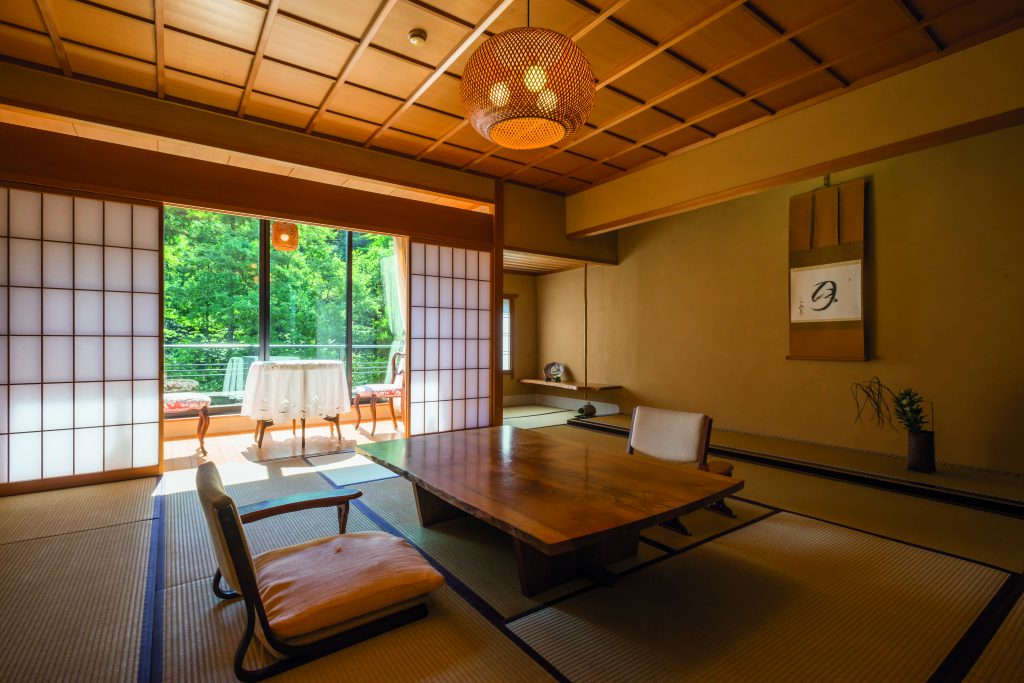 To have a view of both the river and mountains, pick the Higashiyama suite, which comes with two tatami rooms (14.5 mats + 4.5 mats) and an indoor bath. The palette is muted but the textures are plenty — think straw, wood, bamboo and paper. On request, the suite can be connected to neighbouring rooms, adding space (9.5 mats + 3 mats) and an outdoor bath with a forest view.
All food produce is sourced locally and guests can also learn traditional crafts with local artisans who have been passing on their trades for generations.
Asaba
Asaba, like Yagyu-no-Sho, is tucked away in the onsen town of Shuzenji in Northern Izu. Driving up towards the ryōkan, it is hard to miss its distinct karahafu gable, a smooth greyish blue concave arch that resembles a samurai helmet. The Moegi suite, situated on Asaba's second floor, commands a view of the lake, across from which stands a historical roofed theatre where seasonal performances of Noh and Kyogen are staged. The panoramic view from the suite is dramatic — performances take place under the moonlight and in the shadows of nearby maples, while a boat of musicians floats by on the lake.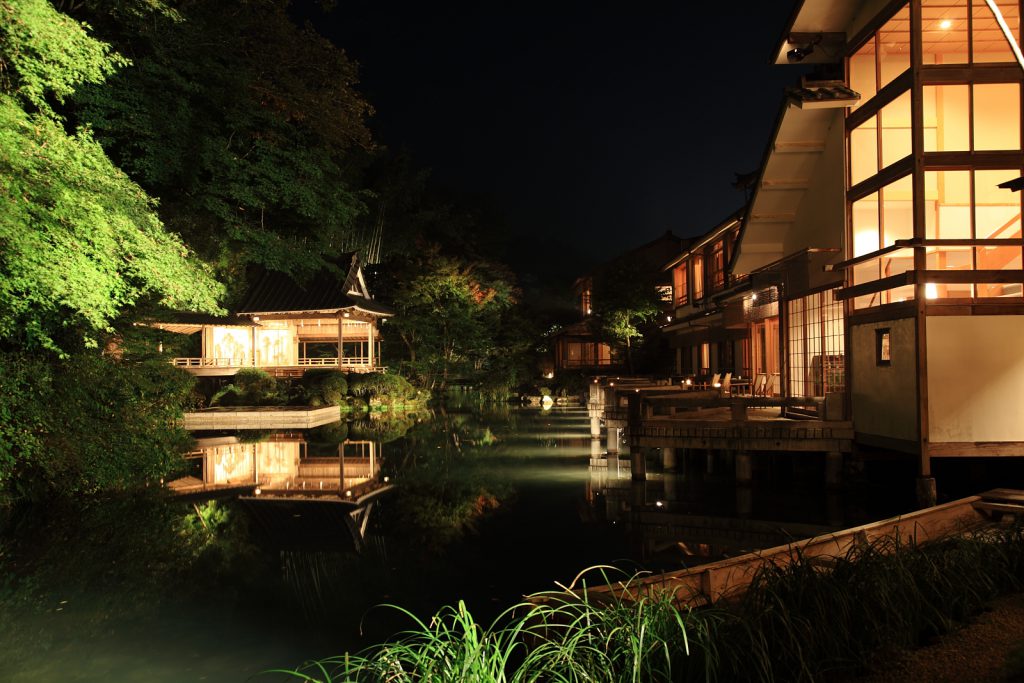 The rooms are wide (10 mats + 10 mats + 6 mats) and minimalistic; multiple sliding doors allow you to play with the space. The room has its own private bath, but guests may also use the common outdoor bath that opens towards a grove of bamboo and maples. Private baths may also be requested for families.