Located along the central axis of the Silk Road, Thailand boasts a cuisine that is easily one of the world's favourites. The country's deep-fried treats hint at intermarriage with the southern Chinese, while its curries take cues from Persia and South Asia.
While many travellers are content to sample various Thai dishes, others can go a step further by learning how to make them. At The Siam, a luxurious hotel located in Bangkok's cultural Dusit district, one can visit the traditional restaurant Chon Thai to take private cooking classes, complete with market shopping and a special meal at the chef's table.
Each class is limited to one or guests so that the experience can be tailored to their skills and interests. It starts with a tuktuk trip to a historic local market with Chef Damri Muksombat, who explains about the selection and application of Indochinese ingredients. Produce for the day's dishes are then selected. An intimate cooking session follows in the restaurant, located in a traditional Thai teakwood house within The Siam's grounds and overlooking the Chao Phraya River.
"We pride ourselves on using only the freshest, finest local produce with a cooking philosophy anchored in our respect for timeless Thai flavours. We apply the same philosophy to our intimate cooking classes," says Muksombat, who has worked at establishments like the Four Seasons and played a pivotal role in helping Issaya Siamese Club break into the top 50 restaurants in Asia when he was its Executive Chef.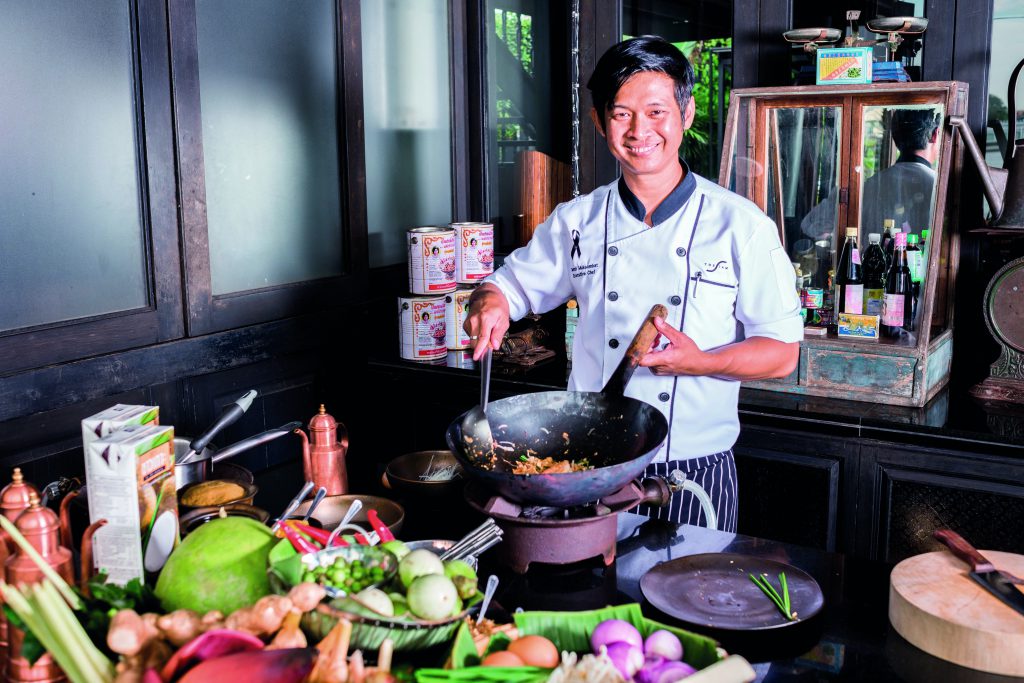 "I have to be careful to improve recipes but not break them"
Guests are asked to select three that they would like to cook from a comprehensive menu. Choices include Tom Kha Gai (mildly spicy chicken and coconut milk soup), Gaeng Phed Moo (red curry pork), Phad Thai Goong (wok-fried noodles with king prawns), and Guay Buad Chee (banana in coconut broth). "Thai dishes can be very complex, so I have to be careful to improve recipes but not break them," says Muksombat. He likes to use local pineapple to balance the heat of spicy dishes, and also enjoys introducing ingredients like edible hummingbird flowers to his foreign guests.
The dishes must also be healthy. Achieving this can be a matter of making simple changes, like switching risotto for mashed potato, or using more varieties of nutritious vegetables in curries. And although the Thai palate can be inclined to very sweet flavours, Muksombat prefers moderation, and controls the amount of sugar he uses.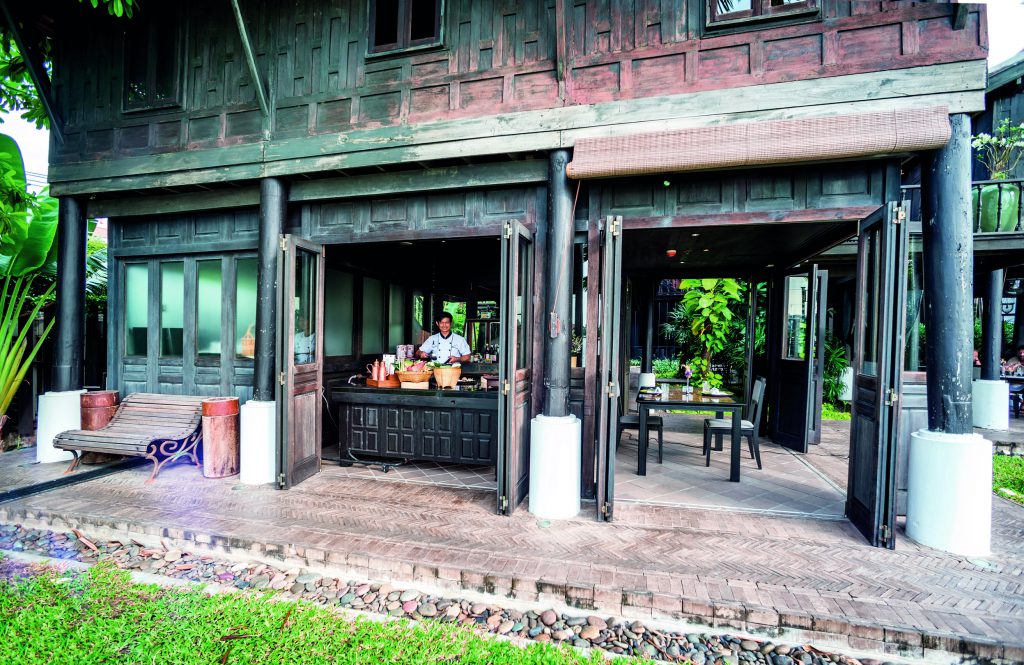 Beyond following a recipe, guests will also learn essential knife skills, along with personal kitchen tips and tricks from the chef. For instance, Muksombat shares that he uses a different technique in preparing lemongrass to increase its fragrance when mixing it in a salad. Cooking pork ribs is a serious affair, as he uses 17 different ingredients, including longan honey. He describes his style as adding "little things that can make old recipes a little more exciting". At the end of the day, he not only hopes to make people happy with his dishes, but also aims to spark their passion for cooking.