It typically takes months of welding, moulding, hand-painting and quilting to create a ready-to-drive Bentley. This in itself is both an engineering and artistic accomplishment — but the marque's personal commissioning division, Mulliner, goes the extra mile to indulge the tastes and needs of individual customers.
The Mulliner team customises the functionality, look and feel of various Bentley collections — the Bentayga, Continental, Flying Spur and Mulsanne — and sometimes teams up with best-in-class brands to achieve unique results. The programme was named after revered coachbuilder Henry Jervis Mulliner of Chiswick, West London.
Many bespoke commissions are made to support a customer's passion
Typically, customers request that their initials or crests be incorporated into the vehicle design, such as in the upholstery pattern. Many clients also have the Bentley badge or its rising sculpture modified. For instance, the Flying 'B' mascot, which is usually formed with polished stainless steel, can be crafted in solid steel or plated with gold. Another frequent request is endowing the marque's standard 'fluted' seats with the same finish as hunting jackets. Such personal touches, though, are merely the tip of the iceberg. The entire chassis of a Bentley can be tailor-made — even its vaunted grille, which can be shaped in a myriad of motifs.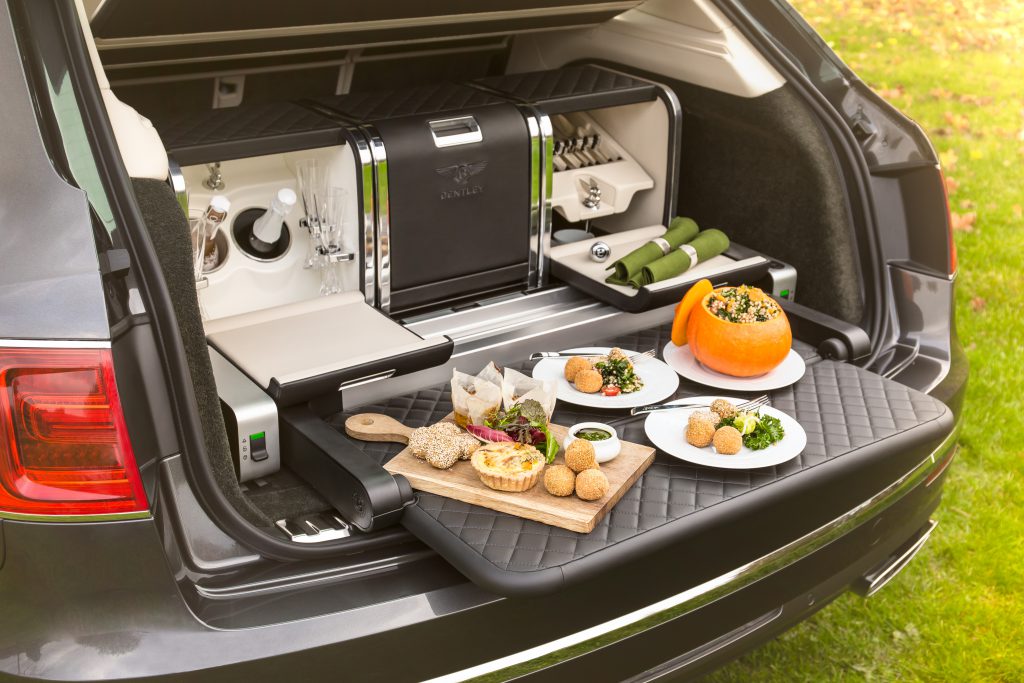 Many bespoke commissions and Mulliner-initiated customisations are made to support a customer's passion. In May this year, for instance, the Mulliner team transformed the Bentayga into a falconry hobbyist's dream vehicle. This required the special fitting of leather bird hoods, binoculars, a gauntlet, and their separate holding compartments. It also came with optional marquetry, which depicted a falcon in flight and required 430 pieces of wood from a variety of veneers.
As many of Bentley's clients are avid fishermen, the Mulliner team introduced the Bentayga Fly Fishing in 2016. The custom vehicle features four machined-from-solid aluminium reel cases trimmed in saddle leather with linen cross-stitching. It also contains a master tackle unit of Burr Walnut veneer that holds a fly-tying vice and tools, as well as a selection of cotton, hooks and feathers. Alongside neatly contained waders and boots, four Zephrus rods are stored in special tubes trimmed in similar saddle leather with linen cross-stitching. Within a carpet-trimmed hard-pocket built into the side of the boot is another surprise — a pair of landing nets in matching leather bags.
For clients with other hobbies, the Mulliner team can create bespoke hampers that fit precisely into the boot of each specific Bentley, and can be ported out. One may also choose to have the back seat fitted with a mini-bar, with one's own choice of wood and crystal for the pop-out cooler and its vessels.
Aviation enthusiasts, on the other hand, may have a Bentley customised in the spirit of the marque's official airborne fleet, the Breitling Jet team. A nautical theme is also possible, as shown in the recently launched Bentley Continental GT Convertible Galene Edition, which was designed in collaboration with British yacht-maker Princess Yachts. The Mulliner division also occasionally releases limited editions of existing models, such as the 100-model Flying Spur Design Series and the 50-model Mulsanne Hallmark Series.