Rising to the challenge
Designing for yachts and private jets can be tough but the solution could lie in partnerships with luxury cars
Task an interior designer to decorate a small space and the possibilities would be endless. Adding the elements of sea and sky, however, separates designers from specialists. For ultra-high net worth individuals, it isn't enough to just own a superyacht or private jet, these luxury toys should be outfitted to the nines as well.
But herein lies the challenge of designing for a small space like a yacht or a jet – it isn't as simple as replicating the designs of an apartment onto said vehicle; there are numerous challenges that come with creating harmony onboard a space only utilised for hours at a time.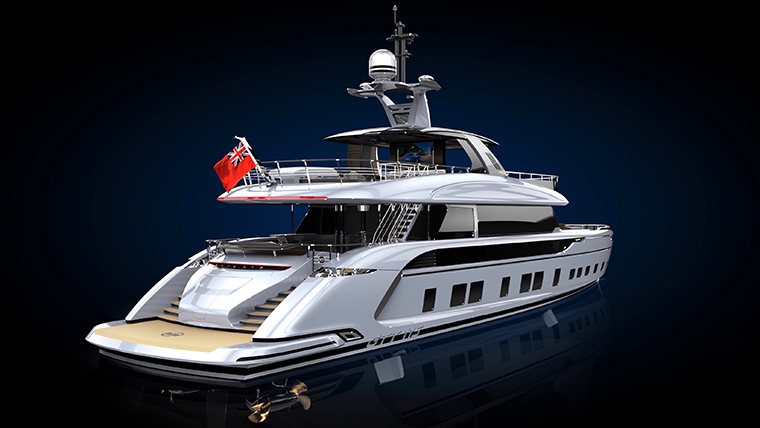 For Elliot Barratt, Founder & CEO of Elliot James Interiors, the challenges start with designing for a small space without making it feel like it is a small space. "It's all about creating an impression that you are not confined to a small space," he said. Part of his challenge is working to ensure the ergonomics of furniture placement is correct. "You want your client to be able to have everything within reach, but they should not have to crouch or bend into awkward positions to reach for items or to move around other objects."
Barratt then further explained that many furniture designers design for the home in mind, and not for restricted areas like on a yacht or a jet. "Proportions are so important when working with a space where once furniture is in place, you are unlikely to move it around again; for example, no one wants to use a private bathroom on a jet where you can't turn around in or reach a drawer without hitting an elbow – everything has to be extremely well thought out and considered."
Of course, these are basic rules any good interior designer has to work with when faced with a small space. But with interior designing for a superyacht or private jet, the challenges are magnified even more. While many would like their superyacht or private jet's interiors to be an extension of their personality, through art collections, aesthetics and even brand names, translating that onto luxury systems where their main purpose is for transport is easier said than done.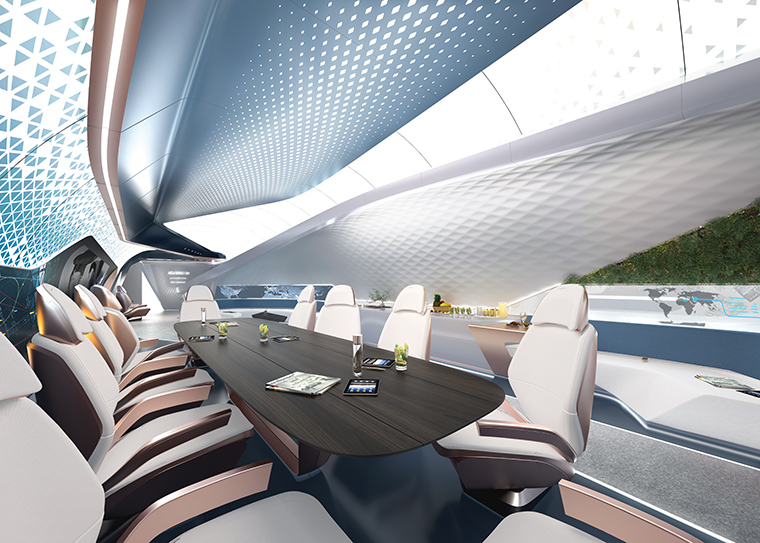 As Barratt shared, "the two biggest challenges for designing for yachts and private jets would be weight and material. For yachts, the material chosen has to be able to withstand harsh conditions from saltwater that can be quite corrosive. As for private jets, weight is obviously a huge factor. We have to ensure quality and a luxurious feel while keeping things lightweight to meet strict weight regulations. And for both yachts and jets, all else considered, each piece we design or put in has to be held in place during turbulence or higher than normal swells."
One smart way of working around these challenges would be engaging the work of automotive designers to outfit private jets, like in the case of AMAC x Pininfarina. The Italian super car design firm teamed up with AMAC Aerospace to reimagine the cabin space of an Airbus Corporate Jet 50XWB. According to Waleed K Muhiddin, AMAC Aerospace Director, Business Development & Marketing, although AMAC has done its own installation of "contemporary, culturally assertive, intelligently designed cabins in the past", working with Pininfarina "sets the bar for the future, taking into account harmonised and social spaces, new technologies and exotic materials."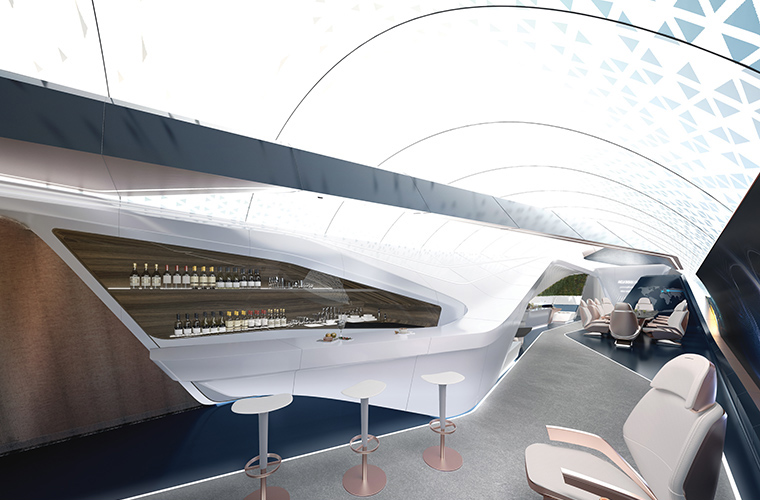 The AMAC x Pininfarina pairing works also because of the latter's expertise in different sectors. Having also designed for architecture, nautical and aviation, Pininfarina designers were already familiar with working within tight regulations, allowing them to freely play around with the restrictions of a small space. Pininfarina's goal in this innovative cabin challenge was to create a comfortable and enjoyable space to make passengers forget that they are on a jet. The multifunctional space is conceived around fulfilling travellers' needs and desires to move seamlessly from relaxing, to working, dining and entertaining.
Onboard the AMAC x Pininfarina, the concept is expressed in the cabin lounge by a unique open space sculpted by a flowing band. Starting with the welcome area, guests are invited into the space at a wet bar, then an area for relaxation characterised by its cocoon-like area that encourages intimacy among passengers. The lounge is completed by a dining area that acts as both a place to host and hold meetings.
Yachts have also taken a similar route of engaging car designers, such as the Aston Martin AM37 in collaboration with Quintessence Yachts, and Motali, a Nissan Design and Yonca partnership that is considered one of the earliest yacht and luxury car crossovers.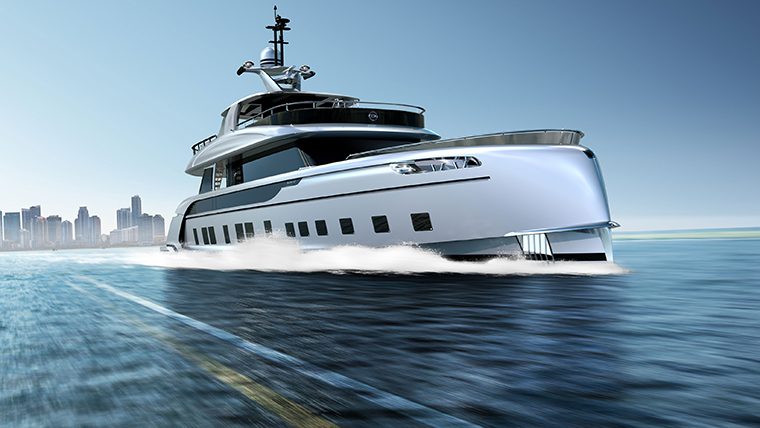 One of the more anticipated partnerships was that of Monaco-based yacht builder Dynamiq with Studio F.A. Porsche for the avant-garde GTT 115 superyacht, which was unveiled at the Monaco Yacht Show in 2017. Dynamiq had already taken on a luxury car-inspired approach with their yachts by allowing buyers to choose fixtures and fittings to their liking. Therefore, in their partnership with Porsche, it made sense for the yacht specialist to do the same.
The sporty exterior of the GTT 115 perfectly imbues Porsche DNA, an appeal to car lovers and forward-thinking yacht owners who appreciate the advantages of speed and style. The superyacht even comes in signature Porsche colours, such as Porsche Carrara White, Rhodium Silver, Chalk or custom Monte-Carlo Blue exterior colours. Other signature Porsche elements are also reflected in the GT 115's Targa-style mullions, the transom design that echoes the Mission E concept, and the deck cushions that feature fabric centres with a classic Pepita houndstooth pattern found in the 991 R edition.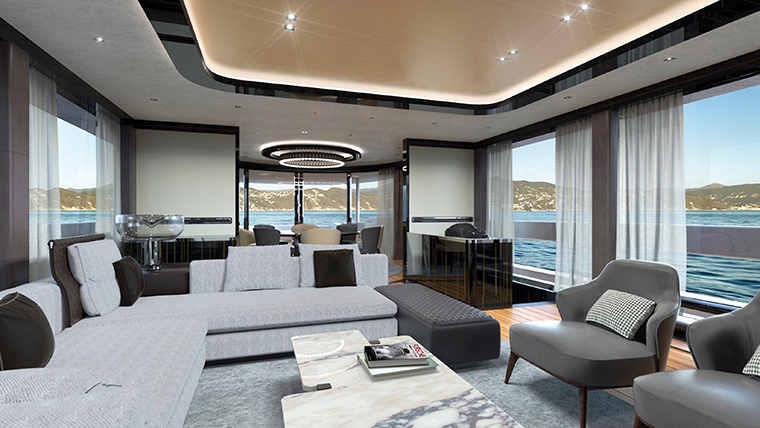 It is evident that placing emphasis on the interiors of private jets and superyachts is the trend to look out for. After all, for many owners, private jets act as offices in the sky and superyachts are usually a means of escape from the confines of a country residence. Regardless of the heavy price tag that comes with getting interiors perfect, for owners of private jets and yachts chasing after perfection, what's another million or more?