RUGS AND RICHES
Some of the most coveted art masterpieces in the world are meant for the floor. We talk to Suliman Hamid, managing director of Hassan's Carpets about carpet collecting and the essentials needed in building a collection.
By Terrie V. Gutierrez
For many, the idea of spending a huge sum of money on a carpet or rug is nothing short of ridiculous. For carpet collectors though, there's nothing like owning a piece of woven history – because that is essentially what a collectible carpet is – because it tells a story, not just in the design but also in how it is made and where it came from.
Suliman Hamid, managing director of Hassan's Carpets, one of the leading purveyors of antique and bespoke rugs and carpets in Singapore, understands this. "It's a pleasure that can't be quantified with a price. Once you've lived with a carpet, you can't live without it," he says. And he should know – he grew up in the carpet business, having learned the ropes from his father and his grandfather before him.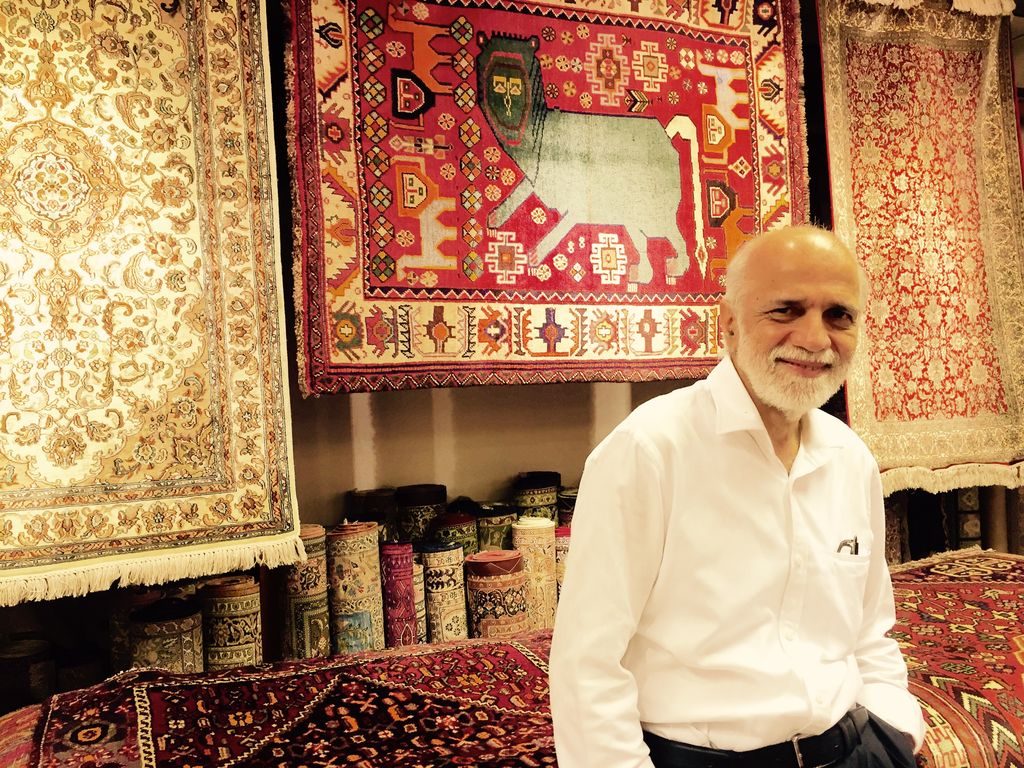 The family business, Hassan's Carpets, has been the dealing in fine rugs and carpets since the 1930s. Customers range from royalty – Prince Charles once bought a rug, so did the Sultan of Brunei – to hotels like Raffles, embassies and big businesses. Having grown up in the business, he understands the passion of collectors, because he has it himself. "If you want to collect something, you have to have passion for it, the desire for it, you have to enjoy it. You want it because it gives you pleasure."
This pleasure though, much like collecting paintings or other pieces of art, can be expensive – for centuries, it has long been the province of the wealthy. For instance, Henry VIII collected Turkish rugs, so did Cornelius Vanderbilt and Sigmund Freud who both loved Persian rugs. Given their provenance, such rugs can run up to the hundred thousands, though one can start off modestly, with rugs that may cost, say about a thousand dollars.
"You can start modest. For instance, [a new collector] wants to buy a Baluch. It doesn't have to be antique. He reads up on them, which tribes made what and all that. He buys it. He enjoys it. Then after that, he wants to buy an Afshar, then after that, a Tabriz. When he has surplus cash, he buys carpets from different areas. That's how you build a collection."
For him, it's all about the interest and willingness you put into it. "Collecting has nothing to do with wealth, it has everything to do with desire," says Hamid. "If you have more money to spare then you collect more expensive stuff." But to get to that level, you must know what you are spending your money on. You have to read up on it, he says.
It is only when one learns the background and history of the carpet that it becomes even more precious. "Because you are not only buying a carpet, you are buying the culture, the history behind it, the people who made it… All these come into play."
For novice collectors, Hamid advises a period of learning and getting to know the pieces through a reputable dealer. "If you want to dabble in old pieces, I would suggest you come talk to me and learn about carpets. Spend one or two months, take some time to learn. Once you have enough confidence and knowledge then you can start buying small. If you change your mind, we can always trade back. That way, the customer is happy. Many carpet traders will do that – if they are good dealers. There is no reason not to, because the carpet has value."
Transactions such as these, sealed by verbal agreement or a handshake, are rare these days. But it's how Hassan's Carpets has been doing business for years. "We have a philosophy in the business – the authenticity of our carpets is totally guaranteed. What we sell, we stand by. We have built a tremendous trust in the market," he says. "I mean, we negotiate, we bargain, we try to get the best deal, in the same way that the customer will try to get the best deal. But once a deal is done, it's done. Profit or loss, it's a done deal. The whole business is done on a handshake. Because if [a customer] doesn't trust me, he can't do business with me. If I don't trust him, I can't do business with him. This is not a business that has a price list. It's art."
But even art has its price. And this is where a very good dealer is invaluable. Through experience, knowledge, supply and demand, they know what is in the market and how much these precious rugs are worth. "Knowing the provenance of the piece, the rarity of the piece… you have to know the background of the piece and how many are available in the market. Because a rug may have a thousand pieces a hundred years ago, but may only have 30 left today, because they got destroyed, were sold, disappeared, for some reason did not get back in the market." Auctions and sales are also good gauges of how much a carpet is worth in the market.
And this is necessary because it takes a lifetime to learn about the subject. "It is very wide and deep, it's like an ocean," he says. "There are dealers in Iran, for instance, who only know about one kind of carpet. We are blessed in a way because we have the knowledge. We know what's available in the market. We travel extensively. We tend to know about the origins and the areas."