Shanghai's Elegant Lady
Set in one of Shanghai's heritage districts, Capella Shanghai Jian Ye Li charms with its quiet elegance and grace.
By Terrie V. Gutierrez
Shanghai is a modern city for the 21st century, all skyscrapers, neon, shopping malls, with a great subway system and a myriad of taxis to take you from one happening place to the next. But the bustling metropolis has a quieter, more contemplative side – oneof serene tree-lined narrow streets in quiet neighbourhoods where it's tempting to take a peek into residential courtyards where you could find washing hanging off windows in a gorgeous Art Deco apartment. Where neighbourhood stores, selling fruit and everyday necessities, are still around. Where it's easy to imagine elegant cheongsam-clad women walking by with their parasols, like Shanghai in the 1930s, when it was called Paris of the Orient.
One of these quiet neighbourhoods is the historic Xuhui District, part of the Former French Concession, one of the several foreign concessions or districts in Shanghai from 1849 to 1943. Take a walk in this neighbourhood, and it's not a stretch to imagine Shanghai in its heyday.
The streets of the FFC are narrower and lined with plane trees (a relative of the sycamore and planted by the French) and elegant early 20th century architecture. Here, you'll find stately residential compounds with a small garden in the centre, reminiscent of old French neighbourhoods. A lack of skyscrapers in the district also means that there are fewer people here, which adds to the general feeling of stepping into the past.
This feeling intensifies once you get to Capella Shanghai Jian Ye Li, which is at the heart of this tree-lined heritage area. 
Old-world charm
Turn into the driveway of this new luxury property, which opened late last year, and immediately, it feels as if you're stepping back in time. So discreet is the façade that it's not immediately obvious that the hotel is even there – our cab driver had to double back to find the entrance.
For those visiting Shanghai, Capella Shanghai gives you the best of both worlds. You can explore Shanghai's exciting and happening hotspots, but once the excitement of the high-rises, fancy clubs, bright lights wears off, you'll be glad to soak in the calmness of leafy avenues and narrow alleys, which are home to quirky boutiques and interesting restaurants. This is not to say that the all-villa resort is far from everything else. Capella Shanghai is a mere 35-minute drive from Shanghai Pudong International Airport – though that could be longer depending on the traffic – while the nearest metro station is less than a kilometre from the hotel. Hip shopping enclave Tianzifang and F&B district Xintiandi are both nearby.
A taste of old Shanghai
Capella Shanghai gives guests a taste of old Shanghai, though a very stylish version, of course. Built from some of Shanghai's remaining shikumen (literally, stone-gate) laneways, the resort is a tasteful compound of 55 private residences and 40 villas in guest-only red-brick lanes, all set with stone entrances, lush courtyards and secret gardens. The area was once a whole 1930s neighbourhood built by a French real-estate company, Foncière et Immobilière de Chine, for expatriates. By 1945, the expats had left and the villas became residences for hundreds of Shanghainese families, with the laneways filled with market stalls and workshops.
Designed by Jaya Ibrahim, the villas marries the best of shikumen architecture with fresh updates of 1930s French-Chinoiserie elegance. Each villa has three levels, with 4.5-metre high ceilings, hardwood framed windows and internal courtyards that you access with your own keycard.
The first level includes a very elegant reception-cum-living room. Go up a flight of stairs to the entertainment room with a TV, complimentary minibar featuring a Lavazza coffee machine, canned sodas and beer, as well as local snacks, like hawflakes and White Rabbit candies. Go up one more flight to get to the elegant bedrooms and huge marble bathrooms, which feature Acqua di Parma bath products – all of which add to a sense of elegance and refinement to the whole experience.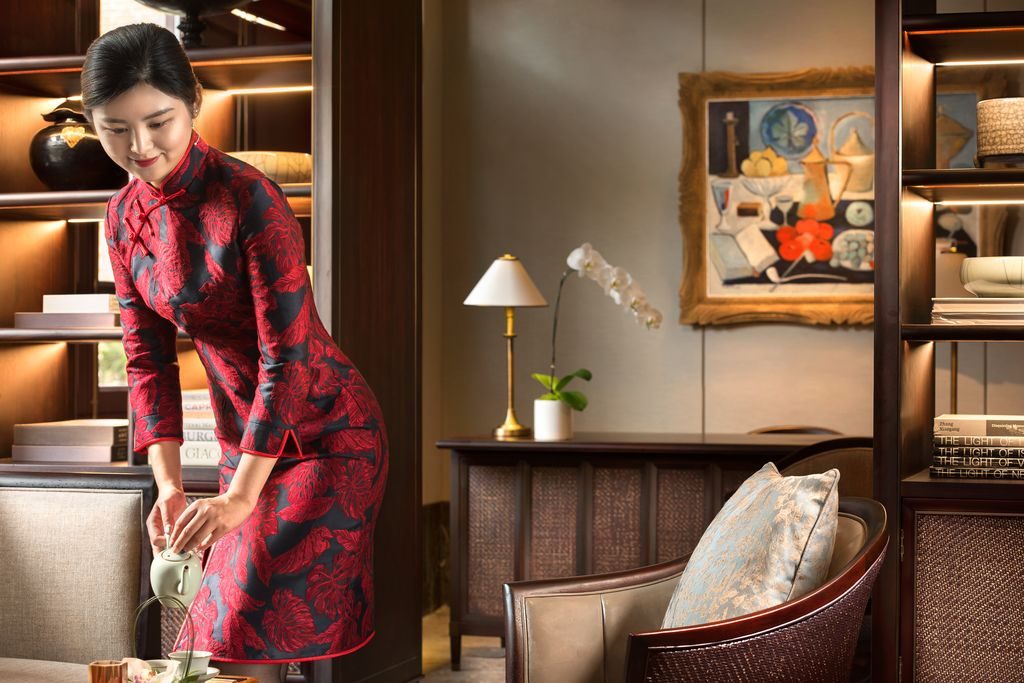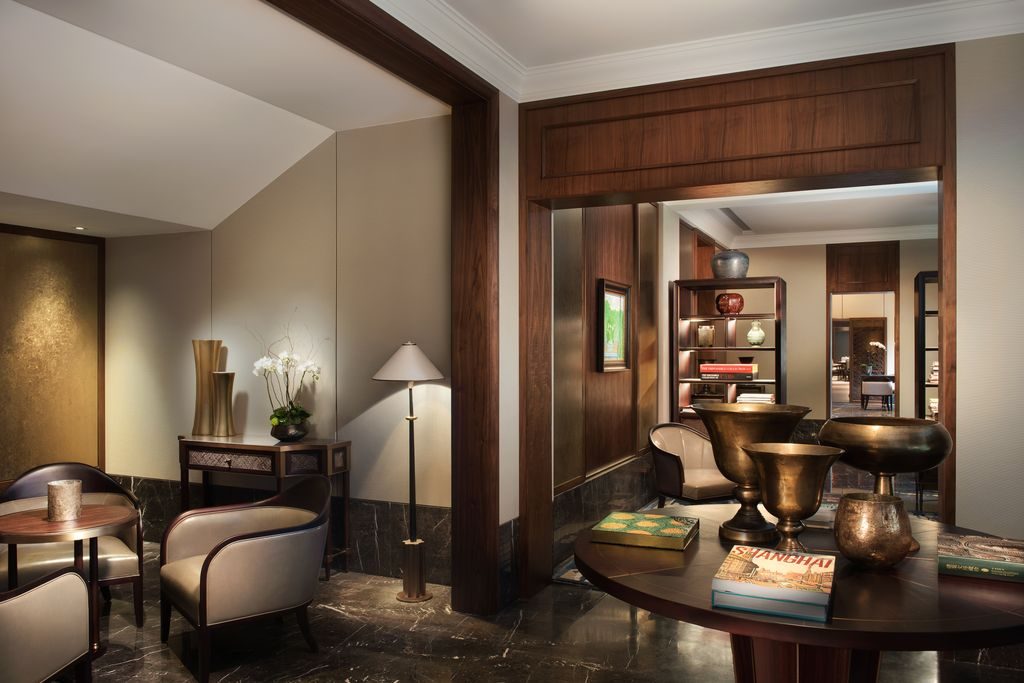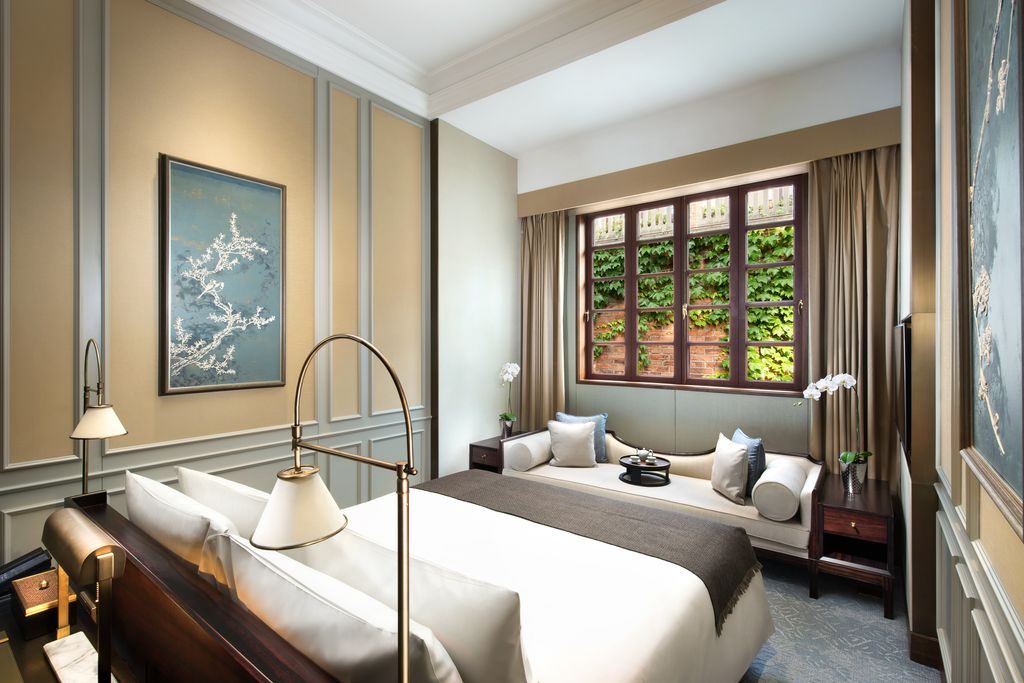 Calm and serene
Designed with the utmost comfort and luxury in mind, you'd be forgiven for not wanting to leave the villa, but the resort's environs beg to be explored. The main building houses the reception area, with its shelves of Chinese sculptures and books and the library stocked with tomes on history, art, architecture and fashion. Comfortable chairs and sofas will make you want to sit down and while the day away, while munching on sweet and savoury snacks and drinks, which are served all day long.
Also in the main building is the Auriga Spa – named after the constellation – which offers services based on the cycles of the moon (more on this in the sidebar).
Should you be feeling more than a little peckish, then head over to the resort's only restaurant, Le Comptoir de Pierre Gagnaire, which is three Michelin-starred chef Pierre Gagnaire's first restaurant in China. Helmed by Romain Chapel, Pierre Gagnaire's protégé, the chic restaurant's concept is defined by le comptoir (the counter), which implies a sense of community and neighbourliness. As befits its name, the restaurant serves reinterpretations of traditional French fare, accompanied by an impressive wine and drinks list. Guests at the resort enjoy complimentary breakfast that includes fresh baked breads and pastries from la Boulangerie downstairs.
Grace notes
A word or three must be devoted to Capella Shanghai's excellent bespoke service, which makes its presence known even before you step into the property. The resort has a team of personal assistants whose mission is to make your stay as bespoke as possible. Before you arrive, one would have gotten in touch with you to finalise your itinerary. They will also check you in once you have arrived and will be at your disposal throughout your stay for all your concerns – trivial or otherwise.
Also a nice touch are the little gifts during turn down service – like a jar of snow cream, a Chinese fan and a set of bookmarks, evocative keepsakes of Shanghainese culture.
LEARNING TO RELAX
Float your cares away in Auriga Spa's Flotation Therapy
Off to one corner of Capella Shanghai is Auriga Spa, which offers a menu of luxurious treatments in locally inspired holistic healing methods – from ancient practices of Traditional Chinese Wellness and the latest spa technologies and treatments. Take your pick from herbal baths, a vitality pool, a sauna, a steam room, Hypoxi weight-loss machines, an impressive salt-wall lounge and a floatation tank, an hour in which promises to relax mind, body and spirit to send you off to a good night's sleep. What does it feel like inside the tank? Strangely surreal and relaxing. The bather floats inside in what is essentially salt water surrounded by coloured lights and chill-out music, which are all designed to put the mind in a trance-like state, almost. The result? You come out of it feeling as if you've travelled to some dimension. Is it relaxing? Type A personalities might have a hard time letting go and just floating away, but once you surrender, it's bliss.