The Pop Princess
With its peppy dose of pop art and colour, W Hotel Shanghai – The Bund is the perfect spot to admire Shanghai's neon-saturated sci-fi skyline.
By Terrie V. Gutierrez
Cities have personalities, and Shanghai is no wilting wallflower. Anyone who has ever visited this metropolis is sure to be wowed by its stunning skyline, vibrant spirit and bold colours and W Hotel Shanghai – The Bund is the perfect place to drink in the city's frenetic vibe. Despite its name, W's outpost in Shanghai is not really on the city's famous historic waterfront promenade – it sits on the banks of the Huangpu River in the North Bund, where guests can best take in Pudong's magnificent skyline.
Its location provides guests with the perfect vantage point to take in Shanghai's sci-fi vibe, which has influenced the design of the hotel. W Hotels tapped global firm G.A. Design and Melbourne-based Fabio Ongarato Design to come up with a look that creates a sense of place, without falling for clichés. The result: Interiors that call to mind Shanghai's blend of old and new, historic and modern – in other words, hai- pai, a Chinese term for the art of blending old and new, East and West, done perfectly.
The hotel is replete with artwork and design elements that reference local themes but done up in the brand's signature playful pop aesthetic. This is inherently obvious even in the ground floor entrance, where guests first get a glimpse of the red, white and pink neon art installation depicting a very stylistic Shanghai alleyway hung with neon laundry, complete with a huge pair of fluorescent underpants. Guests get the full effect of this installation as pink-hued lifts whisk them up to the W check-in lobby, which is decked out in various pop colours, including gold, heightening the sensory experience even further, while traditional shikumen (stone-gate) houses are referenced in metal accent walls.
But perhaps the best – and most Instagrammable – spot in the hotel is at the fabulous deck of the outdoor pool by the riverside, where guests can really appreciate Pudong's futuristic skyline.
Pop Art vibe
Views from the privacy of the rooms and suites are not too shabby either. Almost all 374 rooms and suites have river views of the Pudong skyline. In fact, given that the windows in the rooms are massive walls of glass that frame the gorgeous skyline, guests can just sit in their window seat that runs the length of the room and looks out into the cityscape, which transforms into a LED lightshow come evening.
Room interiors also reflect the city's playful vibe, with vibrant yellow and teal furnishing or red lacquer and silver making up the colour scheme. The beds are ridiculously luxe and comfortable, wittily topped with cushions shaped into chopsticks and dumplings, which call to mind the city's famous xiao long bao (soup) dumplings. As with any W Hotel, the tech is properly high-tech and very well thought out – USB ports, Bluetooth speakers and a huge television are in every room. Well-appointed bathrooms stocked with W's famous Bliss amenities have colourful partitions and translucent glass for privacy.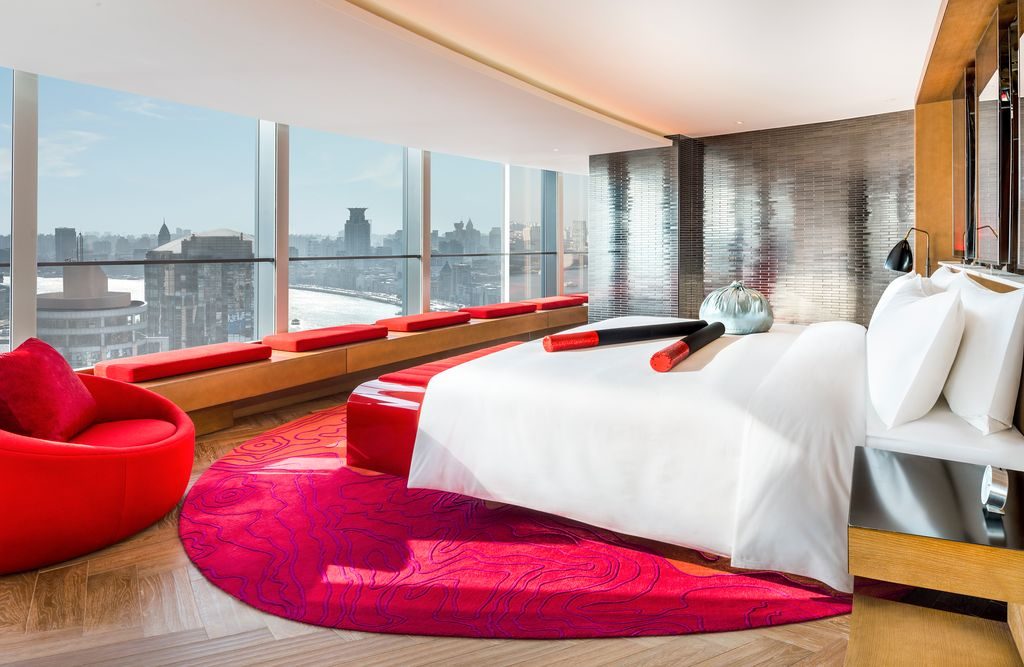 See and be seen
As one of the newer hotels in town, W is the place to see and be seen. Shanghai's hip young crowd gathers for weekend brunch at The Kitchen Table, which calls to mind a New York City bistro but with distinctly Shanghainese décor while evening drinks at the colourful WOOBAR or the WET Deck are a must. Those hankering for superb Cantonese fare, should head over to YEN, which serves reinterpreted classic Chinese dishes and looks unlike any other Chinese restaurant with its sleek interiors.