Test Drive: The new-generation BMW 7 series is like a boss
Romanian roads are a little rough around the edges and rather unusual ground to put the new-generation BMW 7 series through its paces but the gentleman's car holds its own
One would never imagine driving BMW's 7 series through the Romanian countryside as the luxury sedan is, after all, designed with executives in mind and far more at home in a city pulsing with a thriving economy.
But as the roads stretch as far as the eye can see, framed by majestic mountains in the distance, the unlikeliness of a road trip in BMW's flagship luxury-class limousine makes for quite the novelty.
Let's begin with the lavish lounge interior. The 7 series is certainly dressed to impress, with Napa leather upholstery with extended quilted padding, in mocha or cognac, setting the stage for the plushest road trip ride ever.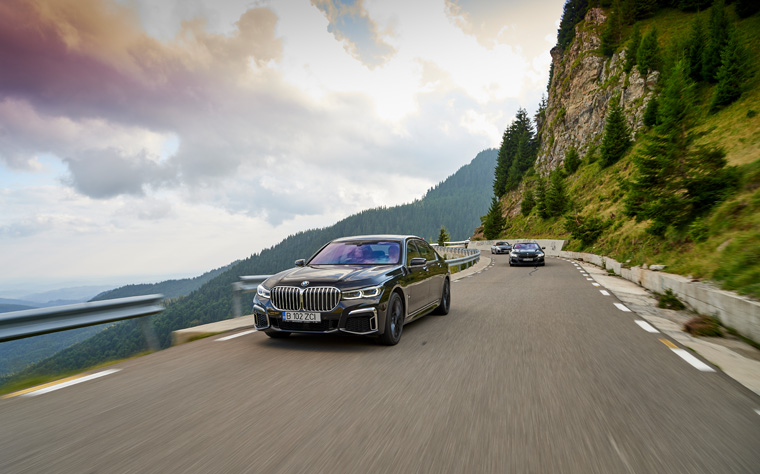 On the outside, the 7 is equally posh. The extensive facelift on this sixth-generation model gives the 7 decidedly more presence and prominence. Meanwhile, a long wheelbase, short overhang and flowing roofline conspire to create a sophisticated profile seemingly in complete harmony with the beautiful surrounds.
The 7 is a fine-looking automobile indeed. There are two versions: The standard and the other, which is longer by 14cm that gives rear-seat passengers extra corresponding legroom – both 22mm longer than their respective predecessors.
It is also now more pronounced in the front, boosted by 50mm for a sense of added prestige and status. Then, there's the new single-piece kidney grille that's about 40 percent larger, topped with a bigger BMW badge on the bonnet, upsized from 82mm to 95mm.
These contrast with slimmer headlights and tail-lights, where the blue hexagonal design of the adaptive LED headlights (BMW Laserlight optional) make an arresting visual statement.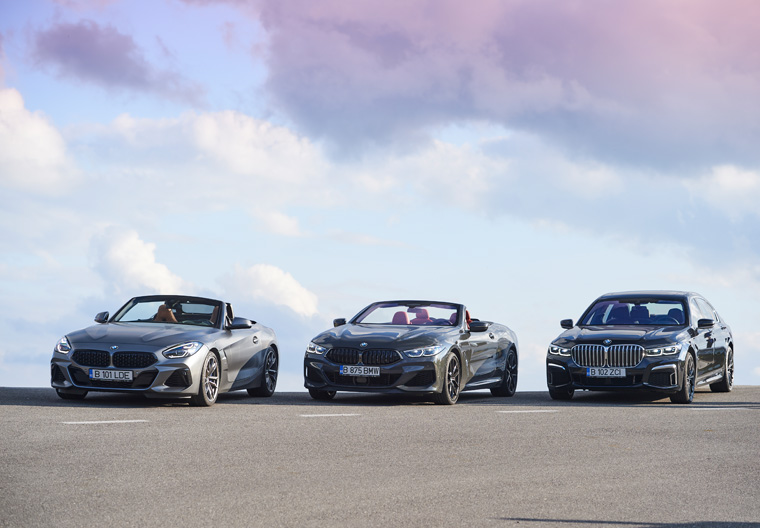 Dynamic Handling
Romania, while boasting some of the most stunning landscapes, just does not have the best paved roads. In fact, the World Economic Forum ranked the quality of Romanian roads 120th out of a list of 137 countries last year.
Thankfully, the 7 drives like a dream – keeping us comfortably cushioned over uneven surfaces and even over veritable potholes.
Our 745e xDrive powers through beautifully with 389 horsepower at our disposal, summoned by a 3.0-liter BMW TwinPower Turbo inline 6-cylinder engine – the first in a 7 series – for a ride that's as exhilarating as it is efficient.
This variant, a plug-in hybrid vehicle, grips the tarmac brilliantly with remarkable stability and agility, especially when cornering. Impressive for a luxury sedan of this size and length.
Much of the credit for the exceptional road handling goes to the intelligent BMW xDrive all-wheel-drive system and Dynamic Stability Control system that swiftly and precisely distributes the drive torque between the front and rear wheels as the situation demands, delivering superb traction even in extremely dynamic driving situations or in adverse road and weather conditions.
The Executive Drive Pro chassis system (optional) with active roll stabilisation also comes into play, delivering greater compensation of body roll through keenly taken corners.
Good to know, given the fact that Romania reportedly has the highest per vehicle rate of traffic fatalities of any country in the EU, so says the European Union Road Federation. So the 7 ought to serve us well should we need to deploy defensive driving techniques to elude errant motorists on these Romanian roads. Our vehicle's ability to make the century sprint in 4.9 seconds should also facilitate any fast fleeing necessary.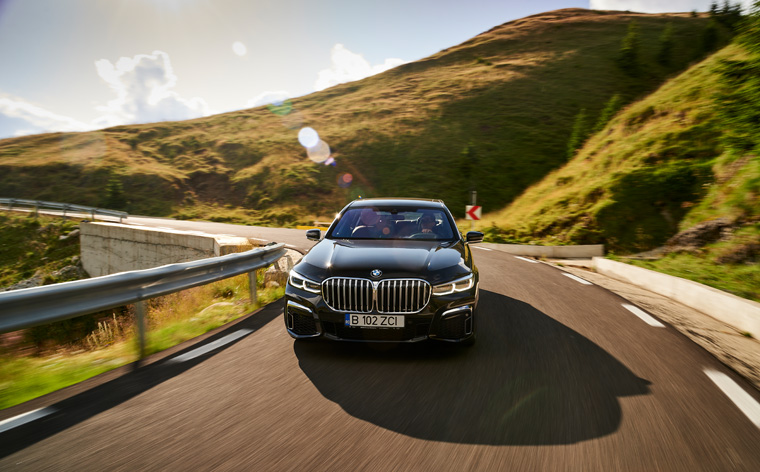 Engineered for Executives
The 7 series has long been a choice pick for those in the C-suite. And now, BMW has developed an in-car digital assistant that's as thoughtful and considerate as co-drivers get. After a tough day at work, for instance, the Intelligent Personal Assistant will attend to your well-being via a series of Caring Car functions: Three-minute vitality and relaxation programmes that modulate the air conditioning, seat massage, fragrance and music to refresh or relax the driver.
There are also three different Experience Modes – Executive, Expressive and Wellbeing – that activate additional functions, such as lighting and seat ventilation according to your needs. Just say, "Hey BMW, I'm tired" or "Hey BMW, activate Executive mode" to start the specific programme and let it run for as long as desired.
You can even give your digital assistant a name like "Jill". Think of Jill as your semi-autonomous chauffeur whose job is to learn your routines, habits and preferences – and then apply them as appropriate.
A little like Apple's Siri, Jill is supposed to be able to respond to prompts and engage in casual conversation, as her intelligence grows with every command given, every question asked and every setting made. Supposedly. Perhaps our rendezvous with Jill was simply too short-lived for any meaningful relationship to develop.
A nifty feature for city driving, though, is the reverse parking assistant that memorises the last 50m of forward travel and also has the ability to reverse the car out the same way it was driven in – the first of its kind in this segment and especially useful when you need to back out of a tight spot and there isn't enough room to perform a three-point turn.
Inside the cabin, two 10-inch full-HD instrument displays now feature touchscreen functionality, while the premium Bowers & Wilkins 3D Surround Sound system provides beautiful acoustics.
And we love how wonderfully insulated the 7 series is against outside noise by side windows composed of laminated glass (now 5.1mm thicker) plus extra insulation around the rear wheel arches.
The wireless charging tray is now positioned more accessibly and conveniently – in front of the cupholders and not under the centre console armrest like previously.
As we travel deeper into the country and civilisation begins to fade, I find myself pleased to still have every creature comfort within reach. There's no finer way to take a road trip through some of the more remote corners of Romania than like a boss.