The Artist As A Pilot
From the silver screen to open skies, actor Thomas Middleditch talks about acting and flying.
By Jim Simon
The list of Hollywood actors who are also pilots is short but stellar — think Harrison Ford, John Travolta, and Tom Cruise. Recently joining this club is Thomas Middleditch, the Emmy-nominated star of the critically acclaimed HBO series Silicon Valley, and part of the cast of Godzilla: King of the Monsters (known widely as Godzilla 2), set to be released in March 2019.
Perhaps one day, Middleditch will be able to display his cockpit prowess on the silver screen. In the meantime, we speak with the 35-year-old actor to learn more about his flying experiences and his recently acquired aircraft. The interview has been edited for brevity.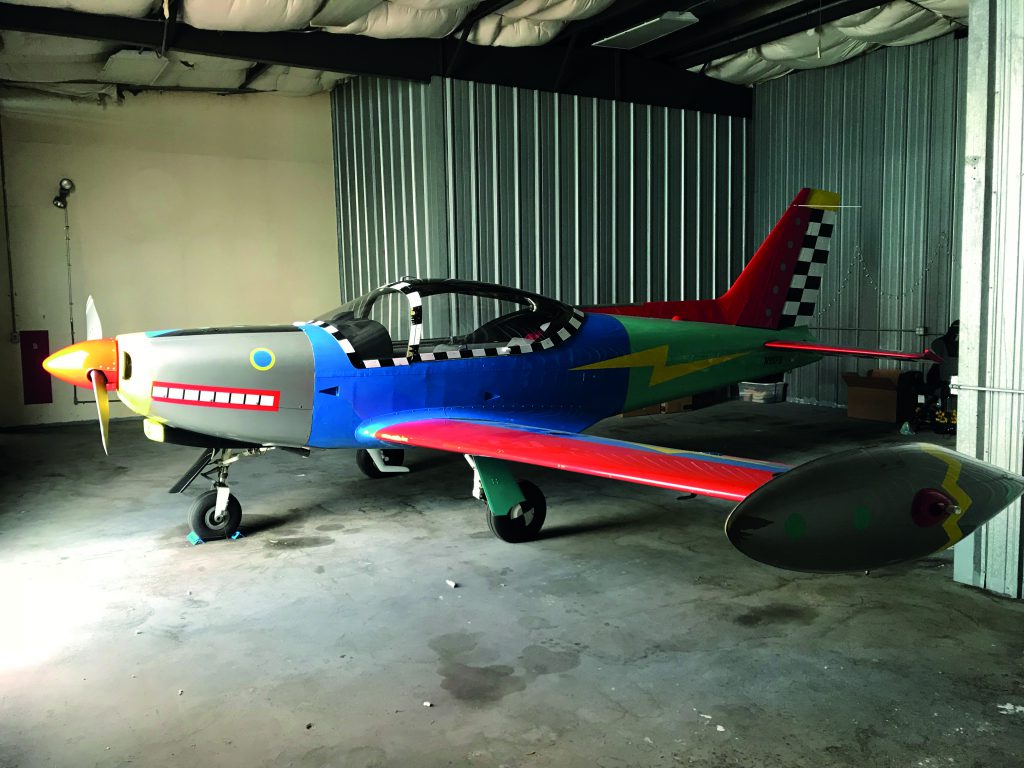 JETGALA: How did you become interested in aviation, leading you to pursue your pilot's license?
TM: I suppose it pretty much coincided with my sudden interest in history — more specifically, military history — probably around my late teens. As a sheltered little kid, I thought: "Wait, what was World War II?" I just couldn't get enough of it and I couldn't stop reading memoirs, and that bled into fighter pilot memoirs.
I have been a flight simulation player for 15 years or more, so essentially, you just daydream of being a Spitfire pilot. Holding off the Luftwaffe is what got me into it, and that bled into civil aviation.
A few years ago, I said to myself: "Well, now that I've got the means to transition this love affair from the virtual world to the real world, I'll give it a shot." I had to overcome some pretty severe motion sickness, but in the end, I managed to get the PPL (private pilot's license).
"I couldn't stop reading memoirs, and that bled into fighter pilot memoirs"
JETGALA: What is your typical 'weekend warrior' type of trip?
TM: Around California, essentially. For example, at the end of October I'll spend a night in Mammoth, going up to Southern Oregon to Bend. I've gone back and forth to San Francisco a lot for commutes; being on the show Silicon Valley, there is a tie to Silicon Valley.
JETGALA: What kind of aircraft do you own?
TM: I just sold my Diamond DA40 and I bought myself a Marchetti SF-260.
JETGALA: You probably flew from the left seat with your Diamond but from your Marchetti you fly from the right seat, typically. Was that interesting?
TM: Honestly, it just felt more like what I wanted — why I got the Marchetti was the tie to military history. Now, without spending $5M on a P-51, I've got, essentially, a warbird to some degree. With 15 years of flight simulation, essentially with the stick in the right hand, it wasn't too big of an adjustment. But, honestly, being on the right side, with the stick — it feels pretty cool.
JETGALA: When you are up in the air, do you feel like you are just another person in the system? Do you like the anonymity that comes with that?
TM: That is neat, although the plane that I have is anything but anonymous. It's got a Saved by the Bell 1930s clown car paint job, which I plan to adjust. I think it is famous in the Marchetti community so I'll probably break some hearts by changing the paint colour at one point.
But, yes, I like that. When you are first learning, hopping on the radio is pretty scary, outside of the rules and regulations. The quickness that's required is intimidating but I will say the good thing about learning here in a major city like Los Angeles is you have to get comfortable with the radios. I feel that if I had gotten my license out in the country somewhere where you didn't really have to communicate that much, I would be really intimidated by coming into a busier airspace like this. And especially at an airport like where I fly out of the ATC can be a little surly, so you better get your words right or they'll chew you out.
"The plane that I have is anything but anonymous"
JETGALA: While you just bought the Marchetti, do you have your eyes on other aircraft down the road?
TM: (One thing) I'm eyeing — maybe one day, when I am done spinning around in a Marchetti — is this new plane called the Cobalt Valkyrie, which looks like Batman's plane. I've also been really obsessed with all these next-generation gyrocopters, like the AutoGyro Calidus and whatever else is out there. The idea of going low and slow in an open cockpit and just cruising around at 4 litres per hour seems pretty cool. If I ever move back up to Canada and just want to putt around in the mountains, that seems like a pretty fun thing.