The Steady Wealthmaker
Having reached the point of financial security, Olga Iserlis continues to work hard and remain true to the goals that brought her to the top
"When we stop working, we stop growing. We stop contributing to society and lose our purpose. We age fast and become irrelevant," Olga Iserlis, a leading events organizer and author, declares. "My mother, who is 84 years old, remains active in her medical profession, and I believe that keeps her mind and body young."
Iserlis learned the value of hard work and perseverance early. Compelled to leave her native St. Petersburg for New York with her mother before she reached her teens, she was exposed to real hardships. "But I also saw opportunities," she adds. "It wasn't just hard work; my dreams gave it shape and direction." Together with her mother, they rebuilt the life of comfort they knew and missed. "Being productive and having a creative outlet are extremely important to me. Hard work is inspired and animated by a goal. You have to decide what all your hard work is for."
Industry has rewarded Iserlis with financial stability. She has sent her two children to very good schools which set them up for promising careers. When travel was unrestricted, she visited them, and her mother, in New York whenever she felt like it. She owns her apartment in Singapore, and has acquired others in America and Portugal. She goes to art museums often and grows her personal art collection. But she hasn't stopped working. "One of my go-to expressions is 'dream big', and it is one that I manifest often. Financial stability, which comes from hard work, provides access to those big dreams."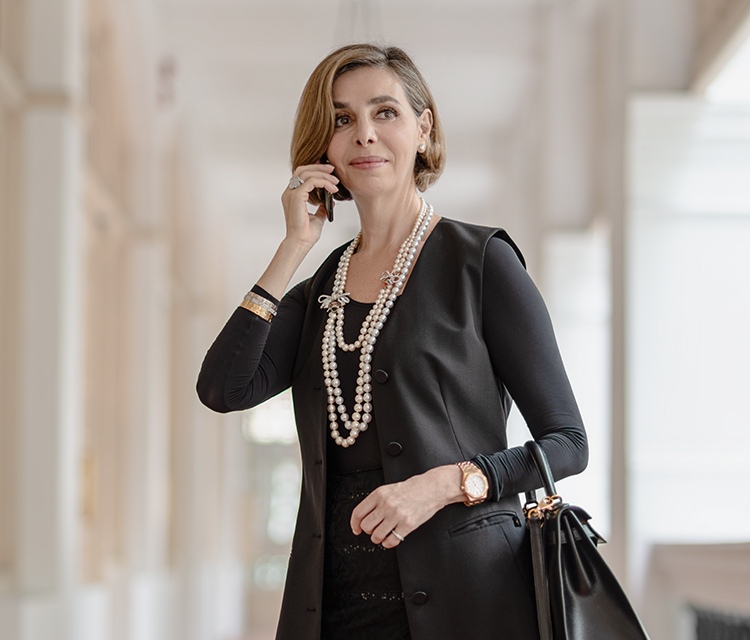 FREEDOM OF CHOICE
Financial security allows a person to decide freely and spontaneously, Iserlis surmises. It affords more and better choices, and allows a person to manage variables that can affect her actions. "My dream has been to do what I'm good at and not necessarily worry about earning enough money from it to sustain the kind of life I want. Financial security gives me that. I can pursue whatever I want with my original intent and authentic goals," she says. "But if you ask me if financial security can bring happiness, I'll say probably not, but it does make life easier."
Although she is clear where she is headed financially, Iserlis admits they change from time to time. "But having experienced poverty as well as material comfort, I have developed a survival instinct that kicks in when necessary." She admits to being an intuitive investor, and the composition of her portfolio justifies her claim. "If I were given the option, and larger financial resources, I would have more properties in my portfolio, but I also wish I knew more about financial planning, and have the confidence to do it myself. As it is, I have to rely on friends for advice. My financial plan certainly needs to be approached more systematically."
INDUSTRY AND A GOAL
The current situation has handed Iserlis important lessons. "What I have valued in life have remained constant: family, health, creative outlet, and material resources — but they have all been compromised by the pandemic. I cannot be with my family often, our health is under constant threat, and business opportunities have been uneven. Fortunately, I have discovered creative outlets."
The reality has also forced Iserlis to reconsider what she has and can do. "I connect with my family digitally, we make healthier lifestyle choices, and I'm able to develop new skills by going around the problem." Iserlis has launched a vlog series on IGTV featuring her interviews with world-renowned personalities. She is also in the middle of production on her second book that will be released before the holidays.
"From time to time, you will be forced into a corner if you limit your imagination and your willingness to work hard. Financial resources can help you out of it — up to a certain point, but the real key is industry and a clear goal."
CUSTOMIZE YOUR PORTFOLIO WITH CITIGOLD PRIVATE CLIENT
Entrepreneurs like Olga Iserlis have invested time, talent, and energies to perfect their craft, for which they are rewarded with professional success and financial ease. These in turn spur them to prolong their working life or pursue even higher goals. This cycle of hard work and reward provides them with sustained material security that may keep them from monitoring their accumulated wealth closely, thereby missing other opportunities for growth and sustenance that can see them well into their retirement.
With Citigold Private Client, dedicated senior relationship managers (RMs) can help entrepreneurs like Ms. Iserlis by first understanding their needs and goals, and then providing them with personalized wealth management advisory and solutions to help them achieve their goals. Trained through the Citi | Wharton Global Wealth Institute, these RMs will also leverage the Portfolio 360°, Citi's wealth advisory tool, to customize a well-balanced portfolio that will see clients on track to achieving their objectives.
Exclusively for Citigold Private Clients, Portfolio 360° is a powerful tool that provides comprehensive insights into the investor's total portfolio makeup and characteristics. It delivers analysis of investment products including unit trusts, equities, and fixed income.
It performs comparative portfolios analysis in asset allocation, historical performance and risks. It also provides insights on portfolios in simulated periods of market stress, such as the global financial crisis. Through these analyses, clients can appreciate the risk-reward profile of their existing portfolios and explore other suitable investment opportunities.
Senior specialists expertise on investment, insurance, treasury, and mortgage will support the RMs with credible insights backed by research from Citi's global team of analysts, to provide bespoke advisory to help clients work out personalized wealth management plan.
Knowing that their portfolios are in good hands, clients can have the peace of mind and the freedom to pursue their passions.
Citi also avails an online investment platform where clients can choose to invest and trade on their own and at their convenience, via the Citi Mobile® App.
Let our wealth specialists spot opportunities for you. Receive a welcome gift of up to S$29,256* when you start a Citigold Private Client relationship.
Find out how at www.citibank.com.sg/cpccontact
*T&Cs apply.