A Holiday Wishlist
We're making a list and checking it twice, and since money is no object, then these presents – for yourself or your nearest and dearest – are more than nice.
By Jim Simon; additional reporting Teà Villamor
Embraer Phenom 300E
Great for regional trips, the Phenom 300E is the latest iteration of the best selling light jet for the past six years. Its success comes from its ability to deliver mid range jet features at a light jet operating cost. Onboard, the Phenom 300E has seating for 10 (including pilot) and even a lavatory and galley. With a takeoff distance of just 3,138 feet, the aircraft can save you considerable time through its capability to call on small, regional airports that are often closer to your destination.
Best of all, it is highly cost-efficient. Capable of single-pilot operation, the savings also come from minimal fuel consumption and readily available authorized service centers across the globe.
Gulfstream 650ER
The ER stands for "extended range" – 7,500 nautical miles, to be exact – making this plane ideal for non-stop city pairs like Singapore-London and Tokyo-Los Angeles.
The G650ER was especially designed with comfort in mind. In a typical layout, the forward cabin has four oversized club seats luxuriously appointed with hand- stitched leather. The mid cabin could best be described as an entertainment area. A wide couch suitable for three people sits opposite a large, high-definition television for catching the latest entertainment or satellite news.
The aft cabin has six club chairs arranged in a 1-2 layout. When the nearby tray tables are simultaneously extended, the effect is a large table that doubles as a meeting area or as a dining table. The aft-most area of the cabin is a VIP stateroom where you can get some well-needed sleep so as to arrive at your destination crisp and ready to take on the day.
The G650ER's cabin management system is also topnotch. High-speed Internet connectivity can make time in the air both productive and entertaining. Moreover, using your smart phone, tablet or computer, you can control the cabin environment ranging from the temperature to lighting to window shades.
Gulfstream is known for fast performance and the G650ER only adds to this legacy with an impressive maximum cruise speed of Mach 0.925.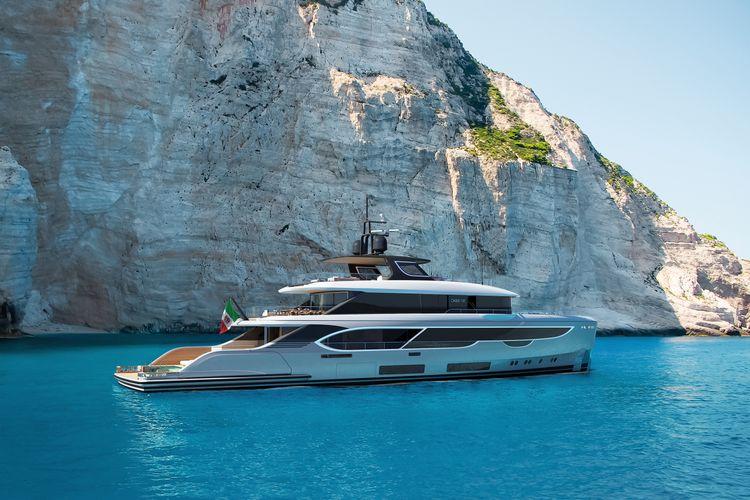 Benetti Oasis 135 Yacht
Targeted at those who seek a close connection to the sea, the aft of the Oasis 135 is somewhat akin to a private beach club. Its core is a 66 square foot infinity plunge pool with three sides of uninterrupted views of the sea. Enveloping the pool is a mix of leisure spaces for no fewer than 12 guests. If yoga is central to your well-being, you will be delighted by the large wood- planked platform that is just feet above the sea. Rarely does one find so much open space on a yacht of this size.
The Oasis 135 boldly extends the beach club feel throughout the yacht. The result is a feeling of calm and understated elegance. This yacht can easily accommodate you and nine guests who are looked after by nine crew members.
The spacious owner cabin delights with fresh sea air thanks to its long, double rectangular windows. When open, the bottom window forms part of a pop-out balcony so you can luxuriate with the sea mere feet from your bed.
If the air is chilly, you can choose to relax in the owner cabin sitting area instead. A large couch and a pair of chairs wrap around a coffee table to provide ample space for curling up with a book or inviting several people to join you in an intimate conversation.
The Benetti Oasis 135 has a 4,000 nautical mile range so chasing the endless summer throughout the year in a breeze. Whether you and your guests choose to sail in the Mediterranean Sea or among the tropical islands of Southeast Asia, with a 14.5 KT cruise speed, the Oasis 135 can help you discover a new port each day.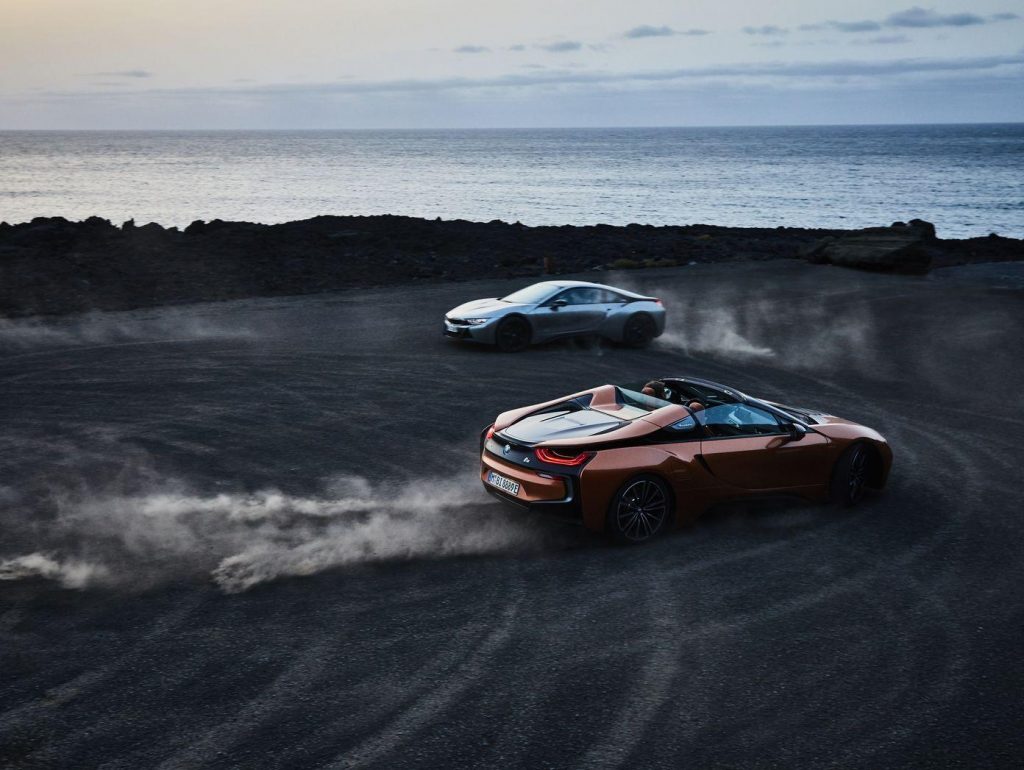 BMW i8 Roadster
At once an instant classic with an unquestionably progressive design, the i8 Roadster is a guaranteed head-turner. Shy types, be warned.
The 374hp i8 Roadster has a range of 53km in all-electric mode, which should be plenty for a typical day of city driving. However, a car like this begs to be driven on the open highway, where it has a combined electric-petrol range of 440km.
More good news: It's not a gas- guzzler. The i8 Roadster has stingy 2.1l per 100km fuel consumption when combined with the 53km battery range and charging the i8 Roadster at night is as simple as charging your mobile phone. Speed-wise, it can accelerate from 0 to
100kph in just 4.6 seconds while its top speed is 250kph.
It's also pretty spacious: Just behind the seats is a handy storage space that includes dividers to keep smaller items from jostling while you practice your race line. For larger items, the dividers cleverly go flat to open up the full space.
Comfort is key in this spacious car.
A click of the key raises the frameless gullwing doors to make entry into the cockpit easy and comfortable. A double- click commands the i8 Roadster to convert from its default hardtop configuration into a convertible. Oh, and be sure to specify specify the optional BMW head-up display with shift light visualisation so you can keep your eyes focused outside of the cockpit.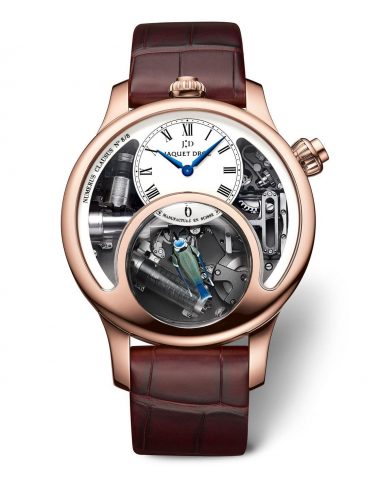 Jaquet Droz Charming Bird 2018
The first and only wristwatch to feature a singing bird, this timepiece was awarded the 2015 Grand Prix d'horlogerie de Genève when it launched. This year, the brand unveiled two new editions in red gold and white gold with an ivory Grand Feu enamel dial, in a Numerus Clausus of only eight pieces each – perfect for the watch collector in your life.
Featuring two separate movements – first, indicating the hours and minutes, positioned at 12 o'clock on the ivory Grand Feu enamel dial; and the second powers the little bird automaton, which can run for 40 seconds before having to be wound. Animation and melody is regulated by a Magnetic Speed Control. To produce the melody, three sapphire tubes compress air, which is then released intermittently through a whistle, creating a flowing refrain, in time to the bird's movements.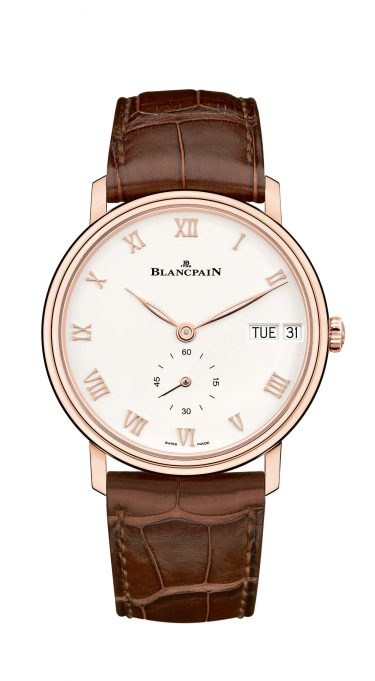 Blancpain Villeret Jour Date
Practical and elegant, this timepiece is perfect for those who love simple and beautiful watches. This new entry into the Villeret collection enables the owner to read all the information he needs
at the glance. With a 40mm diameter stainless steel case, matte white dial featuring leaf-shaped cutout hands, this is a beautiful piece for one's collection.
At the heart of the watch is the automatic caliber 1160DD movement, comprising 275 components including 34 jewels. Its balance wheel is fashioned in glucydur with gold micrometric regulation screws and a balance spring in silicon.
This material recently introduced within the watch industry offers several important advantages: It's lighter and thus more shock- resistant and it is impervious to magnetic fields. Operating at a frequency of 4Hz, the movement is powered by two mainspring barrels connected in series and achieving a 72-hour power reserve. The sapphire case back provides a clear view of the finely hand-finished movement and the yellow gold winding rotor with its honeycomb guilloché pattern.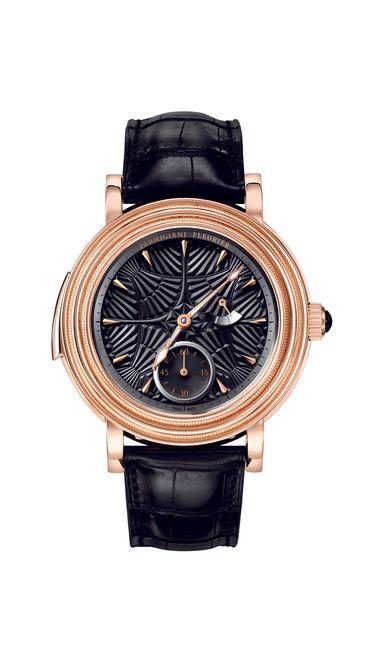 Parmigiani Fleurier Toric Quaestor Winchester

Amongst Parmigiani Fleurier's collections, the Toric collection is timeless. Within the collection, the Quaestor Winchester stands out for its romantic elegance.
A round, 18-carat 46mm rose gold case serves as the perfect frame for the engraved pattern inspired by the Gothic vaulted ceilings of the Winchester Cathedral, the largest in England. The rose gold hour hand, minute hand, and minute repeater reveal the depth of craftmanship of the dark watch face. The movement is comprised of 392 components and 35 jewels. The watch is certified water resistant up to 1 atmosphere. The Toric Quaestor Winchester is completed by a Hermés black alligator strap that naturally deflects attention to the beautiful rose gold frame and dark face.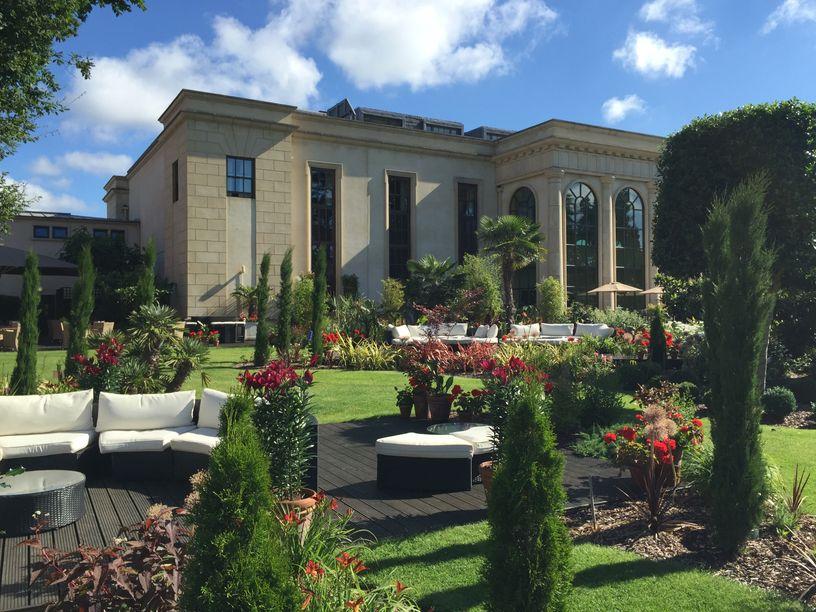 Stoke Park Country Club, Spa & Hotel
Stoke Park is located in the village of Stoke Poges, a convenient seven miles north of London's Heathrow Airport.
When you enter Stoke Park's expansive estate you will be instantly consumed by acres upon acres of open greenery that make up the resort's famous golf links as well as its gardens. With a legacy that dates back more than 900 years, Stoke Park  has had some pretty iconic pop culture moments: For instance, it is here that Sean Connery as James Bond challenged Goldfinger to a round of golf. Goldfinger lost, of course. Bridget Jones and Daniel Cleaver stayed in the Pennsylvania Suite, which features a four-poster bed, open fireplace, large south-facing balcony overlooking the estate and of course an en- suite marble bathroom with a sunken bath and separate shower.
The hotel is quite intimate with only 49 bedrooms and suites. First time visitors would do well to opt for the Mansion given that its roots date to the late 1700s.
Tennis players can be assured of having one of their most memorable matches when they take to the Wimbledon-spec courts. Each summer, Stoke Park is the host of The Boodles, a Wimbledon tune-up tournament that attracts the likes of grand slam champions such as Novak Djokovic and Juan del Potro. In fact, in the movie Wimbledon, Stoke Park's lawn courts receive ample screen time.
For those whose idea of relaxation centers on food, Stoke Park's quintessential afternoon tea service in The Orangery or modern British fine dining in Humphry's, or just a pizza from the onsite Italian restaurant, San Marco will please every palate.