Best In Class
Since it was introduced commercially in 2015, the Cessna Citation Latitude has been beloved by pilots and passengers alike. Here's a look at why people consider this their favourite business jet.
By Teà Villamor
What does it mean to travel on a private jet? It means no long immigration lines, no baggage checks, reliable and dependable, no waiting for a long time at the gates. It means you get to sit – or sprawl (if that's how you roll) in comfortable seats – take your time at the private and relatively large restrooms, have lots of personal space, and of course, a glass or three of champagne and snacks to go with it on a precisely maintained schedule. At least, that's what we experienced when we flew a Cessna Citation Latitude to Kota Kinabalu. It sounds like the stuff of fantasy, being able to fly anywhere you want.
But the irony is that most of the people who use jets are not the one-percenters, but rather business people who need to get from Point A to Point B in the most efficient and fastest way possible.
And certainly, commercial air travel is no match for a private flight in terms of efficiency. Once you've cleared immigration, you can be on board the aircraft and be in the air within minutes of scheduled departure, depending on the runway traffic.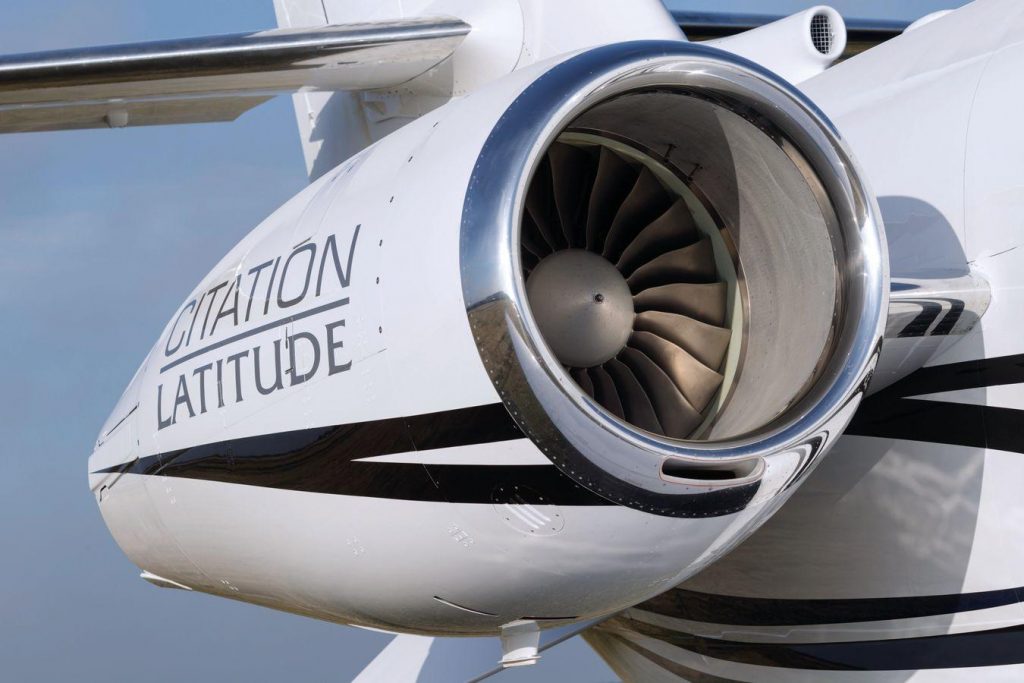 All things being equal, of course, there is the matter of which plane you use – and for many, they swear by the Latitude for comfort, efficiency and all-around performance. There's a reason this is still the best-selling midsized jet in the market.
First introduced in 1972, Citations have always had the deserved reputation for being the work horses of private jets. They're not particularly flashy; they don't overpromise — these planes are steady, reliable and dependable. Qualities, which, when applied to a person might connote a boring solidity — not exciting, in other words.
But there's really more to the plane than meets the eye and people in the know, i.e., those who use business jets
on a regular basis laud the Latitude for its attributes – some of which border on the revolutionary, by midsize standards. This explains why it consistently tops lists of in- demand aircraft.
Cabin size
The Latitude's cabin is a standout and it's clear that Cessna put a lot of thought in it. Wider than any Cessna ever built (except perhaps the Longitude), it's a spacious craft and its 10 windows are larger than previous iterations.
Our two-hour-and-25-minute flight to Kota Kinabalu was enough to truly appreciate how well this craft is built.
The cabin is spacious, seating nine people. Six in the main cabin, with four seats in a club format, which can be converted to flat beds, and two seats behind. Right in front, just as you enter the craft is a two- seater divan. And there's a jump seat in the lavatory.
At six feet in height and a super-wide 77 inches across, the Latitude is very roomy. Compared to the circular model of many business jets, the Latitude's oval shape allows for higher headroom. That, and the truly flat floor make the cabin roomy and seemingly bigger than it really is. Large windows spaced evenly give the illusion of even more space, allowing each seat occupant their own view of the world outside. Small details truly impress and there are many on the Latitude. For instance, window shades come in two thicknesses, allowing passengers to either completely block out the light coming from outside or use the thinner shade for softer light to come in.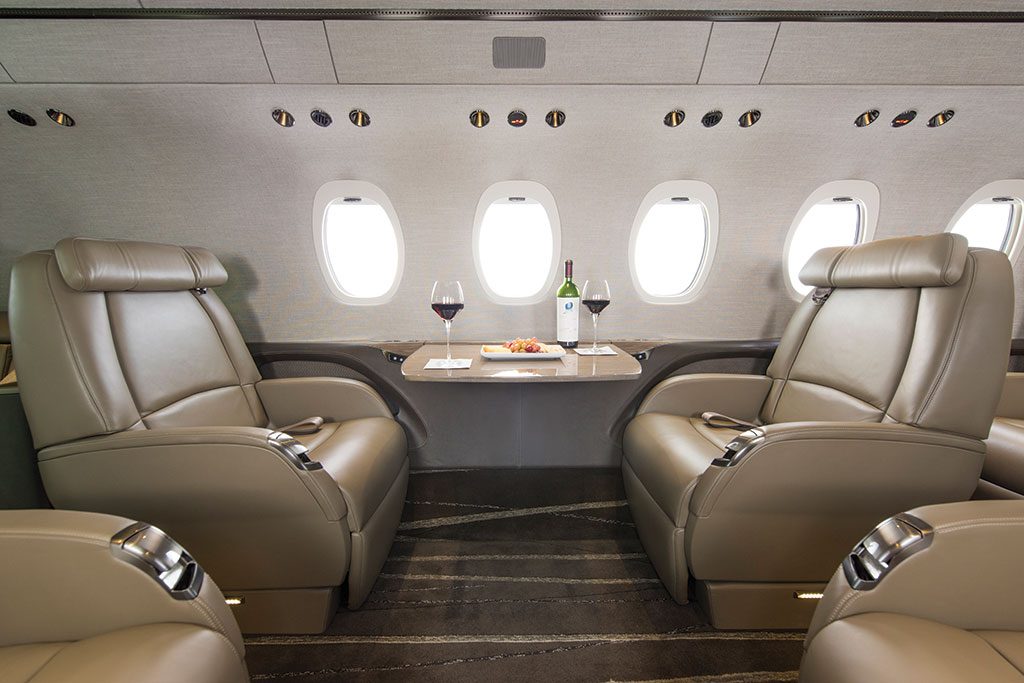 Seats are installed in a way that allowed you to stretch out your feet and make yourself comfortable during the flight, useful for tall people and even for those who are not blessed in the height department. The seats are sleek yet comfortable; they are also adjustable, allowing passengers to slide out toward the aisle, rotate and recline should you want to.
Noise inflight was surprisingly kept at a minimum. There were four of us in the cabin and we had a pleasant conversation all throughout the flight, without having to raise our voices or strain what the other people were saying. An acoustical curtain closing off the entry door creates an especially quiet cabin, which adds to passenger comfort.
The Latitude also features an efficient cabin cooling system that's a godsend on warm days when you just want to get out of the heat of the runway. The aircraft also has the ability to adjust the altitude feeling no matter how high the aircraft is. It provides 5,950-foot cabin altitude at the aircraft's maximum operating altitude of 45,000 feet. This makes passengers less likely to feel the effects of jetlag and fatigue when arriving at their destination – not a problem for us, of course, but useful for longer flights, which the Latitude is also capable of.
Another thing that was noticeable was the fresher quality of the cabin air. That's because the Latitude is the first Citation to have a hepalifter, which collects dust particles circulating throughout the cabin so you are exposed to fresh air throughout the aircraft on your entire trip.
Just minutes into the trip and it's obvious why travelling by private jet is the way to go. It's one thing to know about the plane's specs, and another to actually experience it. Despite having four passengers on the flight, there was enough space to stand up, move about and even go to the flight deck for a chat with the pilots mid-flight, not that I did, figuring it was better for them to concentrate on the matter at hand.
Champagne and snacks were served and placed on generous pullout tables that could also be pulled together to become a conference table or a work desk should the need arise. Thoughtful little details like a slot for magazines and newspapers ensure that you won't lack for space for your reading material on the flight.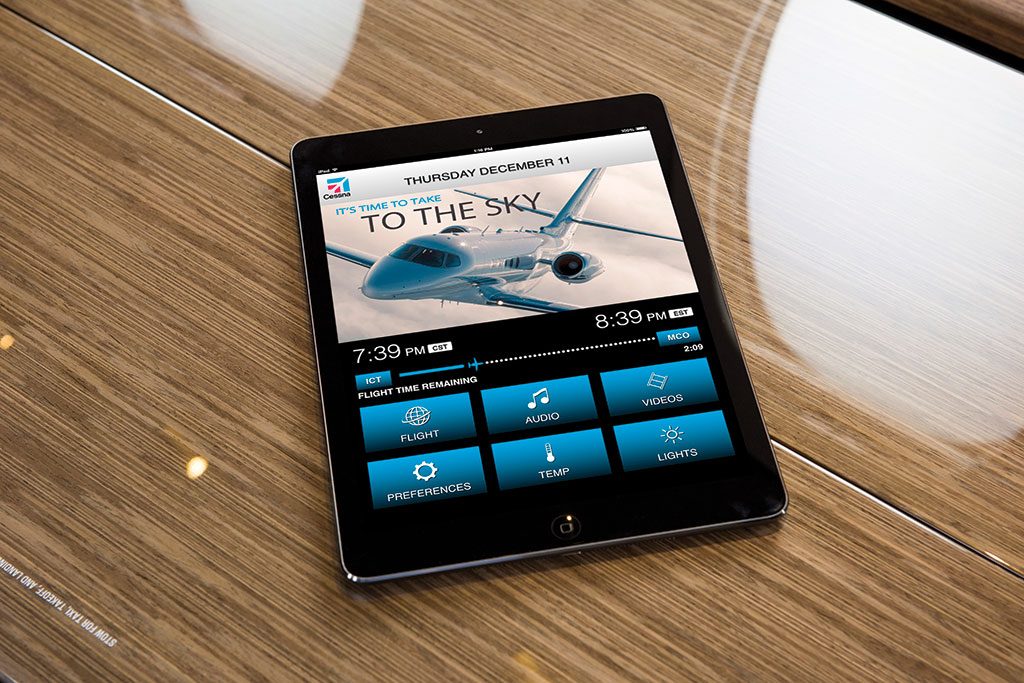 Then again, should you choose to, you can log on to the onboard Wifi connection and go online. On the trip down to KK, for instance, we were able to answer emails and generally do some urgent work, and thanks to the Clarity cabin management system, with its user-friendly interface that allows you to control everything – from the entertainment, to the lighting and sound system, we had an enjoyable trip all around.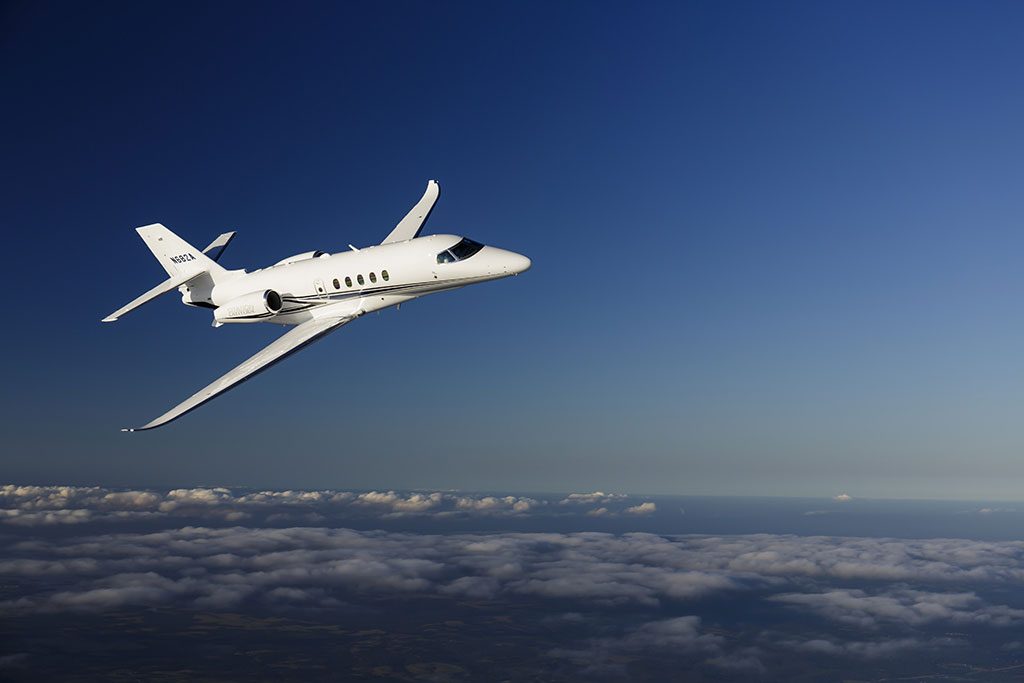 Performance
Citation Latitude is the most delivered jet in its category – 2017 deliveries increased by 30 percent from 2016, to 54 deliveries. It has redefined the expectations of a midsized business jet, which puts it above its competition with its large-cabin comfort and efficiency. As positive feedback after positive feedback has shown, the Latitude is also tops with its runway performance, with super-slow approach speeds and landing, as we've experienced during
our trip – the plane felt light and easy to manoeuvre. This was achieved by giving the plane an all-metal design with an upturned wing for steadiness, solid cruise performance and low approach speeds. It also has short field capabilities that allow the aircraft to get into and out of airfields that other planes might have a hard time achieving.
2.25 hours later, we were touching down on KK's airport where an immigration official boarded the plane to ask for our passports. Not 10 minutes later, passports in hand, we were escorted into the terminal.
Our trip was not a long one and the Citation Latitude could have gone farther should you want it to. It has a range of 2,700 miles, more than enough to take you from London to Nice, for instance.
Oh, a word about the baggage allowance: It's not really an issue. The Citation Latitude has an external baggage capacity of about 18 suitcases – that's enough even if you lose your head and go on a shopping spree in Paris during Fashion Week. As one does.