Barefoot Luxuries
You'd be hard put to find a more luxurious hideaway than Gili Lankanfushi, where the only thing you have to worry about is whether to sunbathe at the beach or go snorkeling. Go pack your swimming gear and leave your footwear behind. Shoes are optional in paradise.
By Georgina Wang
Luxurious resorts are a dime a dozen in the Maldives. In fact, if there was a definition of paradise, these atolls in the middle of  the Indian Ocean that make up this tiny country would be it. And if you had to choose from one of the many resorts in the country, easy-going Gili Lankafushi should be at the very top of your list.
From the moment you arrive, staff in crisp linen will meet you and lead you to one of the speedboats at the dock, for the 20-minute trip to the resort. Gili Lankafushi is on a private island in the North Male Atoll, surrounded by a shallow lagoon, dazzling in its blueness.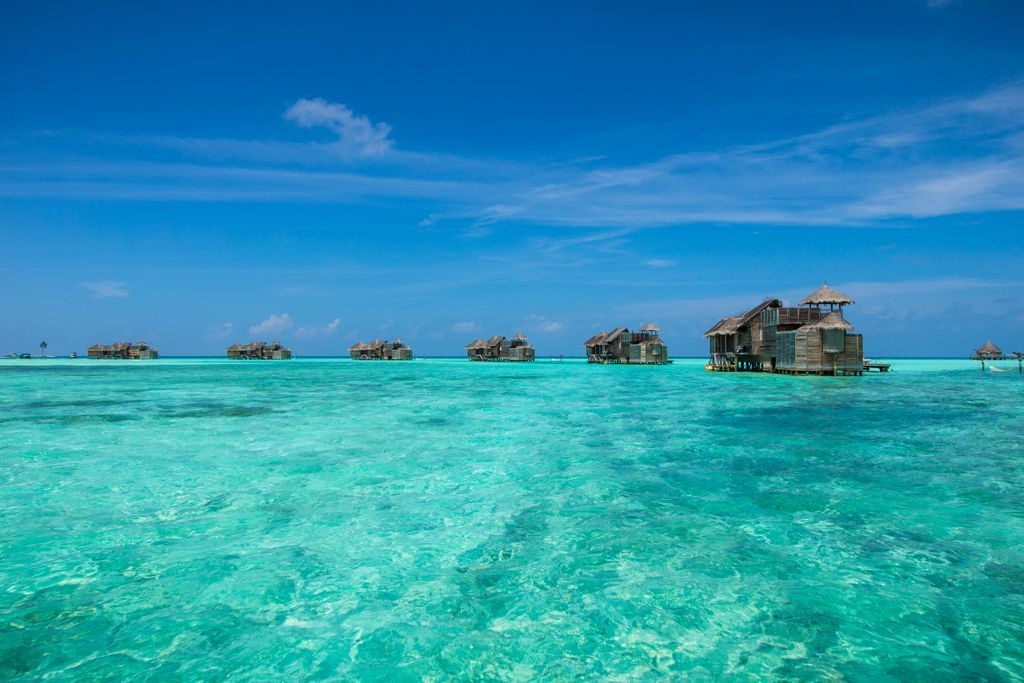 It's hard not to love the charms of this award-winning Maldivian resort, with its Robinson Crusoe vibe and eco-friendly ethos. It's all rustic palm-thatched wooden villas over a calm blue sea, white-sand beaches and tropical weather. The resort wears its eco credential proudly: The villas are built with sustainable wood and materials found in the tropics – palm, coconut, teak, bamboo – sources its own vegetables and herbs from its gardens, and pioneered a marine conservation programme that's been adopted by six other Maldivian resorts.
The Coral Lines Project was launched in 2014 and aims to rehabilitate the coral reef damaged by El Niño and a Crown of Thorns starfish outbreak. The programme directly transplants mature corals into the seabed as well as indirect coral spawning from the nursery, which is home to more than 8,500 corals.
The resort's marine conservation programme is just one of the many ways by which Gili Lankafushi practices sustainability and eco-friendly policies. It walks the talk, so to speak. The resort doesn't use plastic, food waste is composted, materials are recycled when possible and toiletries – organic, of course – come in earthenware containers. With its motto of "No news, no shoes" it's the perfect place to disengage and disconnect from a cynical world.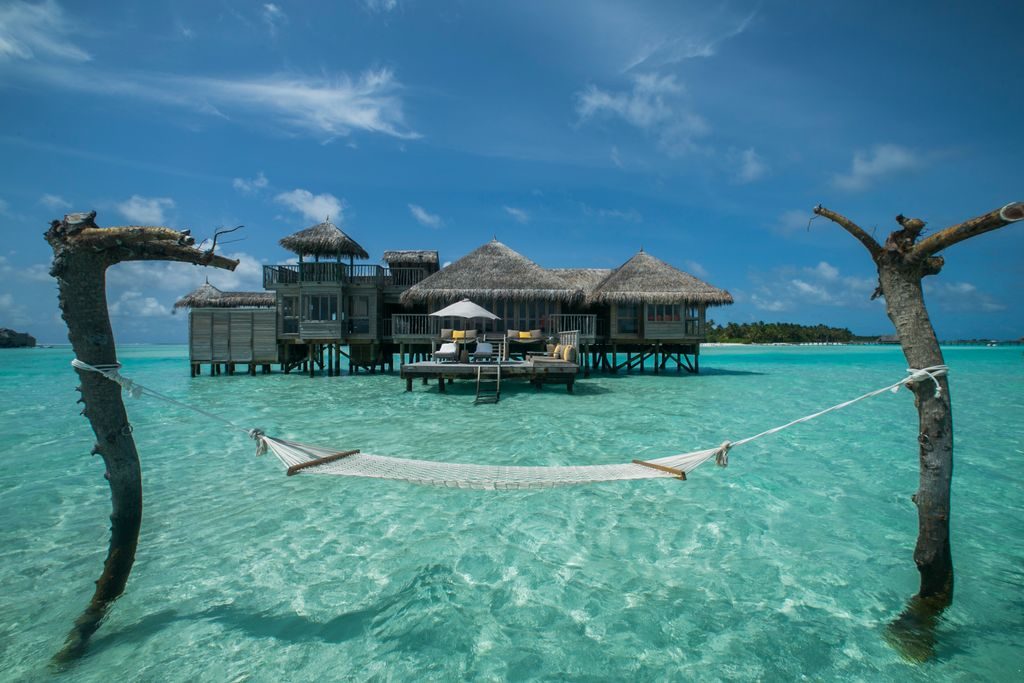 Castaway fantasies
And what a way to disconnect! Choose from one of the 45 over-water villas in
the resort. All the villas have a rustic-but-luxurious vibe going for them. There are seven stand-alone Crusoe Residences complete with their own boat while others are situated along jetties.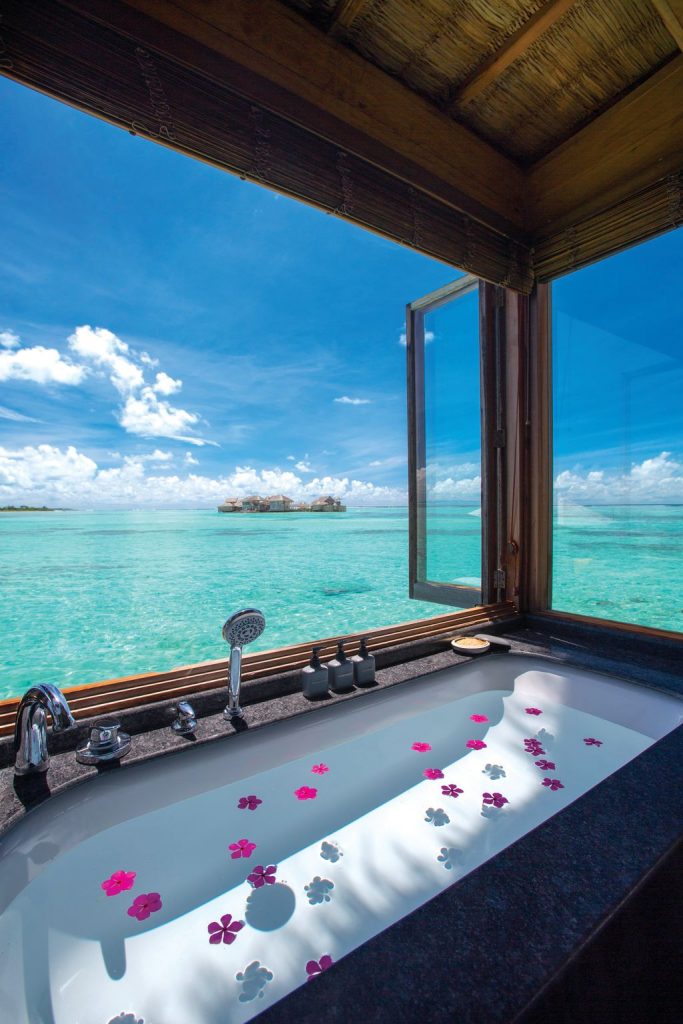 Airy and spacious, the villas come with a central living room, an open-air deck with a ladder going into the lagoon, perfect for watching small sharks swim by, or if you're lucky, a ray or two – or should you choose to, go on a snorkel from your villa. There are floor- to-ceiling windows to maximise the views, on each side of which are the bedroom and the vast bathroom, complete with a bathtub and a semi open-air shower (don't worry, it's completely private). The villas also come with a roof-terrace or sleeping en plein air, which is highly encouraged. And of course, all residences come with your very own personal butler, a Mr (or Ms) Friday, to complete the Crusoe experience.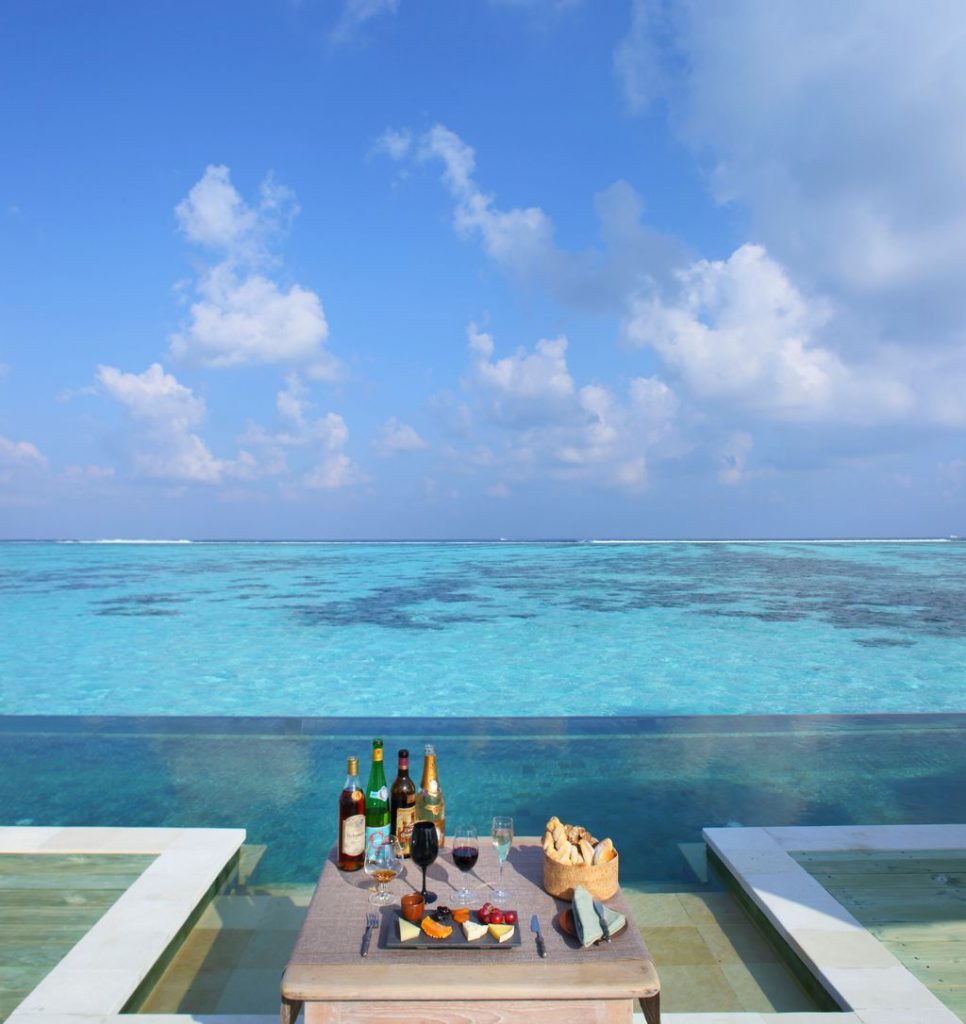 If that's not enough, then book the Private Reserve, which stands alone in the middle of the lagoon. The largest overwater villa in the world at 1,700 sqm, The Private Reserve is 500 metres from the main resort and has master suites and guest bedrooms, as well as open-plan living and dining spaces. It comes with its own infinity pool, sun decks, a spa pavilion for massages and yoga sessions, an airconditioned gym, a cinema, bar and even a water slide that goes from the top deck to the sea. To get to and from the main resort, you also have a private boat for your use.
Foodie paradise
The food doesn't disappoint as well.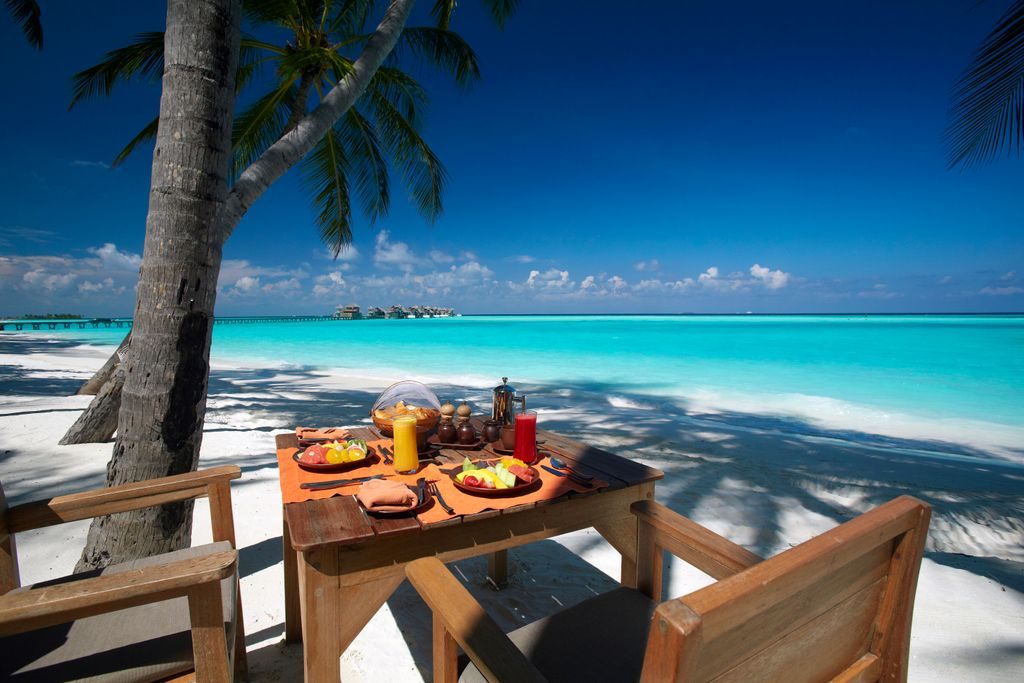 Main restaurant Kashiveli, has tables that spill to the beach, making it the perfect place to have a meal, while enjoying the view and breeze. The restaurant offers themed evenings such as Asian
Street Market, Maldivian Seafood Grill, Mediterranean Spice Souk, and Passage to India are just some of the themes. Japanese restaurant By the Sea has fabulous sushi, sashimi and Japanese fusion dishes. While the breakfast buffet offers American, Asian, Continental selections as well as a la carte and Maldivian dishes.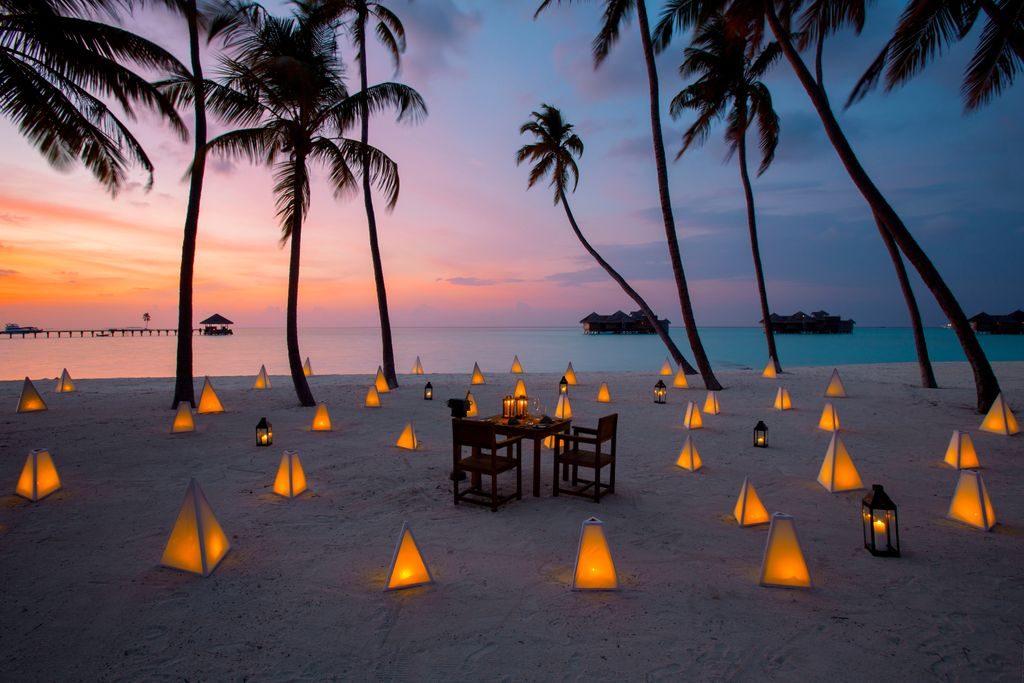 Gili also offers special dining experiences under the stars for couples who want to indulge in a bit of romance. A private treetop table with a 360-degree view of the island, or a dinner in a secluded part of the beach or a dinner at One Palm island, where the staff will set up a table for just the two of you!
 Impeccable service
Just because the vibe is informal and castaway-chic doesn't mean the service is too. Service is impeccable.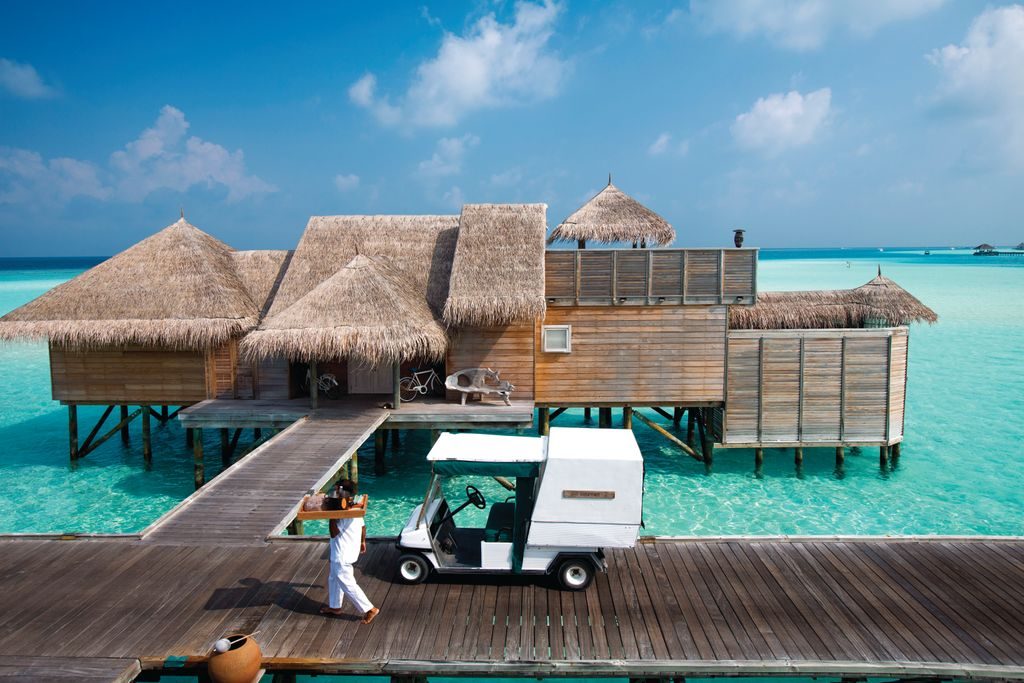 Your personal Friday will ensure that you are well looked after during your stay, and staff will go out of their way to make sure you have everything you need. For diving enthusiasts, the resorts Dive Centre can organise dives and even hand out PADI certificates for newbies.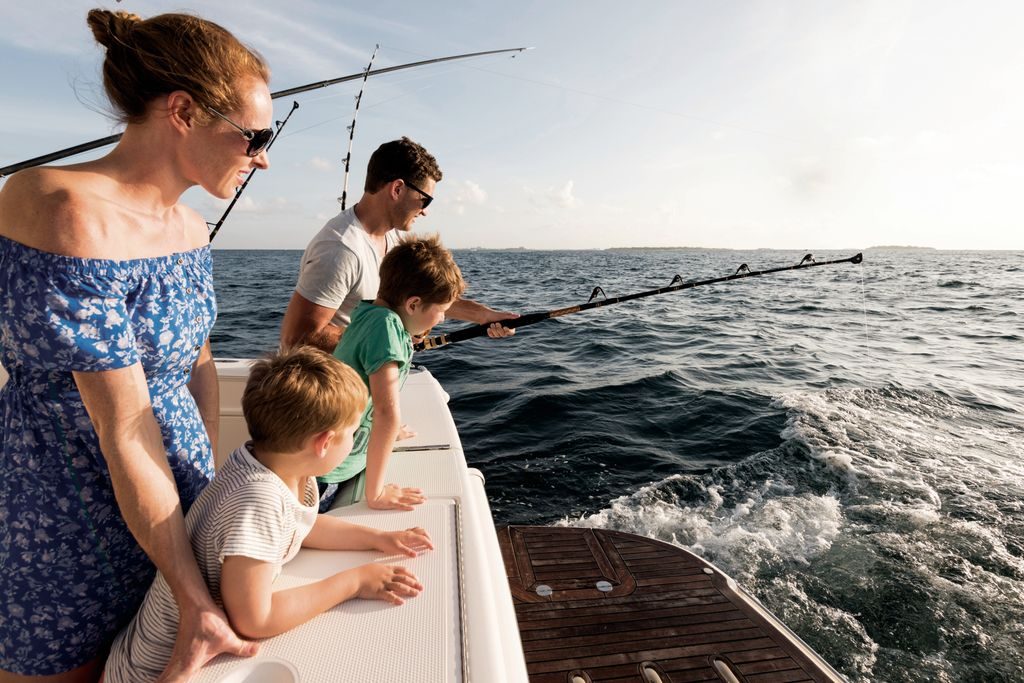 You can also arrange for snorkeling and fishing trips to the reef a short boat ride away. In fact, we recommend going on a guided snorkeling trip to see small sharks, turtles, rays and fish galore.
Should you tire of swimming or lounging by the pool, then get on a bamboo bike for a tour around the island. There are also yoga and cooking classes, board games and movies at the open-air Jungle Cinema.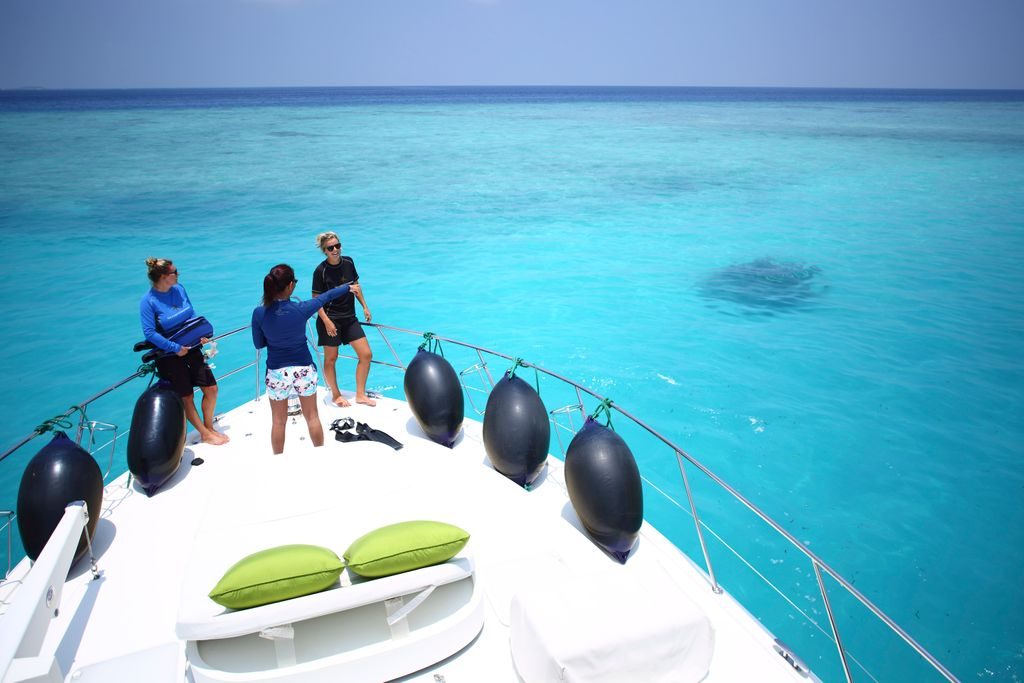 We also recommend booking a treatment or two at The Meera Spa, which offers an extensive menu of treatments in overwater rooms – the perfect way to end the day in paradise.