The Disrupters
Embraer makes a bold claim with its new family of jets – introducing the Praetor 500 and 600, initial deliveries of which are slated this year.
By Jim Simon
At the 2018 NBAA BACE event in Orlando, Florida, the operative word at the Embraer stand was "disruptive", specifically referring to their public debut of their new Praetor 500 and 600 midsize and super-midsize business jets.
It's a bold claim, especially when made in the company of the industry's leading business jet manufacturers. "The new Praetor 500 and Praetor 600 will be the most disruptive and technologically advanced aircraft to enter the midsize and super-midsize categories," said Luciano Froes, Senior Vice President, Marketing, Embraer Executive Jets. "Different by design and disruptive by choice, these new aircraft will deliver the ultimate customer experience with an unparalleled combination of performance, comfort and technology."
The Praetor was initially envisioned as evolutionary updates to Embraer's Legacy 450 and 500 midsize and super-midsize business jets. However, when the company took stock of all of the improvements that they were making, Embraer realised that it were essentially introducing a new family of business jets. The result was the Praetor family, which takes its name from the Latin root that means to go before, or to lead the way.
The Praetor 500, at a list price of US$17 million, is designed to carry up to nine passengers at a speed of Mach 0.83. With just four passengers, the plane can fly up to 3,250 nautical miles (nm) plus customary reserves making it more than adequate for typical city pairs like Los Angeles-New York or Singapore-Beijing.
In comparison, the super-midsize Praetor 600, at a list price of $21 million, can carry up to 12 passengers thanks to its three-foot extended cabin. More importantly, the 600 can fly four passengers up to 3,900 nm plus reserves making intercontinental city pairs such as New York-London feasible.
While both Praetor models will need to refuel between Southeast Asia and Europe, the acquisition and operation costs relative to a large business jet might make the Praetors the favored choice.
Sublime passenger experience
Whether traveling long distance or closer to home, passengers aboard both models will have an experience more commonly associated with large jets.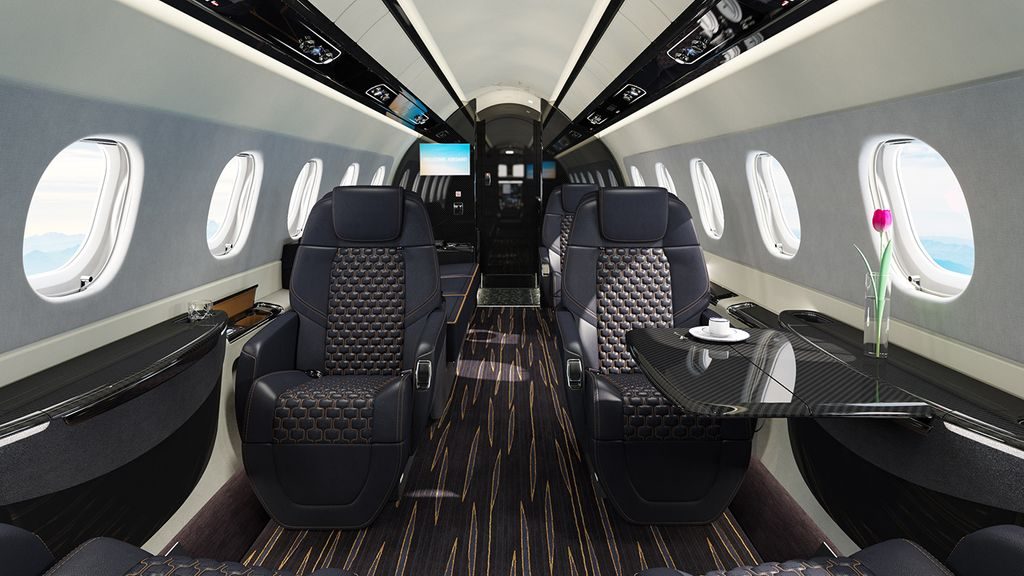 Upon ascending the built-in stairs, passengers will immediately notice Embraer's choice of a modern, business- like interior design. Entrance is via the galley, which has a stone floor and countertops, turning an ordinary entrance into something that approaches a proper reception. Turning to one's right to enter the first zone of the main cabin, the flooring changes from stone to luxurious, padded carpeting.
Any business jet that deserves to be called disruptive must have a flat floor and six-foot ceilings. On both accounts, Embraer does not disappoint. All that said, what will likely capture the attention of most passengers is the incredible attention to detail put into the forward cabin.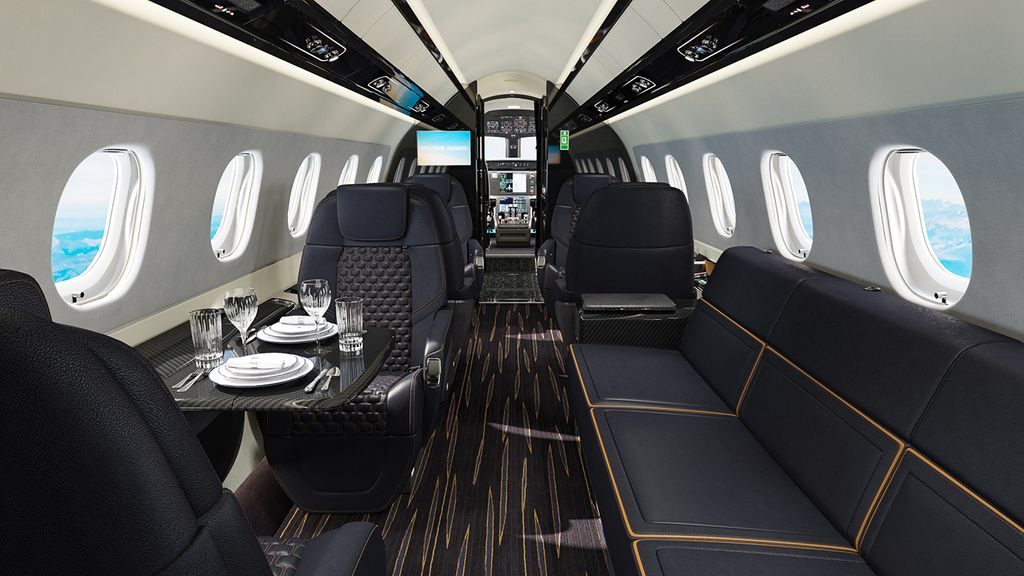 "Inspired by our Brazilian heritage, the Bossa Nova interior will delight Praetor customers with its distinctively elegant ambience," said Jay Beever, Vice President, Interior Design, Embraer Executive Jets. "With personal comfort as the key design driver, the Embraer DNA Design will render an unparalleled passenger experience in the Praetor jets. Upon the foundation of ergonomics and superior craftsmanship, each customer's personal design style will be reflected throughout the cabin."
Each chair in hand-stitched leather reclines and swivels so that one can speak to a fellow passenger as easily as one can relax. The chairs in the club layout can also extend fully flat enabling passengers to sleep horizontally during longer journeys.
When it is time to dine, the aforementioned galley has everything required to prepare a gourmet meal in the sky. A full microwave convection oven is complemented by ample storage for crystal stemware, fine china, sterling silver, as well as a coffeemaker fit for a barista.
 State-of-the-art tech
Passengers need not compromise when it comes to work or recreation. Both Praetor models are outfitted with the very latest Viasat Ka-band Internet system, with download speeds as fast as 16 mb/s, performance that is on par with home and office broadband. This throughput means that the Praetor can truly function as an "office in the sky," capable of Internet-based video conferencing. When it is time for entertainment, passengers can easily stream their favorite content from services such as Netflix or YouTube.
Internet access, cabin temperature, and lighting, are managed by passengers using their smart phone or tablet thanks to the onboard Honeywell Ovation Select cabin management system. This allows passengers to adjust their environment from wherever they may in the cabin.
The lavatory, found in the aft of the cabin, cleverly employs the same stone interior design as the galley. As one would expect for this class of business jet, the toilet is a vacuum type. Embraer's attention to detail is evident in the adjustable vanity mirror – enabling passengers of any height to see themselves at the optimal angle.
The lavatory also doubles as an entrance to the luggage hold. The ability to access luggage during flight is a great benefit, especially on longer flights.
 First-rate avionics
Speaking of longer flights, a high relative cabin altitude substantially contributes to one's feeling of fatigue upon arrival due to the low concentration of oxygen in the cabin air. Both Praetor models can maintain sea level equivalent cabin pressure up to a cruising altitude of FL270 (27,000 feet). At a maximum cruise at FL450, the equivalent cabin altitude is an astonishingly low 5,800 feet, very similar to the altitude of Denver.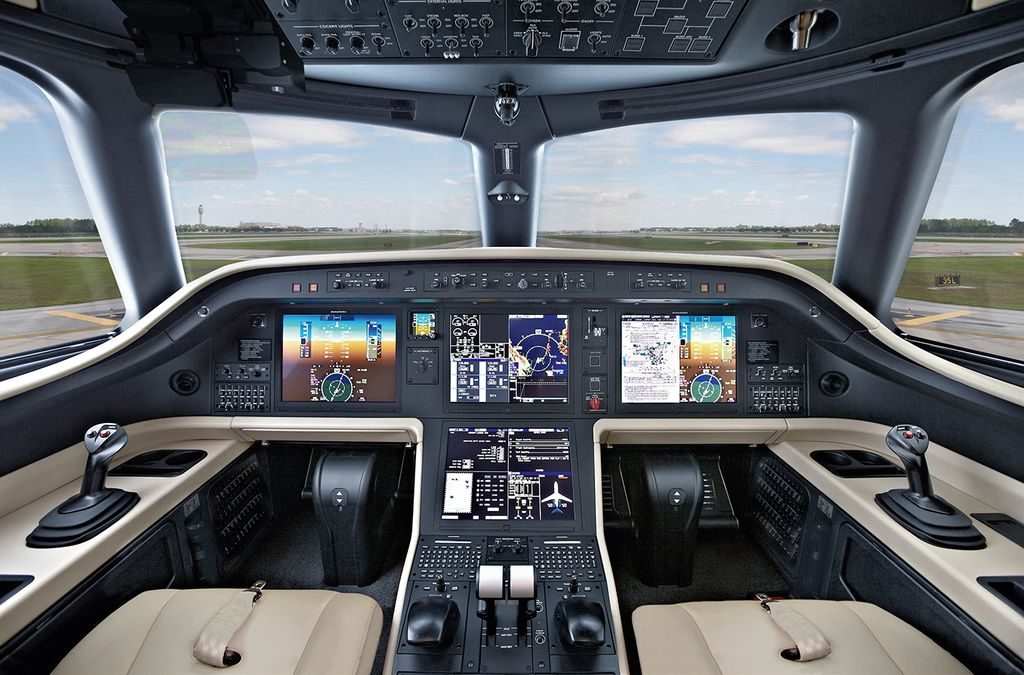 Another environmental key to one's health is the ambient cabin noise. At takeoff, the ambient noise is just 53 db, which makes using a noise-cancelling headset unnecessary.
Up front, pilots will be in command using the very latest in avionics technology. Featuring the Rockwell Collins Proline Fusion deck, safety-oriented features such as synthetic vision, enhanced vision, and a head-up display all work together to maximise situational awareness, reduce workload, and reduce fatigue so that passengers can have peace of mind that their flight will be safe.
"The Praetor 500 and Praetor 600 are the disruptive aircraft for the entrepreneur, for the pioneer, for the innovator," said Michael Amalfitano, President & CEO, Embraer Executive Jets. "The Praetors are aircraft certainly in keeping with their name, leading the way in redefining the characteristics of what a midsize and super- midsize aircraft deliver to the market. The introduction of these aircraft support our vision of fascinating our customers and providing them with superior value and the best experience in the industry."