Embraer's New Cabin Design Concept
Embraer unveils its Bali Spa Hopper cabin concept design to Jetgala.
By Jim Simon
The interior design group at Embraer, led by Jay Beever, VP of Interior Design, understands the needs of Embraer's customers. For customers who want a business jet or a personal jet with a traditional design, Embraer offers a selection of impressive, proven interior designs, on par with a five-star hotel room. However, for those who want their personal jet to be an extension of their home or imagination, Embraer is inspired by the challenge and can offer everything from partial customisation to never-been-thought-of-before complete personalisation.
One advantage to traditional or partially customised interior designs, explains Beever, is that they can quickly be applied to existing inventory of new and previously owned jets. For some Embraer customers, minimal delivery time is important and so partial customisation more than meets these customers' needs.
For customers who have the luxury of time to fully personalise their personal jet (oftentimes these are Embraer customers seeking to upgrade to a new model like the just-announced Praetor 500/600 or the Lineage 1000), Embraer's interior design team is prepared to go to great lengths to meet their customers' needs, including working with aeronautical engineers and manufacturing to customise the fuselage. Embraer's design team includes four designers who will not hesitate to meet with customers anywhere in the world or host customers at Embraer's Melbourne, Florida design studio. With the help of another four computer rendering team members, Embraer's design team can generate lifelike depictions of interior designs, often overnight, so as to allow the near real-time exploration of various options in consultation with customers.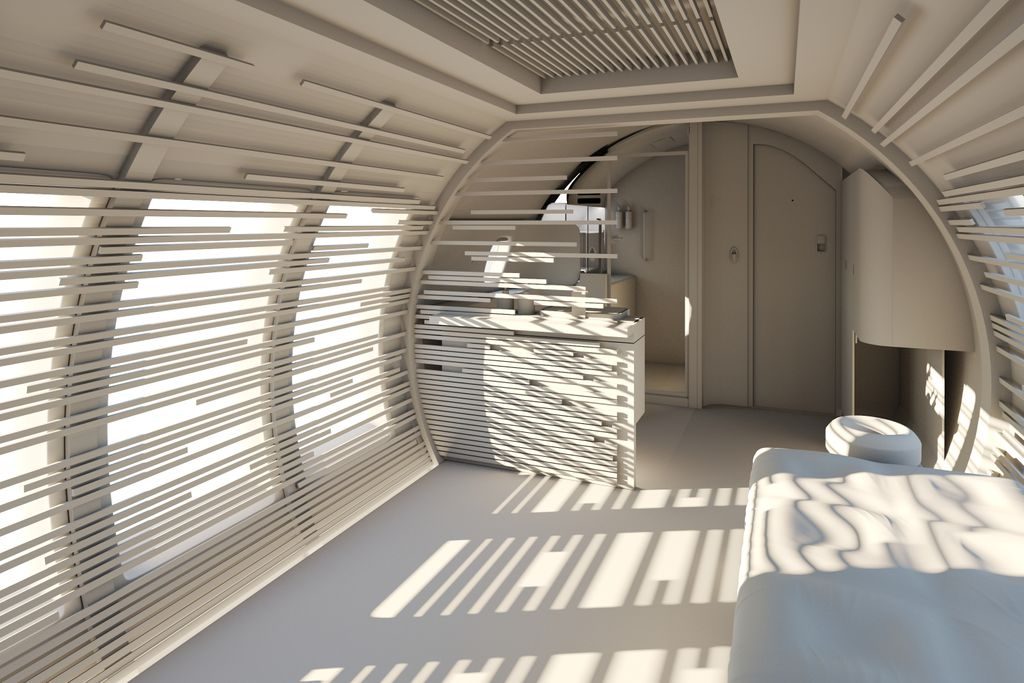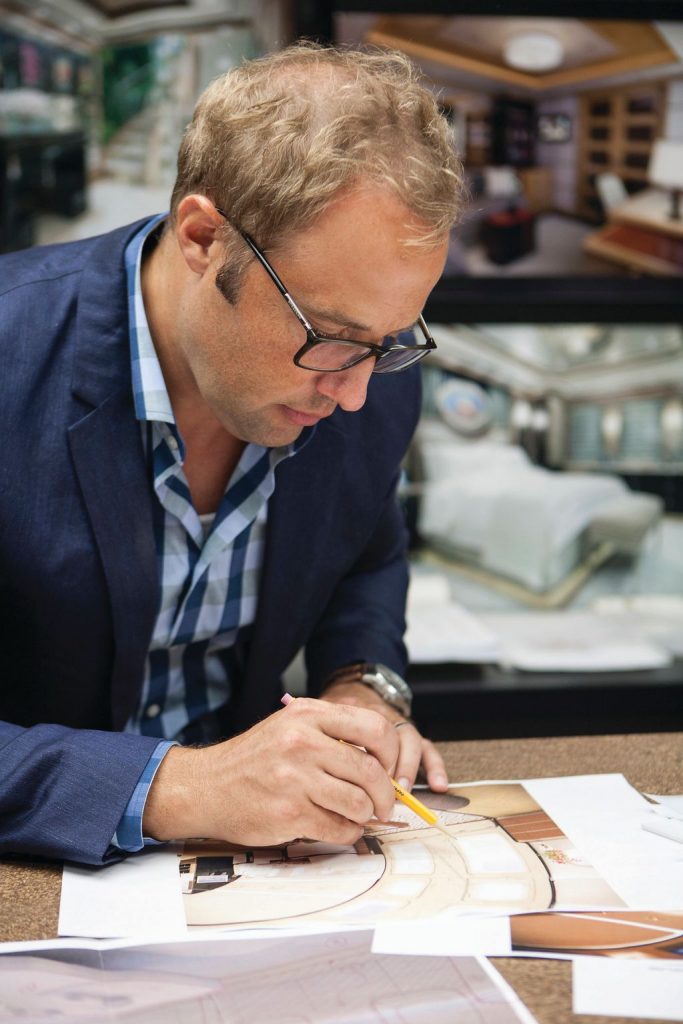 The Bali Spa Hopper
Beever and his interior design team have provided Jetgala readers with an exclusive peek at Embraer's newest personalised interior design, "Bali Spa Hopper."
The Bali experience begins the moment that passengers step aboard their Embraer private jet such as the company's flagship Lineage 1000, which is especially popular with Embraer customers in the Asia-Pacific.
"Artwork can introduce you to an experience that you are about to have and it can lend you permission to explore the story that will unfold throughout the plane," explains Beever. He continues, "Sensitive to avoid clichés, we aim to provide an infused feel that is cultural,yet modern, of monumental design, with generous use of wood carving and stone flooring. Storytelling is key but for it to work you need to commit to the rest of the interior."
He describes the Bali Spa Hopper experience from the passenger's perspective, "Like one's home, we have incorporated a shoe space under the couch since taking off one's shoes (as you board) is a sign of respect for the culture and the aircraft."
The Bali Spa Hopper concept also helps passengers feel the tranquility that comes from a connection with nature by Embraer's incorporation of trees. Upon boarding, one of the first experiences with trees is the three-dimensional eucalyptus trees on the cabin interior walls. "The eucalyptus trees are native to the region," explains Beever. "Embraer's craftsmanship and tactile open grain wood connects to the eucalyptus tree that promises something more organic and serene."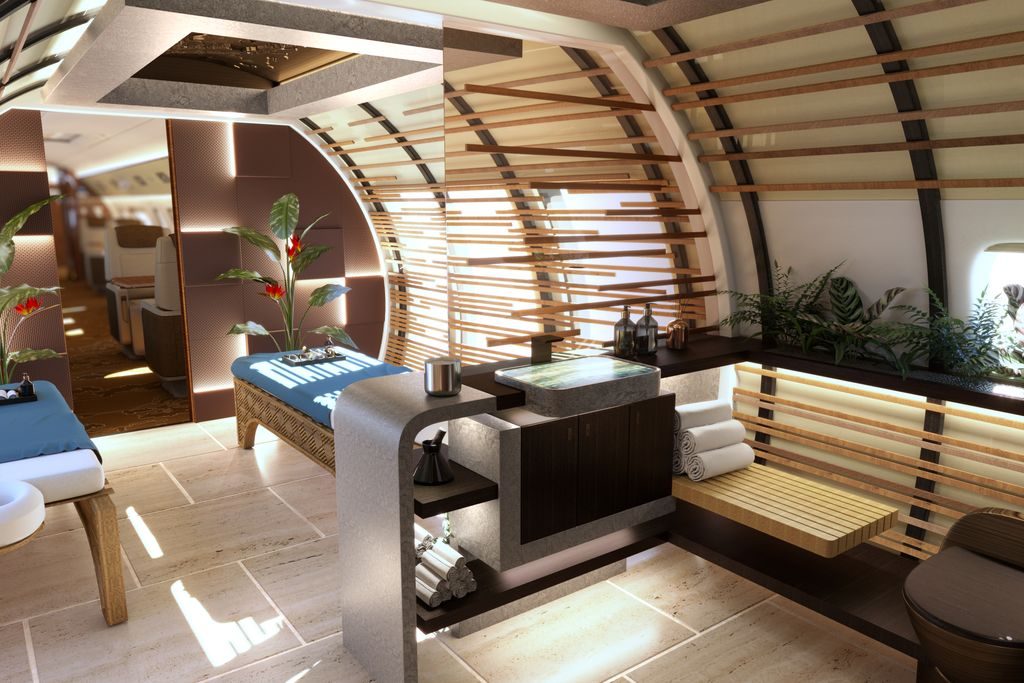 Different living zones
As the Lineage 1000's full-sized galley is a zone in and of itself, it too has a storytelling role to play. While the galley is an area that many passengers are unlikely to spend much time in, Embraer shows their commitment to the theme and their attention to detail through the use of geometric patterns embedded within the cabinetry.
In the dining room (zone), Embraer sought to create a space that is both modern and respectful of traditional culture. The Bali Spa Hopper theme flows through the dining room by the callback to the eucalyptus tree depiction in the carpeting as well as the geometric designs in the cabin bulkhead walls.
The living room, the largest zone in the Lineage 1000, provides passengers an opportunity to stretch out for conversation, stream entertainment from the cabin management system or surf the web for work or pleasure, the latter through the high-speed satellite data link. When it is time for sleep, the chairs can convert into beds.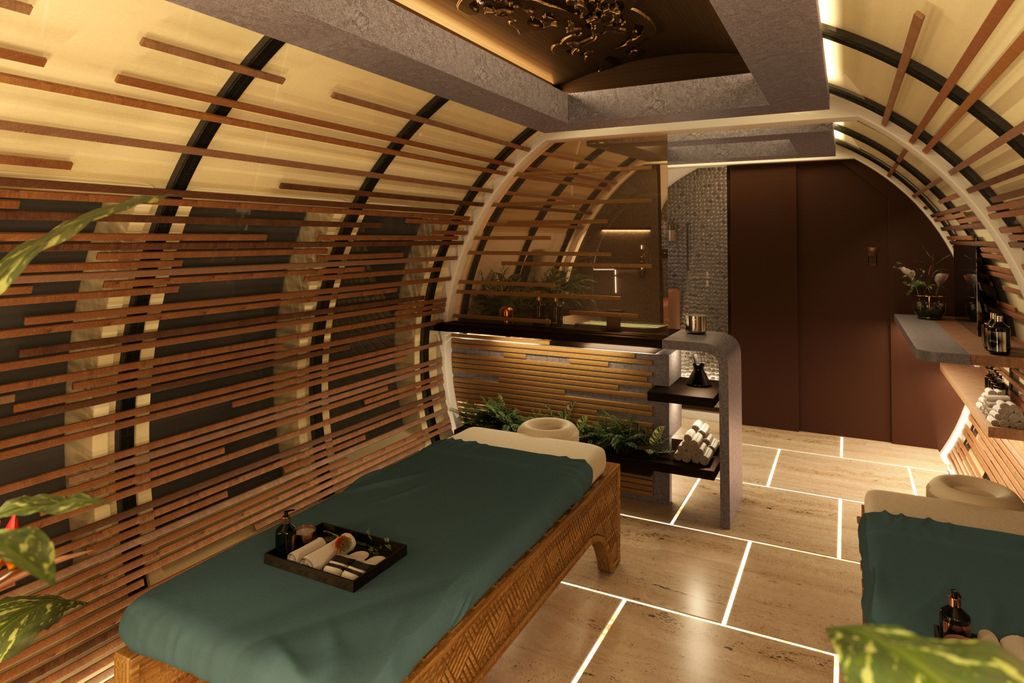 Speaking of sleep, the last zone is a formal bedroom complete with a double bed and en suite bathroom.
While the eucalyptus carpeting extends the theme into the bedroom, the double bed headboard builds on the theme through the incorporation of a geometric pattern inspired by bird nests.
The en suite bathroom redefines luxury in the air. The shower, by design large enough to accommodate two people at once, features a rain shower as well as a traditional shower wand. A cabin window streams in natural sunlight, which is helpful for passengers seeking equilibrium after a long journey. It would have been easy for Embraer to design a "standard airplane shower" but as Beever stated earlier on, a proper design commits to the design in every aspect. To this end, the shower floor is made from granite and the shower walls incorporate beautiful Bali-inspired designs that advance the aircraft's story.
For many visitors to Bali, a spa treatment is the highlight of their trip, an experience to look forward to. Beever and his team want to bring that same sense of anticipation of relaxation to their Bali Spa Hopper concept so they also offer a spa suit option that is nothing short of stunning.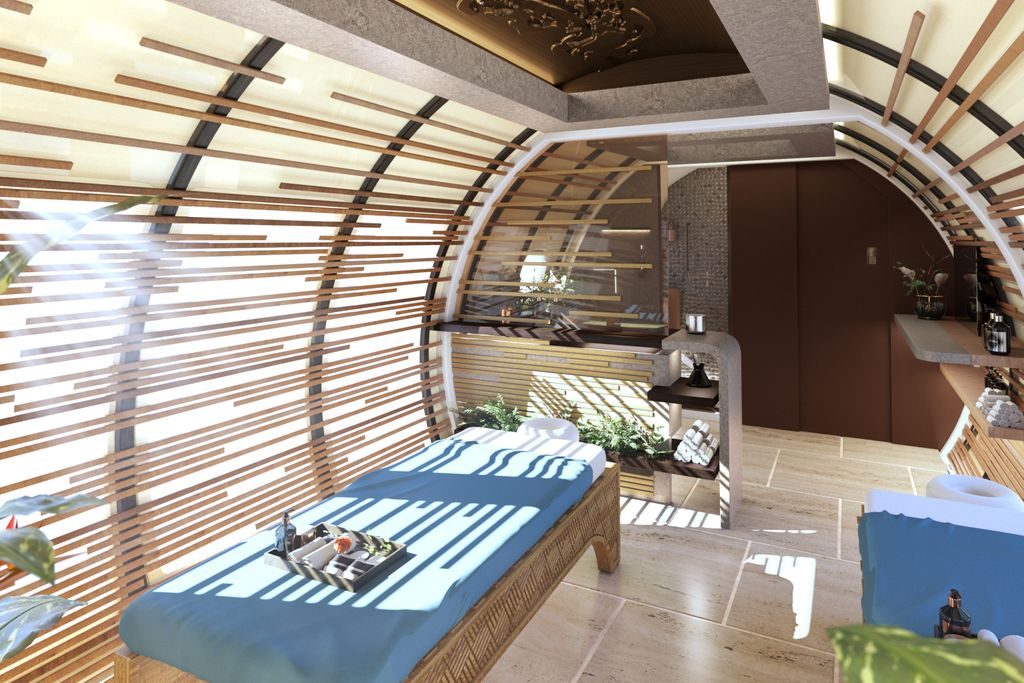 Unique cabin walls
What attracted Beever to join Embraer in 2012 was Embraer's promise that the entire team of industrial designers would work with him as one team so as to eliminate barriers to their collective imagination. "Why not create the 'spa hopper'?" asks Beever, rhetorically. He continues, "the Bali Spa Hopper concept is a kind of 'vegan interior.' It's sustainable, uses no varnish, incorporates recyclables, and is a leather-free zone."
As impressive as all of these features are, Embraer's cutting-edge design feature is the treatment of the cabin walls. The default view is of the traditional Lineage 1000 windows. However, the team has ingeniously incorporated transparent OLED displays to overlay the windows. With the flick of a switch, the OLED high- definition displays can depict any image or video from an onboard database. As seen in the concept design, Beever and his team have chosen an aerial view of an Indonesian landscape to provide perspective and serenity.
This same groundbreaking OLED technology can be applied elsewhere in the cabin. For instance, one potential effect is to provide passengers in the living room with an immersive home theater-like experience. In place of a Hollywood blockbuster, passengers could call upon external video cameras to deliver the sensation of traveling in an open-air cockpit. He hopes that concepts such as Kyoto and Bali will be catalysts for Embraer's most imaginative customers – a starting point for delivering one-of-a- kind cabin interior designs that are fully personalised to the needs of Embraer's customers.