Experience the modern luxury lifestyle at Le Mount Stephen
It's history in the 21st century in the heart of Montreal's historic Golden Square Mile
As one of only three Canadian properties listed in The Leading Hotels of the World, Le Mount Stephen is the pinnacle of modern luxury hospitality in a 19th century heritage building. The opulent mansion in Golden Square Mile of Montreal belonged to George Stephen, who was one of the most powerful men in Canada's textile industry, and was also President of the Bank of Montreal and the first President of Canadian Pacific Railway.
This mansion, completed in 1883, was designed by William Tutin Thomas and constructed by J.F. Hutchinson. Designed to reflect Lord Stephen's fame and fortune, the Victorian residence is a classic example of Italian Renaissance architecture with its sculpted grey limestone walls. The mansion was subsequently converted into a private gentlemen's business club, which played host to notable dignitaries like Princess Margaret and Pierre-Elliott Trudeau.
Although the club is no longer in operation, it took extreme care to retain and preserve the beautiful appointments in all its original glory. This high regard for the mansion's architecture and interior design was also retained when Tidan Hospitality and Real Estate Group acquired the great property in 2006. Today, Le Mount Stephen continues to celebrate the rich historic heritage of its building with its mansion at its forefront, while sleek contemporary comfort can be found in its tower of 90 rooms and suites behind.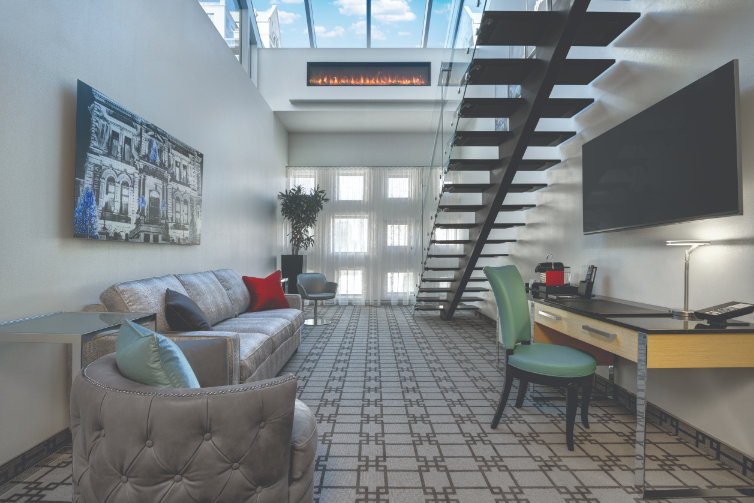 Indulgent stays
At Le Mount Stephen, there are 69 rooms and 21 suites to choose from for an unforgettable stay in Montreal. For a truly indulgent experience, the Sky Loft Suites are unique to Montreal, especially the Sky Loft Suite Terrace, a two-level accommodation with panoramic ceilings, replete with fireplace and seating area. The terrace is the perfect place to watch the hustle and bustle of Montreal from your own private terrace offering exceptional views.
There is also the Royal Suite, the largest accommodation at Le Mount Stephen and in the city. Taking up the 11th floor, it occupies 5,000sqft of living space, and is inclusive of three bedrooms with two queen beds and one king bed. Like the Sky Loft Suite, the Royal Suite also has panoramic ceilings overlooking stunning views of Montreal's skyline. In true modern luxury, the space also has a foyer, lounge, dining room, fully-equipped kitchen and powder room to make each stay feel like being back home.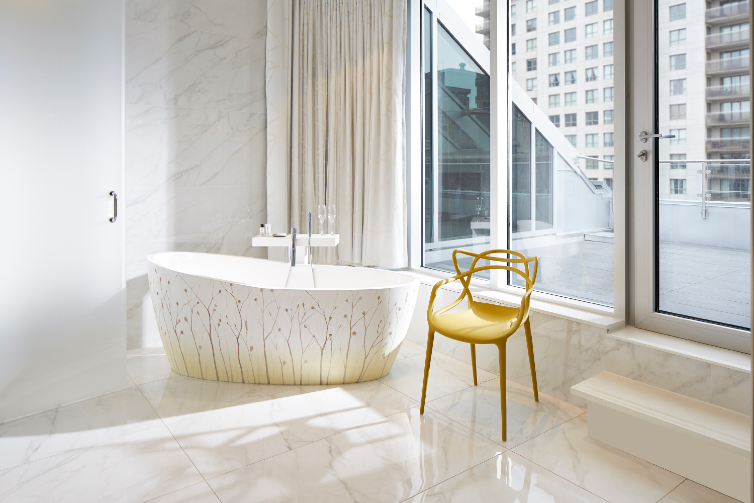 Luxurious spa retreat
After a day of exploring Montreal, experience the ultimate in luxury for the mind, body and soul at MBIOSPA Prestige, which is located within Le Mount Stephen. Detox the body of muscle fatigue through its range of therapeutic massages, such as Swedish, Hot Stone and Thai Herbal. Then, nourish and deeply cleanse the face with facials that target different skin concerns, such as Capyl Care for sensitive and dry skin, Anti-Age Care to fight signs of aging, and Aqua Care to hydrate and refresh dehydrated skin
Those looking to escape to paradise with a partner can do so with Signature Escapes. The 90-minute treatments take guests on an aromatic journey through a body scrub under tropical showers, a wrap and a massage centred around soothing and calming scents.
Society of the golden keys
At your beck and call at Le Mount Stephen is the Les Clefs d'Or concierge, a team of highly dedicated experts of the city who are your personal guides to Montreal and its grand sights and sounds. The golden keys worn by the concierge are a symbol of their leading customer service and exclusive network that reaches globally. For them, they make the impossible possible, and the team will work hard to ensure any request is seen through to completion. This could mean handling the simplest request of arranging airport transfers and transportation around the city, to procuring hard-to-obtain dining reservations and theatre tickets. At Le Mount Stephen, the concierge services also extend to personal shopping, as well as private guided tours for guests to ensure a memorable experience during your visit.