When your brand name honours an extraordinary watchmaker — such as one who invented the chronograph — the only way to live up to his legacy is to constantly innovate. This is what Les Ateliers Louis Moinet seeks to do. Founded in 2004 by Jean-Marie Schaller, it seeks to perpetuate the vision of its eponymous watchmaker. In doing so, it proposes new approaches to traditional elements, and even borrows materials from beyond our planet.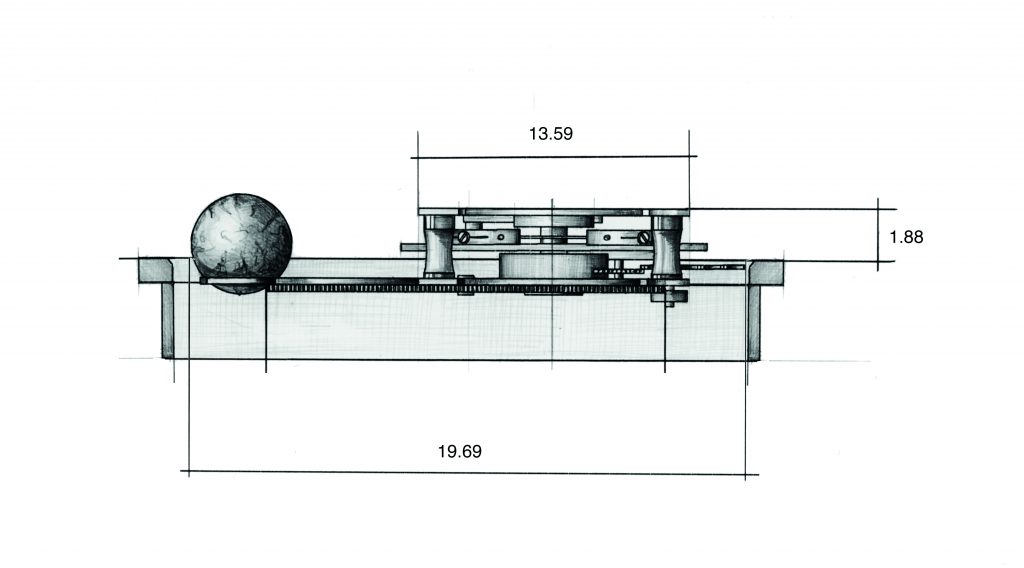 Three new timepieces from the Swiss-based atelier embody Mr Moinet's best qualities — poetic sensibility, ground-breaking innovation, and practical functionality. Space Mystery, which is limited to eight pieces, holds a 'satellite tourbillon', a world's first and exclusive to Louis Moinet, which rotates on its own axis and is orbited by its own satellite planet every 60 seconds. Unlike most off-axis tourbillons, its axis of rotation is different from that of the hours and minutes hands.
Intriguingly, Space Mystery contains fragments of a carbonaceous chondrite meteorite from space that holds traces of amino acids, which are the basic building blocks of life on Earth — and could thus hint at life beyond our planet. The fragments can be glimpsed through an aperture in the dial at 9 o'clock. Casebands on either side of the crown contain a fragment from Mars and another from Earth's moon. In his lifetime, Mr. Moinet spent endless hours gazing at the night sky, so this is indeed poetic homage.
In Red Eclipse, the most prestigious version of the atelier's Memoris timepiece, the whole of the chronograph function is shifted to the dial, where it is structured around three guiding principles — locating the chronograph centre stage, giving it a traditional clutch column wheel, and adding a monopusher. This is reminiscent of Mr. Moinet's Compteur de Tierces, the first chronograph in history. The all-new LM54 movement has been designed for and around Red Eclipse's chronograph, with the traditional workings of the automatic mechanism now located on the back of the movement, beneath the plate. Its oscillating weight is decorated with a red moon in gold-leaf enamel.
On the watch's dark blue grand feu enamel dial, stars are rendered in different angles and depths, with each one capturing as much light as possible to create a sparkle. The atelier achieved this by having its craftsmen create a new fixed graver process, which allows the power of the rose engine to be combined with the precision of a handheld graver. It comes in a limited edition of 12 pieces.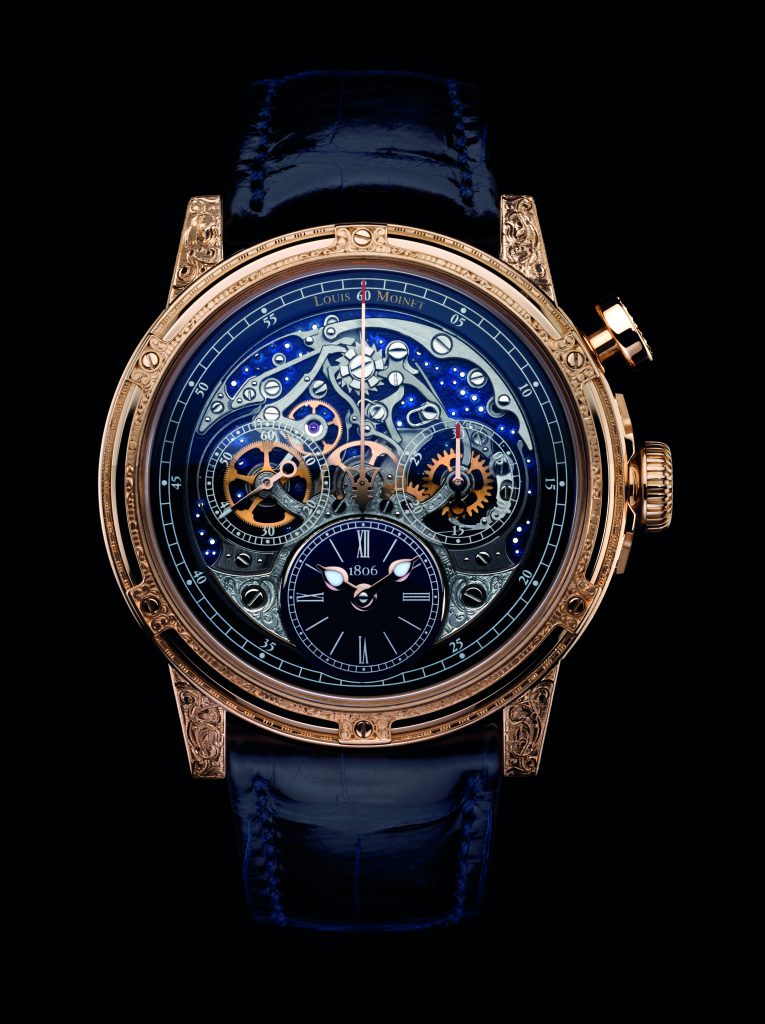 Equally eye-catching is the dial of the Singapore Edition Watch, unveiled by Les Ateliers Louis Moinet on Singapore's 52nd birthday. There are only 84 pieces of this timepiece, which features a black guilloche dial with an engraved tableau of the Singapore skyline — the Marina Bay Sands Hotel, Gardens By The Bay, ArtScience Museum, and Singapore Flyer. Above this floats a crescent moon accompanied by five stars evoking the Singapore flag.
The dial is partially open, allowing the working of the LM45 automatic movement with frequency of balance of 28,800 vibrations per hour (4Hz) and 22 jewels to be appreciated. Through the transparent back, one can see the rotor, decorated with a concentric version of the Clou de Paris pattern.