Mikimoto's Yasuhiko Hashimoto is a Renaissance Man
He talks to us about the new Marina Bay Sands boutique, personal style, and the jewellery he is most obsessed with
Yasuhiko Hashimoto, Mikimoto's Director & Executive Vice President of the Sales Division, is someone that immediately exudes confidence and effortless style. The soft-spoken gentleman was recently in Singapore for the opening of Mikimoto's new Marina Bay Sands boutique and during our conversation, I immediately eyed small yet noticeable details that made him stand out. All the shiny accessories that completed Hashimoto-san's outfit made it seem like I was looking at stars that formed a fashionable constellation, starting with a diamond brooch, stacked rings, and a stunning black pearl bracelet.
But personal style talk aside, Hashimoto-san revealed that Mikimoto's relocation within Marina Bay Sands was a strategic one. "We want to increase our visibility within the shopping mall with this larger store, and at the same time, impress with its grander façade and contemporary interior design," he said. With an almost three decade-long career with Mikimoto, he clearly knows what's best for the brand.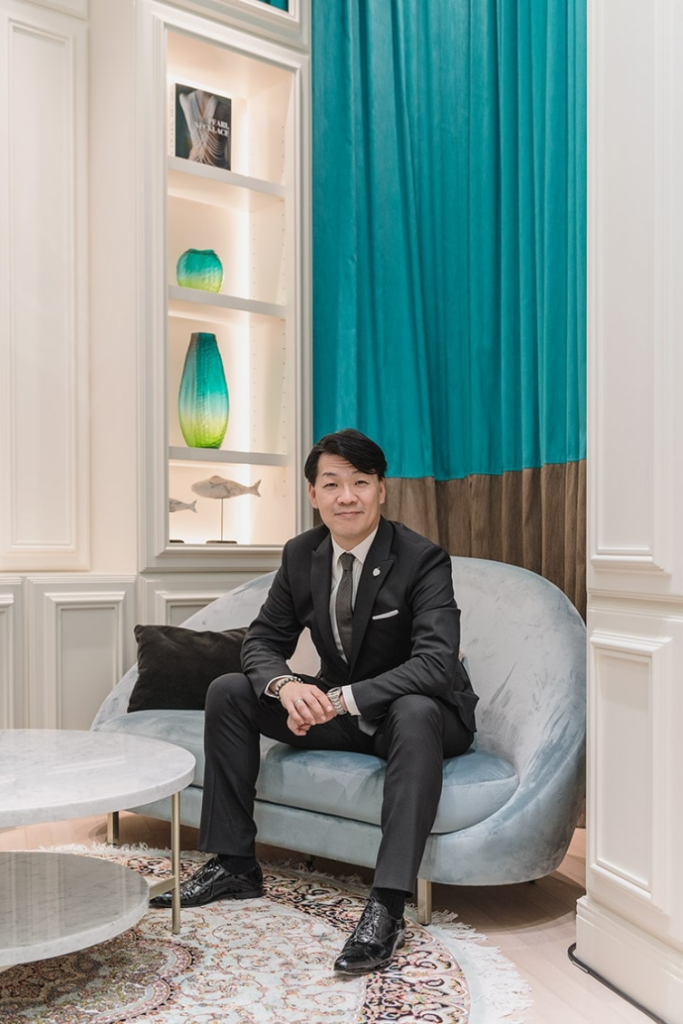 What do you enjoy most about working for Mikimoto?
It's the moments I have with our wonderful customers. I started my career as a Mikimoto salesman when I was 22 and I met a lot of great customers and I learned a lot from them, which allowed me to grow as well. On some weekends, I still go to our main boutique in Ginza because I still have clients from a long time ago who come and see me and I help them with their purchases. Some of them even have daughters and granddaughters now and I really enjoy every encounter with them and their family.
Can you share a defining moment in your career so far?
I started in sales and then I became the general manager of the sales division, and eventually, the director. I later became the director for marketing, but I have to admit that I had no experience in marketing back then. But what I understood well was the sales scene, so I had to think of other ways to change the brand's marketing strategy. I also helped promote and streamline the global branding because before I took on the role, each region all had a different approach to branding. So I integrated the brand image into a unified one and this all happened about eight years ago.
Tell us about Mikimoto and the Singapore market. How do you intend to strengthen the brand's presence here?
Singapore is a vibrant, cosmopolitan city with affluent locals and strong tourism – these factors are some reasons why many luxury brands open flagship stores here. At Mikimoto, we want to strengthen our brand positioning here and continue advocating on pearls, all while looking at strategic expansion plans when good opportunities and better locations come along.
For those buying their first piece from Mikimoto, what would you recommend and why?
It would be the pearl necklace because it is an iconic piece. I would recommend the long one because it is useful to wear in various occasions – not just for formal events, but for casual days as well. The long pearl necklace is an versatile item in a woman's wardrobe. For example, they can transform it into a double or triple strand necklace, wrap it multiple times around their wrist, and some can even use it as a fashionable belt.
How do you spend your time outside of work?
I am always busy because I am in charge of the main store, as well as Asia, London, and Paris. I am overseas at least 100 days a year and it is difficult to enjoy personal hobbies with such a busy schedule. Whenever I travel to all these regions, I am fortunate to have friends there and I look forward to enjoying a meal and catching up with them. You could say that my hobby now is enjoying a meal with friends.
Talk to us about personal style. What would we find a lot of in your wardrobe?
I really like fashion and since I was a student, I loved clothes from Italian designers like Giorgio Armani, Gianfranco Ferre, and Gianni Versace. I really enjoy wearing Italian clothes. These days, I usually go to Paris and I will also make it a point to buy something from French designers.
Where was your last holiday destination and what did you enjoy about it?
I went to Marrakech last year and it was a totally different world, especially when you realise it's only three hours away from Paris. It was my first time visiting and I stayed for about a week. I was lucky to be able to stay with a friend who has a house there and I enjoyed the local food, as well as the beautiful sights like the Yves Saint Laurent museum and Jardin Majorelle.
Tell us about the last great meal you had – and where.
Before flying into Singapore, I went to a private sushi restaurant in Tokyo called Yoshii in Aoyama. It's a very unique restaurant because the owner is a famous gallery owner in Tokyo, while the chef used to work for a very famous sushi restaurant. I love how exclusive this restaurant is because it only has eight seats!
What is the one indulgence you will never give up?
I really like jewellery, but I find that the variety of jewellery for men is limited, so I gravitate towards pin brooches. On my last count, I probably have over 50 of them. I have a pin brooch from Mikimito, but sometimes I would go to antique markets and auctions in Europe and purchase vintage pieces. Since pins are very small, I am amazed by the intricate designs and craftsmanship they boast. When I wear them during a party, I find that they are great conversation starters.